What is the work triangle?
The work triangle is a time-tested guideline of kitchen design that helps plan out efficient kitchen work spaces with clear traffic lanes. Imagine a triangle that connected your cooktop, your sink, and the refrigerator. This is the work triangle. According to the guidance of the National Kitchen and Bath Association, each leg of the triangle should measure between 4 and 9 feet. This allows a cook to reach their cooking, cleaning, and food storage areas with ease, while providing enough space between them to avoid crowding.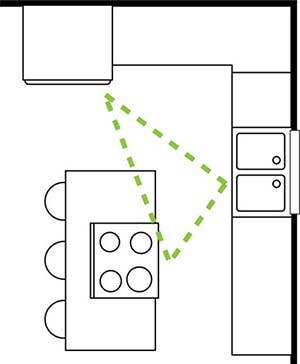 Creating an Effective Work Triangle
The work triangle concept has substantial application in the design and layout of a kitchen.
The sum of the three sides of the triangle should not exceed 26 feet.
Each leg should measure between 4 and 9 feet.
No side of the triangle should cut through a kitchen island or peninsula by more than 12 inches.
No major traffic patterns should cross through the triangle.
A second triangle can be created by adding a second sink to an island or fourth-wall peninsula. This is also a way to create a specialty work station for baking or vegetable prep.
It's important to remember that the work triangle guidelines are not laws, and not rules. If you look back into the history of how the work triangle developed, you'll find that it originated in the 1940s, when kitchens were smaller, and designed as a utilitarian work area for housewife to create family meals.
Today, our kitchens are large, and in many families there are more than one cook. Moreover, our kitchens today have a broader range of functions than just cooking. They're also where we dine, entertain, and work. Therefore, kitchen designers don't select kitchen layouts exclusively around the work triangle approach but have adopted a work zone approach.
Kitchen Work Zones
Today's kitchen isn't just about cooking and cleaning. As the hub of the home, the kitchen is more multi-functional than ever. Hence, kitchen designers have to think more flexibly, and lay out spaces based on the particular activities that will take place there, based on their clients' needs.
Your kitchen can be broken down into four basic zones. Each zone defines a certain activity in the kitchen:
Pantry Storage
This is where you store your consumable and non-consumable items. Fresh food, frozen food, as well as dry goods, cans, and other non-perishables. You can think of this zone where you place your main pantry, and refrigerator. Keeping these areas close can make it easy to get all of the ingredients you need. Additionally, a lot of storage must be dedicated to non-consumable items like silverware, tableware, utensils, pots and pans, baking trays, and more. You'll also want to consider where you'll store odds-and-ends like cookbooks, scissors, and other desk items. Many non-consumables are located in drawers and upper cabinets.
Sink Storage
This area is typically built around the sink, but also includes the dishwasher, garbage, recycling, and household cleaning items, and a broom or mop. Consider installing waste cabinets near the sink to create a convenient space to keep your kitchen clean.
Prep Storage
Food preparation requires easy access to utensils, cutting boards, and mixing bowls, as well as plenty of countertop space. Consider what you need for food preparation when planning storage options like base drawers, roll-out cabinet shelves, and prep sinks. These items will be key in making sure the kitchen runs smoothly and you are able to prepare meals efficiently.
Cooking Storage
In addition to your cooktop, consider your microwave and/or built-in oven. For cooking storage, you need to plan landing spaces for hot dishes, as well as storage space for utensils, pots and pans, bakeware, and so on. Think of how you cook. Is a cookbook out? Measuring cups? Spatula that you just stirred with? Towel for cleaning minor spills? These types of things rapidly eat up counter space.
Other Zones
It's common for kitchens to have other zones, or for some of the work zones to have multiple uses.
Charging
A charging station for mobile phones, tablets and other devices is becoming increasingly important in kitchen design. Take a look at special outlets with USB ports, and be sure the devices are safely away from water and toddlers.
Dining
Creating a space to eat in your kitchen depends on your family needs. Whether it's just your family, or you're entertaining, it seems everyone eventually gathers in the kitchen. Islands and peninsulas provide great kitchen dining spaces and can be multi-purpose. If lack of space is an issue, your island can double as prep, work and entertainment space.
Working
Like it or not, work happens at home and often in the kitchen. The good news is, you no longer need a massive work station. Large desktop computers have given way to wireless laptops and tablets. Provide enough outlets to be able to charge all of your electronic devices.
Entertainment
Many homeowners have a television in their kitchen. Others have a bar area that can accommodate stools, or serve as a stand-or-sit space for cocktails or dinner. Consider including a conversation zone in your kitchen, with lounge chairs and a low table or versatile ottoman.
Resources for designing your new kitchen.

Read More

All about the kitchen, from design ideas to style trends.

Read More