Cabinet Care and Cleaning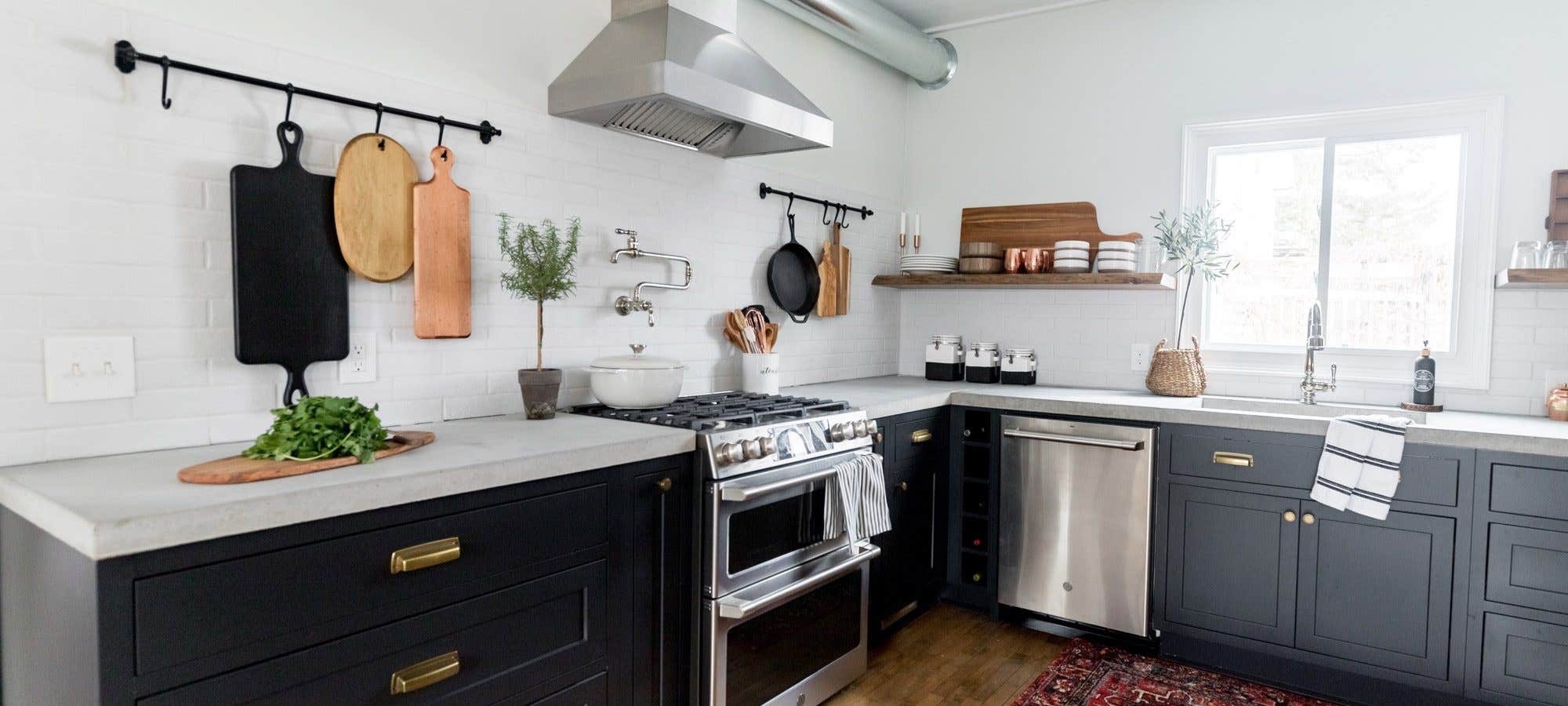 Following cabinet care and cleaning instructions is the best way to prolong the life and beauty of your new cabinetry. While we take great care in building quality cabinetry and ensuring that cabinets arrive in excellent condition, normal everyday use will result in the need for small touch-ups and adjustments.
Content
Recommended Cabinet Maintenance
Daily Cabinet Care and Cleaning
Long Term Cabinet Care
Cabinet Touch-ups
Before & After Installation
Cabinet Environment
Cleaners to Avoid
Periodically adjust hardware for smooth usage.

Finding the right position for your knobs and pulls.

Learn how to install each cabinet in your design.
Recommended Cabinet Cleaning
Each CliqStudios quality finish has different recommended cabinet cleaning instructions. Follow the proper care and maintenance for your cabinets to keep them beautiful for many years.
Paint Finish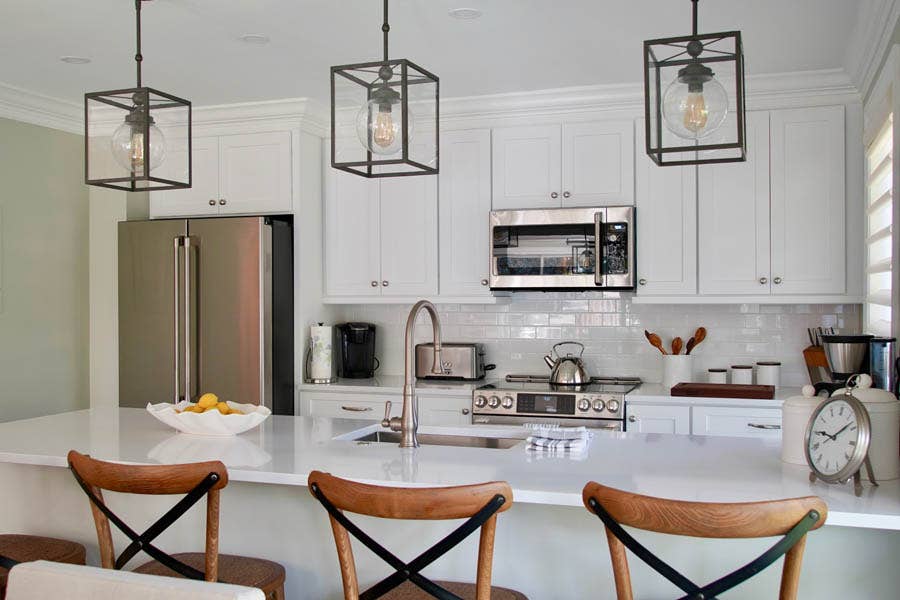 On paint finishes, only use a mild cleaner such as Ivory® Soap diluted with warm water. Apply with a microfiber cloth.
Stain Finish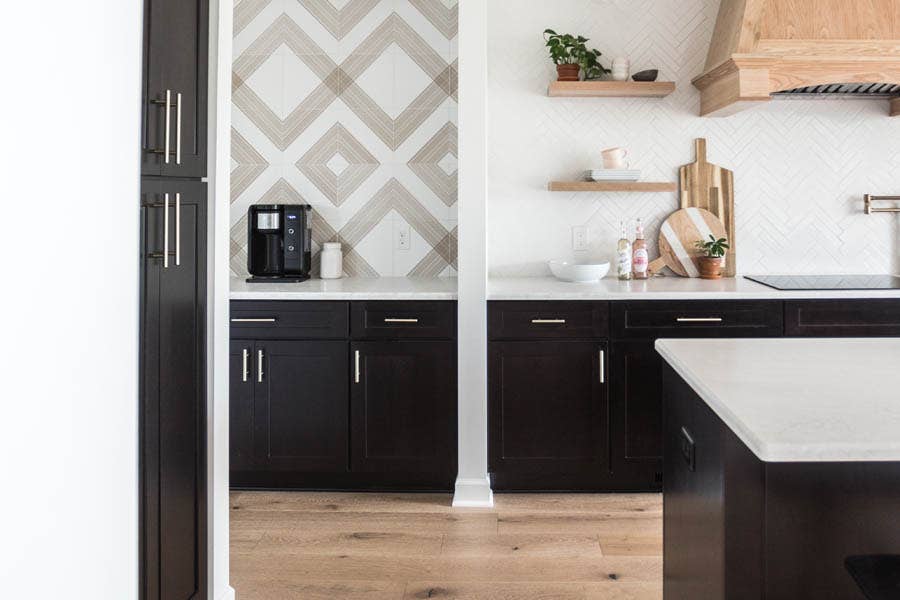 On stain finishes, use a mild wood cleaner such as original Murphy® Oil Soap diluted with warm water. Apply with a microfiber cloth.
Daily Cabinet Care
Daily cabinet care consists of cleaning up spills, drips and grease immediately to prevent stains on your cabinet finish. Prolonged exposure to food, water or other liquids can cause permanent discoloration or damage.
Avoid hanging wet dish towels over the cabinet doors. Over time, this moisture exposure can cause irreversible damage to the cabinet and finish. Dust cabinets frequently with a microfiber cloth.
Avoid using your dishcloth to clean or dry cabinet exteriors, since it may contain remnants of detergents and grease.
Long Term Cabinet Care
Thoroughly clean cabinet exteriors once or twice a year. It's best to work on one small area at a time, using a damp cloth. Rinse frequently and dry each area immediately after cleaning.
Each cabinet is built with several types of durable, high-performance hardware that will operate smoothly for years. Periodically, you should adjust your hardware. Tighten hinge screws, realign drawers, and adjust runners, because they can move with normal use.
Adjusting Door Hinges
Cabinet hinges are designed to be adjustable by the homeowner. Align cabinet doors after installation and before installing decorative hardware.
Adjusting Drawer Boxes and Glides
Drawer boxes may need to adjusted after shipping. It's easier to inspect and adjust glides before cabinet installation.
Cabinet Touch-ups
CliqStudios cabinet touch-up kits can be used for minor repairs on cabinets. A complimentary touch-up kit is included with Signature Plus and Craftsman sink base cabinet orders, and are available for purchase with other product line orders. Before touching up damage, establish whether it will be a substantial repair. If the damage is significant, please protect your investment by consulting a professional refinisher.
Please carefully read the touch-up kit instructions before using. Be advised that paint is more difficult to repair and blend than stained products. Practice on a small, concealed area of your cabinets before making any repair. For easy fill application, soften the putty stick by carefully heating the end with your hand.
Fill in the recess with an even back-and-forth motion. After the fill is complete, use light, even strokes with the stain marker pen. Use your fingertips or a soft cloth to blend the colors. Do not allow the stain marker fluid to accumulate in one place, as it may drip.
Caring for Your New Cabinetry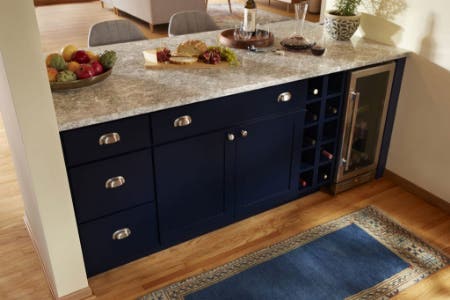 All CliqStudios cabinets undergo rigorous testing to ensure they will be structurally sound and beautiful. Caring for your new cabinetry properly will maintain their beauty for years of use.
Before Installing Your Cabinets
After receiving your cabinets, store them in a secure and dry space until you are ready for installation. The space should have 40 to 50 percent relative humidity. Humidity above 70 percent or below 20 percent is likely to cause problems. Allow 1-2 days for cabinets to acclimate to their final environment before installation.
We recommend waiting to remove your existing cabinetry until your new cabinets are delivered and inspected. With two people, remove the cabinets from their boxes to inspect them. Store cabinets in their boxes until installation. Please recycle the cardboard boxes.
After Installing Your Cabinets
Once your project is finished, you'll want to remove all construction dust. Wipe down all exteriors and interiors with a damp, microfiber cloth. Clean one small area at a time, rinsing the cloth frequently and thoroughly. Using a second cloth, dry each area immediately.
Your cabinet hardware may require adjustments after installation, as they become acclimated to the new environment. Complete all door and drawer hardware adjustments before installing knobs and pulls.
Cabinet Environment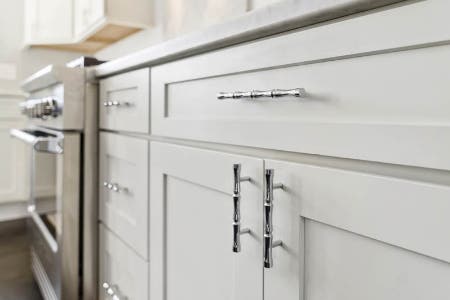 Wood cabinets will expand and contract in different temperature and humidity levels. Avoid extremes and maintain a consistent cabinet environment to prevent damage.
Climate, Moisture & Humidity
Indoor climate, moisture and humidity should be maintained year round in vacation homes and primary residences. Kitchens and bathroom should be well-ventilated to keep cabinets dry. Frequent exposure to excessive humidity in poorly vented kitchens and bathrooms may be harmful to your cabinet finish. It is important to keep cabinet surfaces dry. Wipe off any excess moisture on cabinets in areas that experience excessive humidity.
Light
Over time, ultraviolet (UV) light rays present in natural light will affect the appearance of your cabinets. CliqStudios applies UV inhibitors to all cabinetry as part of the finishing process. Depending on the amount and direction of light exposure, the portion of your cabinetry that receives light may fade, darken or discolor.
Oven Self-Cleaning Heat
The self-cleaning setting on most ovens operates at very high temperatures. The high heat could potentially damage the cabinets near the oven. You can minimize this risk by removing the cabinet doors and drawers nearest to your oven before running the self-clean cycle.
Smoke
Prolonged exposure to cooking or tobacco smoke, will discolor the cabinet finish. Because cooking smoke and grease occur in every kitchen, we recommend cleaning cabinets regularly.
Cleaners to Avoid
Some cleaning products can damage cabinet finishes and should not be used on CliqStudios cabinetry. The harsh abrasives and chemicals listed below will harm cabinet finishes and may result in discoloration.
CliqStudios does not recommend using scouring pads, paper towels, Magic Eraser sponges or steel wool because they can leave scratches and residue on all finishes. We also do not recommend waxing cabinets.
Over time, waxing and polishing compounds will build up on the surface of cabinets and cause a hazy, streaky or yellowed appearance. Wax build up is difficult to remove and will attract dust.
Petroleum Solvents

Wax Base

Silicone Base

Powder Bleach

Glass Cleaner

Spray Cleaner

Citrus Cleaner

Scouring Pads

Magic Erasers

Ammonia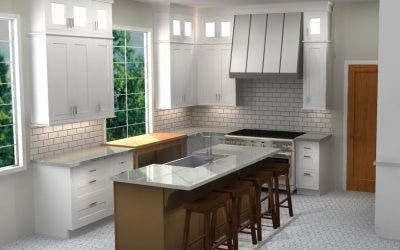 Ready to start your free design?
Take the first step toward your dream kitchen today! We'll connect you with your personal designer to make your project a reality.
Let's Get Started