Custom Shelves & Benches
Custom Kitchen Spaces
What makes a great living space? A home's custom design elements sure do make a big impact. And in the kitchen, clever and unique touches can turn an ordinary ho-hum space into a welcoming environment where everyone wants to gather. Best of all, you can tailor shelves, bookcases, window seats and open shelving to your family's specific needs. This not only applies to your kitchen, but just about every room in your house! Work with your designer and an installer who can help you take standard cabinets and parts to create a unique focal point that will result in your own custom look. Some cabinet and part modification will be necessary to achieve your individual design, but the results can dramatically improve your kitchen's look and function without adding the cost of custom cabinets.
Is There a Space in Your Home Begging for Custom Shelves & Benches?
Use kitchen cabinets to create a cozy snuggle spot in a bay window, a shoe bench for your entryway or mud room, toy storage in a kid's room, or a breakfast nook. Build the bench from drawer and door units, or create a storage chest with a piano-hinge top. Add a matching beadboard seat back and a polished area to sit and you have it—storage, seating and a focal point, all in one project. This homeowner added custom floating shelves as a minimalist way to display crystal wine glasses and drinkware. Custom shelves keep everyday essentials at hand, and add a touch of style to a transitional or modern kitchen design.
Our designers are masters at combining cabinet units to create custom benches and finding just the right shelving for your space.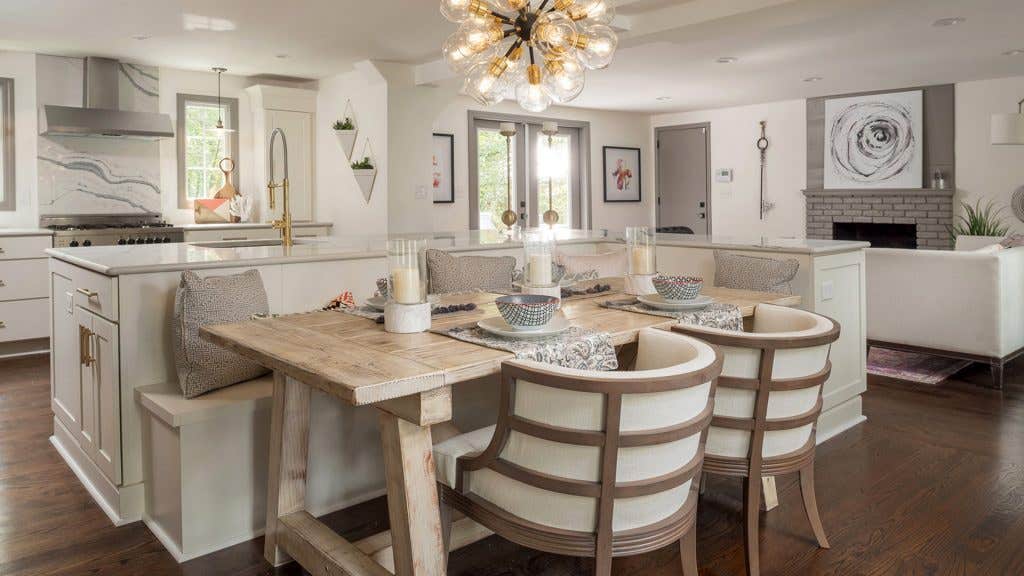 The Irresistible Window Seat Bench
A natural landing place for guests and the after-school crowd, a kitchen window seat simply shouts, "Come in and stay a while." Typically dominated by hard surfaces, a kitchen welcomes the soft touch of decorative pillows and fabric. Open shelves can display decorative items and photos, or as bookshelves for cookbooks, magazines or office supplies. This homeowner used the bench to add comfort and interest in their home office. This bench creates an inviting warmth among the dark granite work space.
Make It Yours With Custom Designed Shelves & Benches
You won't find benches or window seats in our cabinet catalog. A bench, like a kitchen island, will be designed to fit your space and meet your specific needs. How does your family use the space? What are your storage needs—shelves, drawers, or cupboards? Do you want to create a contrasting focal point or a seamless segue between two spaces?
Feel free to call our Design Studio at 800-350-1242 and ask for ideas—we are here to help. You can also start your free kitchen design today!