Wine Cabinets and Beverage Centers
The kitchen is the heart and soul of most every home. That's especially true today. Food and beverages are naturally the main focus, so it's not surprising that wine and beverage centers have become increasingly popular in today's kitchen designs. Therefore, islands with built-in wine cubes, wine rack cabinets, and coffee bars are redefining efficient use of space. Beverage cabinets are prefect for displaying and storing your favorite beverages.
In addition, beverage centers offer a place for access to drinks that is separated from a kitchen's main workflow. It could be as simple as a criss-cross cabinet to store and display wine bottles, a coffee station, or an under-cabinet refrigerator, for example.
A CliqStudios kitchen designer can help you to determine the perfect solution for your unique needs.
Properly Storing Your Wine
Good wine is no longer an exclusive drink. A typical wine enthusiast will spend between $9 and $20 for a bottle of good table wine. Thus, only extraordinary vintages and the few wines that improve with age warrant an investment in something like a custom cellar. So, if you want a place to store your wine, your best options are either a wine rack, wine cube or beverage cooler.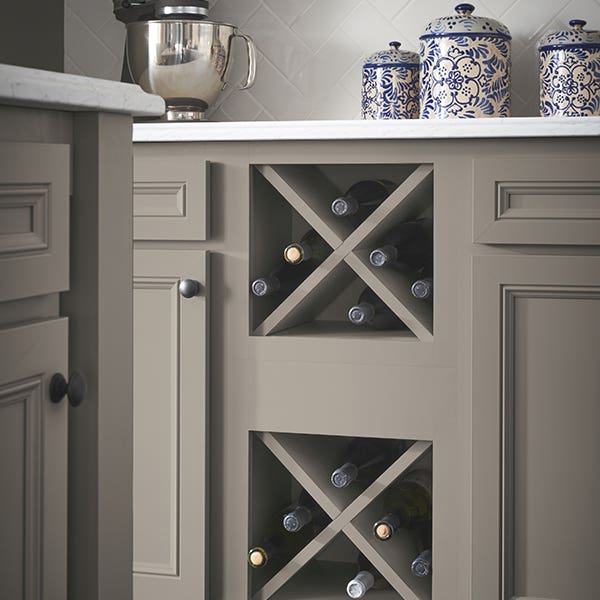 Storage Requirements
If you enjoy wine, and drink it somewhat regularly, you will probably keep a few bottles on hand. So, for wine that will be consumed within a few weeks, storage requirements are simple. Keep it at a stable temperature between 50° and 70° to prevent cooking the flavor out or popping a cork. Also, you don't need to worry about humidity, but you should protect your wine from intense UV light. Avoid major vibration because it could prevent the sediment from settling.
In short, you can simply relax and choose a solution that is convenient and attractive to you.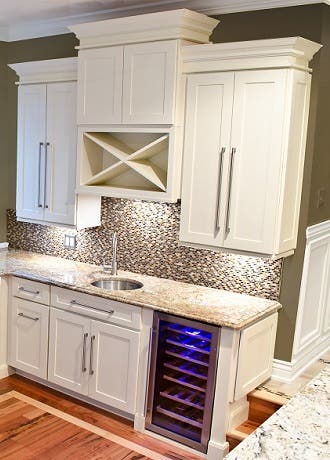 Wine Rack Cabinet or Cooler?
Many kitchen designs integrate a wine rack in the cabinetry to provide a place to display their stock. It also helps keep bottles off the counter. If you have more than a few bottles regularly on hand, having a designated home for them is a must.
A wine rack is a great idea if you want to show off your collection. With a rack, guests can more clearly see the bottles.
An under-counter or free-standing wine cooler is another option, because it will hold wine at 50° or 55°. Perfect to bring a red up a few degrees or chill a white down a bit before serving.
If space allows, you might want to have both wine rack and cooler. The combination will allow you to display a few of those beautiful bottles. Additionally it provides a space to warm reds up a little more than an hour before your guests arrive.
Basically, wine storage doesn't have to be hard. If you're remodeling your kitchen, consider putting a wine rack, beverage cabinet or cooler into your designs.