2 Min. Read
At some point during your remodel, whether you work with a designer or not, most homeowners will hear the term, 'kitchen work triangle'. The work triangle is a recommended distance between the 3 most important areas of a kitchen being the sink, cooktop, and refrigerator. It was originally created by architects in the 1940s and the goal was to create the most effective kitchen design possible by making cooking, clean-up, and kitchen safety the priority. The question is, does this concept actually make your kitchen more efficient?
---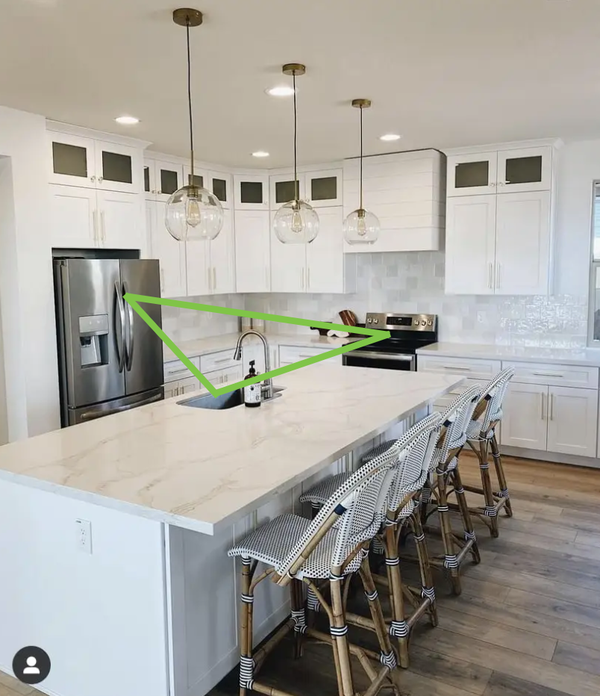 ---
Rules of the Kitchen Work Triangle
♦ Each leg remains within 4'-9' long
♦ Overall total of legs should be no more than 26' long
♦ Must be laid out in the shape of a triangle
♦ No obstructions should intersect with the triangle including kitchen islands, tall pantries, base cabinets etc.
♦ No obstacle should intrude into the triangle more than 12"
What Are the Pros?
Kitchen work triangles are convenient for the cook and easy to use. Because all your main workspaces are centralized, this layout provides more logical storage locations for pots and pans, and other kitchen tools. If designed properly, the work triangle can also improve safety and keep extra traffic out of the main work zone.
What Are the Cons?
Although work triangles have many benefits, there are some downsides. As modern kitchens continue to transform, there are even more appliances to plan around making this layout trickier to accomplish. Additionally, kitchen work triangles only work with certain kitchen shapes like U-shaped and L-shaped. This makes designing with kitchens like galley style more complicated. Lastly, more families are starting to cook together making the triangle more crowded.
---
Overall, keeping your new kitchens productivity and convenience top-of-mind is important. Kitchen work triangles are still efficient, but there's always room to bend or break the rules, just make sure it's for the purpose of improving the kitchen's function. Once all this is considered, you will be off to a great start.
For design assistance, schedule a Complimentary Design Consultation today!