Proper lighting is vital to any good kitchen design. Unless natural light constantly floods your kitchen and you only cook on bright sunny days, you'll need decent light fixtures. Must-haves include ambient overhead fixtures, spots, stylish pendants, and over-the-sink lighting. Nice finishing touches such as charming decorative fairy lights on crown molding complement a kitchen's decor as well. But an often overlooked option is under-cabinet lighting. For this task lighting to be effective, it should shine directly down from beneath wall cabinets to countertop prep areas.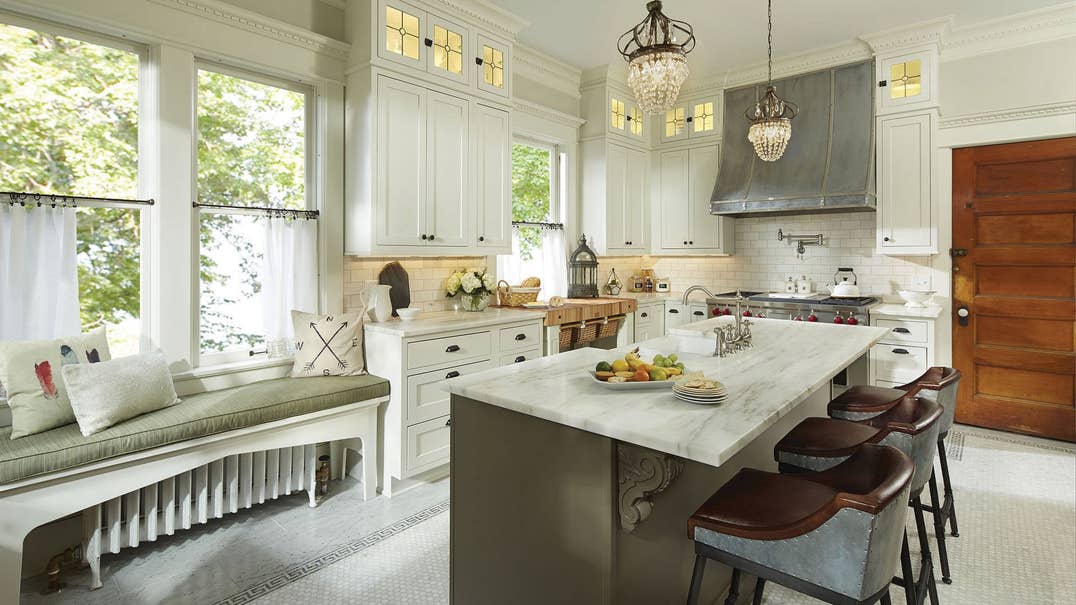 Under-cabinet task lighting fits snugly in small spaces and provides focused lighting without affecting the kitchen's overall ambient light. Naturally, there are many options to choose from that offer different shades and light temperatures to match your kitchen's style. Plus, most of these lighting ideas don't require a full-scale remodel, or even much DIY ability on your part.
Placement is important, obviously. Your busiest prep areas are where under-cabinet lighting will be most essential. Task lighting can also do double duty as display lighting to showcase vintage cookbooks or decorative china or crystal.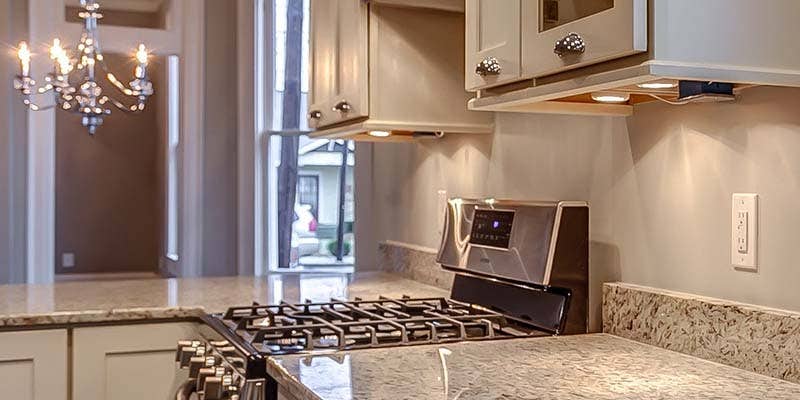 LED Light Bars
This is the easiest option to install and use immediately. These lightweight fixtures attach to the underside of a cabinet or shelf with either screws or velcro strips. Simply plug them into an outlet to charge them. Most have built-in motion sensing technology and auto-off timers to control the lights automatically when they sense movement close by. Highly versatile, these lights can be conveniently installed almost anywhere, and easily moved when necessary. No wires, no tools, no mess, no damage. The only downside is the need to recharge the batteries after approximately every 20 hours of use, and they may not provide a bright enough light. Another option is to keep them plugged into an outlet, which can add to a cluttered look.
LED Puck Lights
Operating on the same principles as light bars, these under-cabinet lights are easily installed and moved from place to place. These lightweight rechargeable discs operate with either motion-sensors or can be turned on and off with a simple tap of the hand.
Mounted Strip Lights
For brighter under-cabinet lighting, choose a fluorescent strip or track light with halogen bulbs. Benefits include surface mounting, easy installation, and wireless technology. Most come in several wattages to provide bright light. Be careful with placement, however, as these higher-wattage halogen bulbs can generate more heat and shouldn't be installed near anything flammable.
Hard-Wired Lights
For a more permanent and professional look, consider investing in hard-wired light fixtures. Recessed puck lights offer a low-profile option and must be installed directly into shelves and usually require modifications to cabinets. A licensed electrician will need to install these and other hard-wired lighting, which must tap into a power source or have a new circuit added to the area. Other hard-wired options include custom under-cabinet track lighting and strip lights. Switch placement is also something to consider when taking the hard-wired route.
Once you've decided on the type of lighting that works best for you, the next step is to add decorative molding. Light rail molding conceals under-cabinet light fixtures, prevents glare, and provides a finished look to your cabinets.

Cabinet molding such as crown molding, light rail molding, and base molding give you that special finishing touch to your kitchen design. This is particularly true when it comes to under-cabinet lighting. We offer milled solid hardwood trim and molding selections factory finished to match your cabinet paint color. As always, you can reach out to a CliqStudios kitchen designer for answers to any questions you have. They can help with everything from kitchen design ideas, cabinet selection, lighting, and everything in between!