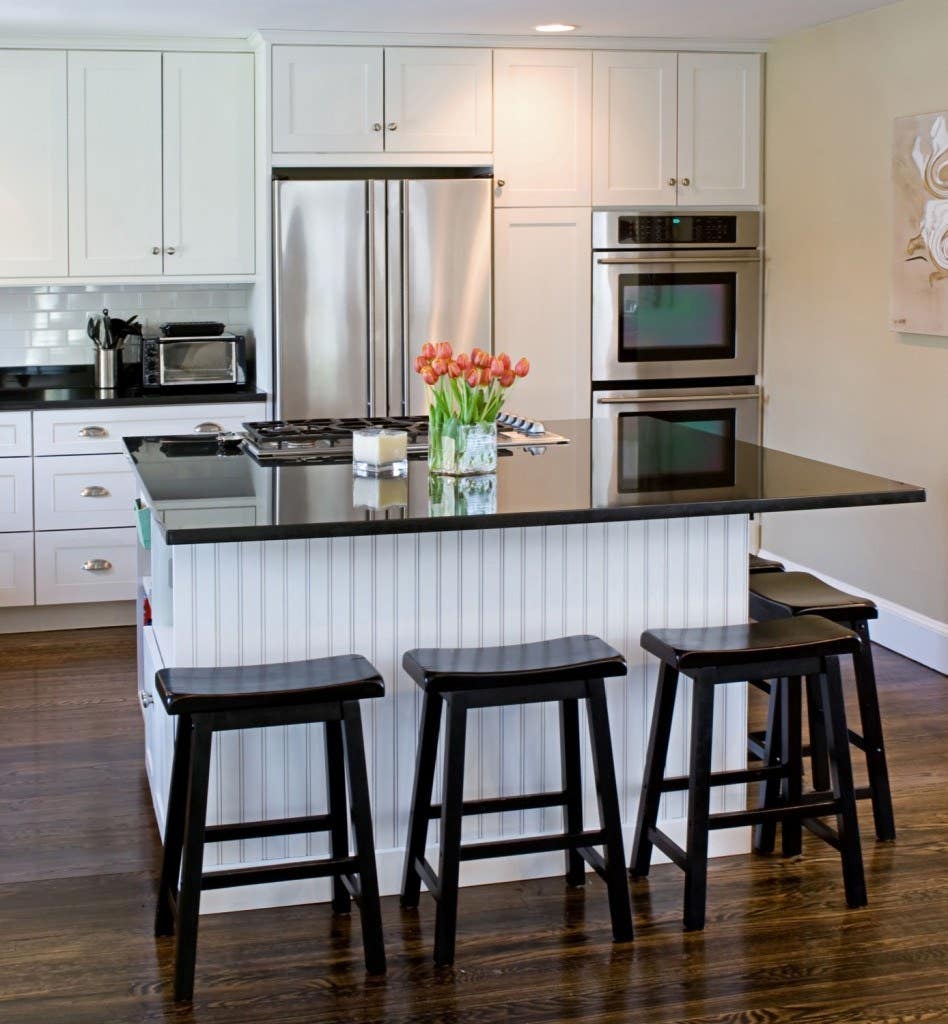 A Versatile Style
A timeless concept, the black and white kitchen makes a dramatic statement. It works with interior styles ranging from traditional to contemporary, casual to formal, and urban to rustic. For example, a simple vase of flowers pops against the monochromatic backdrop!
Some two-tone designs incorporate both black and white cabinets. Others set the stage with either black or white cabinets, then introduce the second color as a counterpoint in countertops, backsplashes and decor. The black and white scheme is often paired with the warm tones of a wood floor. Below are some examples of our customers' use of this versatile scheme.
Industrial Design
The kitchen above is grounded with crisp, dark cabinets. White subway tile and open shelves displace wall cabinets for a light and airy feel. Clear bulb pendant lighting, unfinished-plank flooring, and wire mesh bar stools introduce elements of industrial style into this contemporary design.
Elegant Design
In this graceful transitional design, black shaker inset wall cabinets Shaker Inset Painted Black are stacked and trimmed with double crown molding, light rail and ogee base. The resulting showpiece reflects the style of the buffet in the dining area, creating a graceful transition while balancing the island built of white cabinets and finished with decorative door panels. Exposed nickel hinge posts in the inset cabinets, nail head trim on the bar stools and oil-rubbed bronze pendant lights reinforce the traditional feel.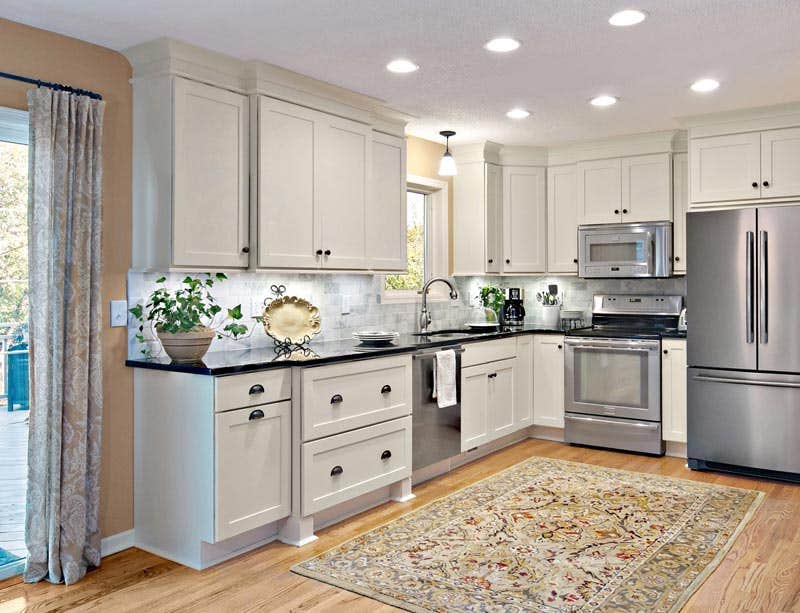 Working With Color
If you have a lively sense of color, like to refresh your environment frequently or want to feature a favorite rug or piece of art, nothing provides a better playground for expressing your style than a black and white kitchen design. The room pictured above is a perfect example. White cabinets with high crown molding and furniture feet on the bump out create a transitional style backdrop for the richly patterned carpet and drapes. Black, introduced in the polished marble countertops, cup poles, pendant light and drapery pole, adds interest and depth. If at some time you want to change the look, it will take nothing more than a can of wall paint and a few new decor items.
Clean & Simple
The kitchen above sports a crisp new look while staying in touch with a wonderful architectural history. Sleek black Shaker cabinets Shaker Painted Black and gleaming white marble counters and subway tiles stand with sophisticated confidence between rough wood beams and broad plank flooring with scraped paint.
Do you have ideas on black and white kitchen design? Share your thoughts with your readers.