Cabinet molding such as crown molding, lightrail molding, and base molding give you that special finishing touch to your kitchen design. Our trim and molding selections are milled from solid hardwood and are factory finished to match your cabinet paint color.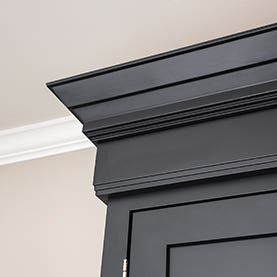 Crown Molding
An essential accessory to fine cabinets, crown molding is a standard element of kitchen design. Alone or in combination with fillers and valances, it can complement contemporary, traditional or eclectic cabinet styles.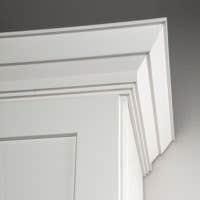 Traditional Molding
The graceful five-step profile of our traditional crown molding offers a time-honored look with a contemporary feel. Dimensions: 3-1/2″ high x 2-3/4″ deep.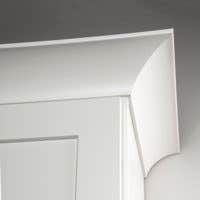 Cove Molding
The simple architectural concave profile of our cove crown molding provides an elegant finish to any cabinet style. Dimensions: 3″ high x 2-1/2″ deep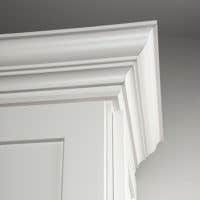 Ceiling Molding
The lightly decorative profile of our ceiling crown molding incorporates steps and curves. Dimensions: 2-3/4″ high x 2-1/2″ deep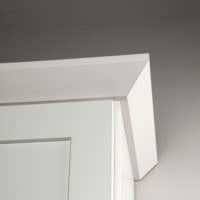 Angle Molding
The perfect complement for Shaker, Mission and Arts and Crafts styles, angle crown molding also works well with contemporary designs. Dimensions: 2″ high x 2″ deep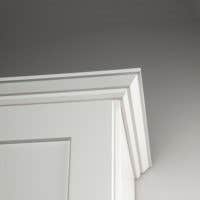 Soffit Molding
This subtle low profile molding is perfect under a soffit or where vertical space is limited. Dimensions: 1-1/4″ high x 1-1/4″ deep

---
Light Rail Molding
Light rail molding conceals under-cabinet light fixtures, preventing glare while providing a finished look to cabinetry. Your designer can help you choose the best molding for your given style.
Shaker Lightrail Molding
Neatly finishing a simple Shaker cabinet design, this lightrail is 3/4″ high.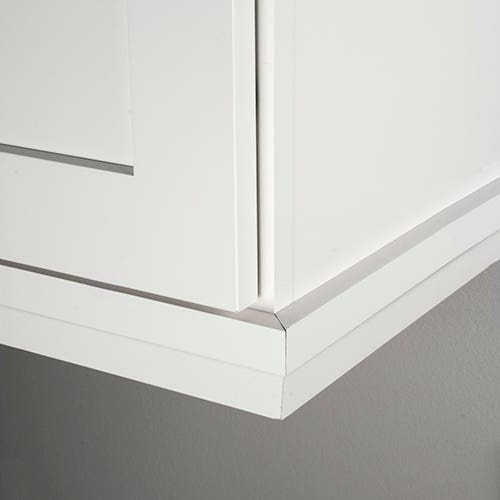 Window Casing Molding
When applied vertically to the cabinet frame, this angular and stepped window trim becomes a perfect compliment to your cabinets. 2-1/4″ high.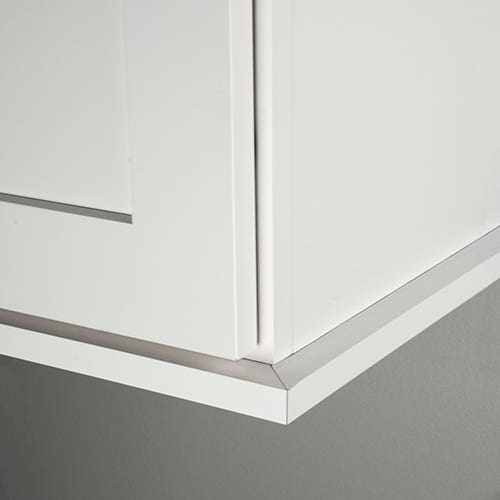 Counter Top Molding
Typically used with a finished panel to create a custom counter top, this molding is also a neat and simple light rail trim. 3/4″ high.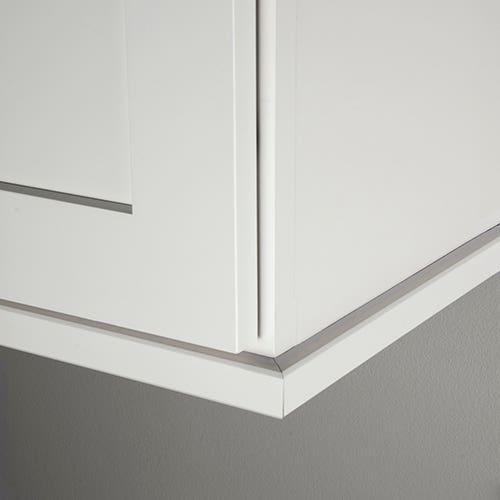 Outside Corner Molding
A straight, simple, and economical light rail solution. 1″ high.
---
Baseboard Molding
Decorated with the simple, s-shaped curve known as an ogee, this molding is timeless in kitchen cabinet design. The ogee molding is commonly used as a base trim, but can also be used as a light rail, or stacked with other millwork such as crown molding.