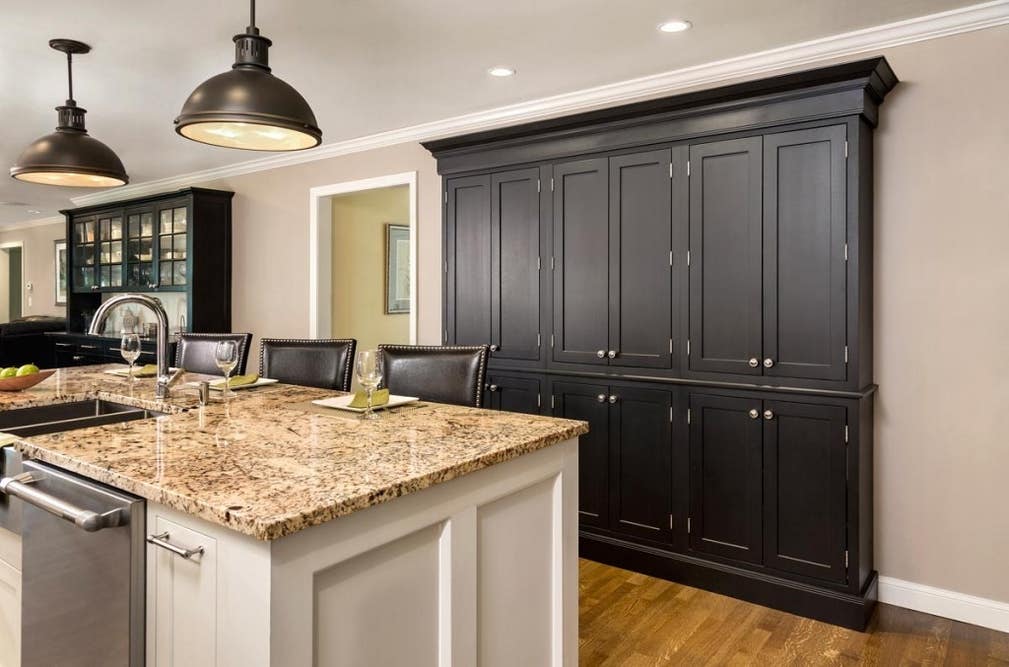 Enhance Awkward Wall Space
In the kitchen pictured above, reduced-depth black Shaker-style cabinets create a shallow pantry wall. Topped with crown molding, the pantry reflects the style of the original buffet in the adjacent dining space.
Modify depth of a section of cabinets for a truly unique effect or to solve a tricky problem. Our designers increase and decrease cabinet depth to create buffets and bureaus. As well as to line awkward spaces with shallow pantries, present a smooth line on an irregular wall, or break a horizontal line to add visual interest.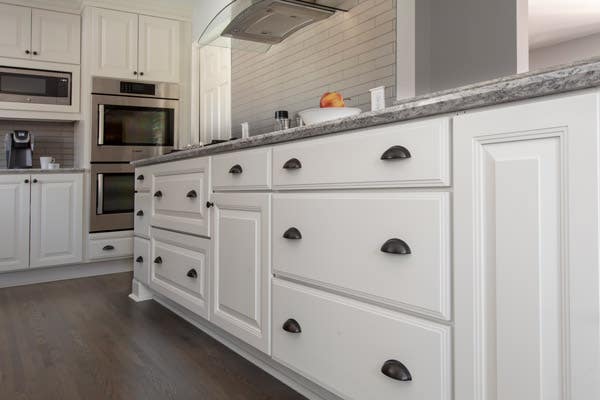 Traditional Design Features
This charming transitional design features a drawer base, bumped out three inches and finished with furniture feet at the toekick. The effect, that of a bureau, is enhanced by the contrast between the white cabinets and dark hardwood floor. Bump-outs and furniture feet often add a traditional feel to any kitchen design. However, the space may require some accent rugs or floor plants to help blend the contrasting features.
Semi-Custom Buffet Cabinets
Here the designer framed the window with a pair of glass-door wall cabinets, creating a sparkling buffet. Also, the under mount lighting adds a glowing effect to the windows natural light. Kitchen buffets offer a great space for displaying decorative objects and hosting food platters with company.
By working with a semi-custom cabinet line, you can get the custom features you want while keeping your total cabinet cost at a reasonable level. One of our professional designers would be happy to help you create a unique kitchen plan. We never charge for kitchen design services.
For more information on our free kitchen design services, call us at 888-350-1242!