Remodels can be stressful. It doesn't matter whether it's a half-bath or a full kitchen remodel, there's an impressive amount of coordination that's involved. Sometimes, so much, that it's hard to know where to start. Do you start with inspiration, or break down the budget first? Here's are 5 steps to break down how to get your remodel started.
---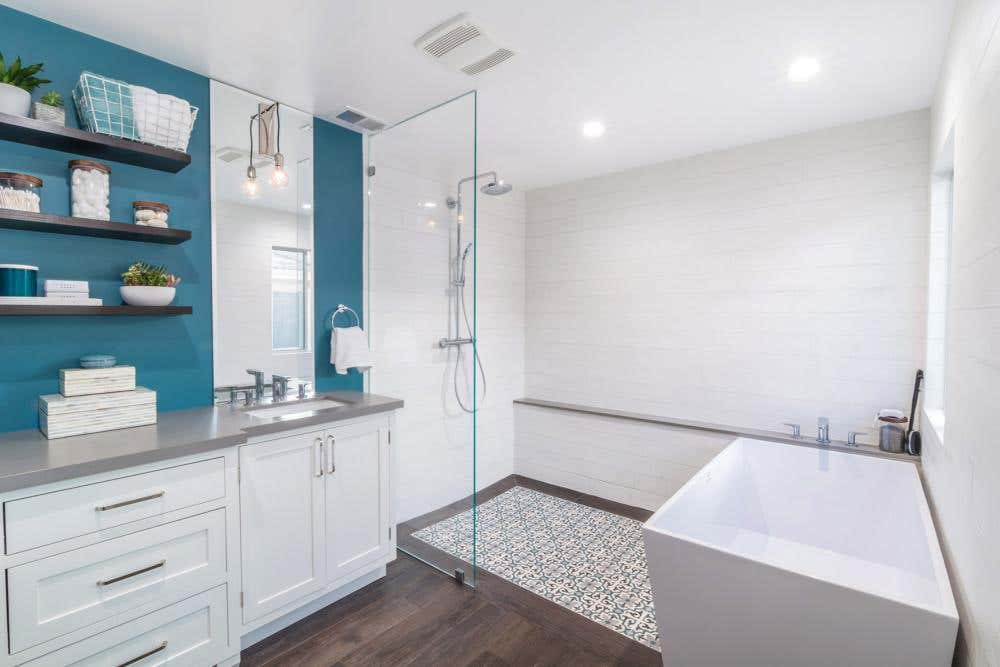 ---
1. Create a Project Outline
Since your remodel is just beginning, now is the time to make a complete list of what you want the project to cover. Do you want a full-scale remodel with new flooring, cabinets, countertops, and appliances, or something smaller? Will this also include DIY installation or are you hiring a contractor? Make notes of what you would like completed so it can be easily referenced as the project goes on.

Once you have perspective on the project scope, dive into budgeting. This will involve exploring how much you want to invest. Not everyone can pay for an entire remodeling project in cash, so financing may come into play. Consult with designers and installers to get a general idea of cabinet and installation costs. Once you have this information together, it's time to figure out the details.
2. Estimate Your Timeline
Project timelines can be a little tricky, and that's why project managers get compensated so well. First things first, reach out to your local municipality to see if your project may need a permit. Most projects only need a permit if they involve structural, plumbing, electrical, or ductwork change. However, according to angi.com, some cities require permits for any project over a certain dollar amount.

After permits are figured out, it's time to start checking on lead times with all potential vendors. Installers, cabinet, tile, and countertop companies will all have estimated lead times to receive product. Especially with current supply chain issues. The easiest way to have a smooth project is to gather all lead times and give yourself an added 8 weeks. This covers any potential re-orders or slower than expected deliveries.
3. Find Remodel Inspiration
With most of the big-picture details figured out, start exploring different cabinet door styles, color palettes, light fixtures, countertops, and appliances. There are probably thousands of resources out there to help you these days but start with Houzz, Pinterest, CliqStudios, and Instagram. All these sources have before-and-after's, advice from professionals, and endless ideas.

Deciding on the overall style of your space whether a home office or kitchen, pick out something you love. Make sure the style complements your home. Nothing looks more out of place than a seamless modern kitchen in a decorated craftsman-style home. If you need help with door styles or color selection, contact a designer for help.
4. Measure Your Space
There are a few options for measuring. You can either do it yourself or hire a professional to measure for you. Regardless, every cabinet company is going to want as many details as you can give. For instance, measurements needed for a kitchen remodel are the following:
♦ Walls
♦ Window Openings (including moldings)
♦ Door Openings (including moldings)
♦ Ceiling height
♦ Soffits
♦ Appliance Center Lines
♦ Appliance Specs
♦ Plumbing Center Lines
♦ Outlets and Light Switch Locations
♦ Any Other Unique Features
Reference our How to Measure Your Kitchen For Cabinets page for more help.
5. Start Shopping for Products
Take your new floor plan full of measurements with you to shop cabinet companies. Once you have partnered with a designer to create a layout you love, shop around with that design. The best way to make sure you're getting high-quality products at the best price is to use that same design and quote at each retailer.

When comparing cabinet costs, keep in mind the only way to get a true comparison is for the quotes to be identical or close to it. That means cabinet construction, door style, and finish all need to be the same or very similar. Make your decisions based on what works best for you while striking a happy balance between quality and budget.
---
From here, consult with the designer or installer that's helping you to finalize your project. It won't be long until your materials are on the way and installation day arrives.

Explore CliqStudios' Price Match Guarantee where we work to beat your quote by at least 5% now!