Last month we published a blog post titled "Has Stainless Steel Worn Out Its Welcome?" that discussed if stainless steel's popularity is fading in the appliance industry. What we determined is that manufacturers certainly are moving away in different directions, and each is promoting what it thinks is the "next stainless steel." This could mean white, black, slate or something else entirely depending on who you talk to.
For homeowners, though, stainless steel remains the most popular choice of appliance finish. At CliqStudios, a majority of our customers select stainless steel to pair with their new kitchen cabinets and kitchen redesign.
However, the fact remains that plenty of other finishes exist. If you're wondering what finish will work with your kitchen, read our advice for matching appliance finishes with your cabinetry.
White Appliances
This is simple. White appliances should only be used in kitchens with white kitchen cabinets. White with white creates a unified, clean look. Choosing to use white appliances with kitchen cabinets of any other finish tends to look outdated. Interior designs will even refer to the look as an "apartment kitchen."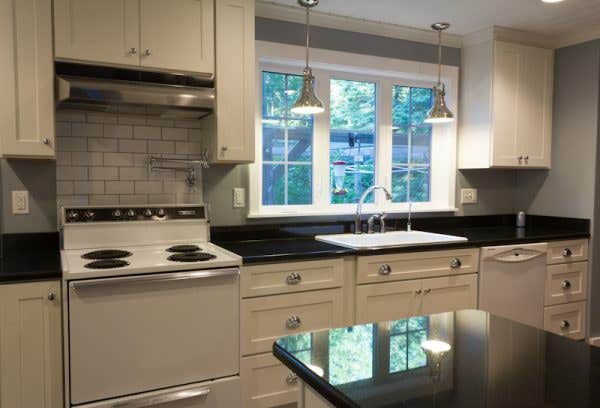 Black Appliances
For black appliances, you have a little more freedom with kitchen design as they tend to pair well with a range of darker finishes. Use black appliances with both wood and painted finishes. Avoid medium-toned woods, however, because the contrast can be strange. Take a look at CliqStudios' Painted Carbon kitchen cabinets for examples of finishes we recommend to use with black appliances.
For a typical black-and-white kitchen, black appliances and white kitchen cabinets can work together. If you're interested in taking this route, try tying in the black of the appliances with other aspects of the kitchen. Black or darker gray countertops and black kitchen cabinet hardware could be a nice way to do this.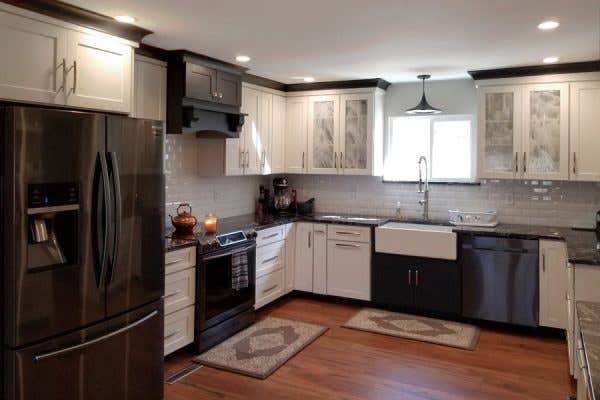 Stainless Steel
One reason why stainless steel is such a popular choice for appliances is because it looks great with any cabinet finish. There's no other finish like that. Plus, it's great for resale. From white and ivory paints to medium-toned woods and dark finishes of all kinds, stainless steel should be a nice complement to the design.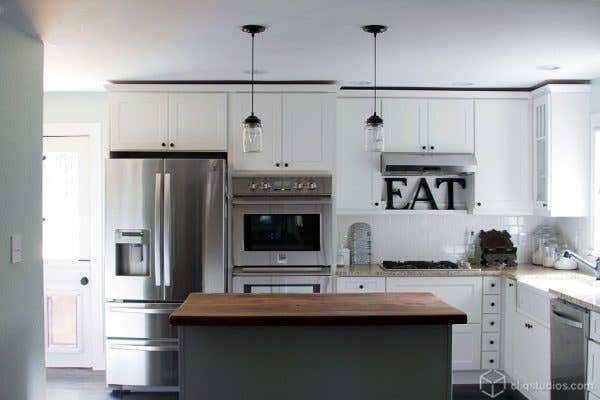 How You Can Save & Upgrade
Stainless steel appliances will cost a little more than basic black and white appliances. However, there are ways to save money so you can upgrade to stainless appliances. CliqStudios cabinets cost less on average than cabinets from national big box stores. Plus, CliqStudios cabinets come with free kitchen design from professional designers. You can get beautiful, high quality cabinets from CliqStudios at a great value and spend the money you save on other parts of your kitchen.
Want to see the quality of CliqStudios cabinets in person? Order two corner door kitchen cabinet samples for free to see the quality finishes in the natural lighting of your home.