What Does it Cost to Remodel a Kitchen? Understanding Your Renovation Budget
Homeowners often feel mystified by kitchen remodeling costs. It's hard to get an exact cost for a complete kitchen remodel, because each project has its own unique needs, features, quirks, and fixes. In terms of materials, you have budget options and luxury options. On of top all that, installers across the country charge different rates for similar services.
It's difficult to know the exact cost of your kitchen remodeling project from the outset. However, you can start thinking about your remodeling budget as early as possible. To help you get started, we've included the costs of a typical kitchen remodel. We also share budget benchmarks, breakdowns about kitchen remodeling costs and tips on how to save on renovation costs.
Content
How Do I Budget My Kitchen Renovation?
What Does a Typical Remodel Cost?
What Does it Cost to Install a Kitchen Remodel?
Is Remodeling My Kitchen a Good Investment?
How Can You Save Money on a Kitchen Remodel?
How Do I Budget My Kitchen Renovation?
Your budget is hugely important. It shapes what's possible with your kitchen, from the materials you choose to the professional help you hire.
For the average, medium-sized kitchen remodel, $20,000 to $50,000 is a reasonable starting point for your budget. Your remodeling budget will depend on things like: where you live, home value, product selection and project scope. Do you want to gut your whole kitchen, including moving walls and relocating utilities? It will be costlier than simply replacing appliances and kitchen cabinet in the existing layout.
How you divvy up your budget will depend on your household's needs. Here is an example budget breakdown: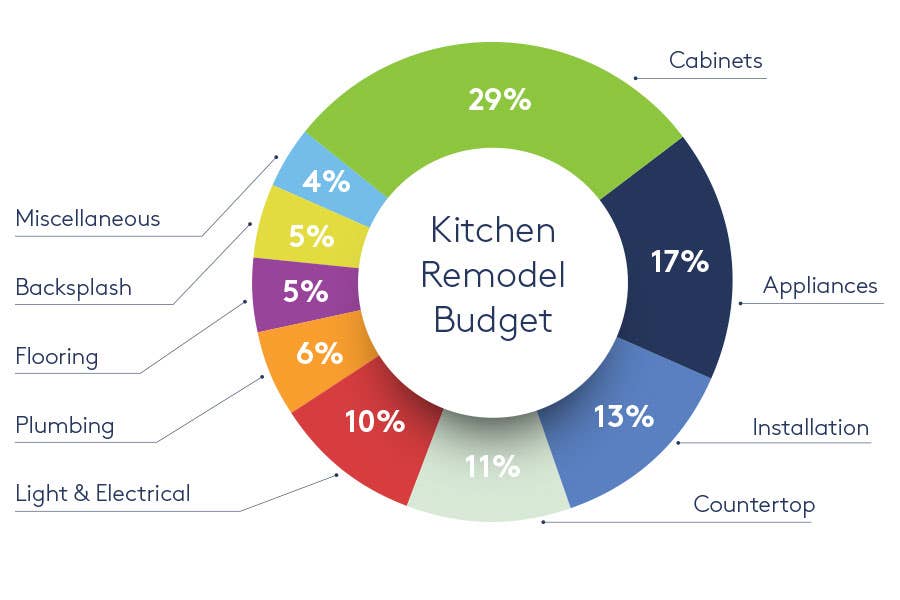 Cabinets: 29%
Appliances: 17%
Install: 13%
Countertop: 11%
Lighting & Electrical: 10%
Plumbing: 6%
Flooring: 5%
Backsplash: 5%
Miscellaneous: 4%
In order to prepare for unexpected expenses, we recommend setting aside 10-20% of your total budget.
This outdated, dark kitchen is refreshed with an island and pantry cabinets

Read More

Get an estimate of what your new kitchen cabinets will cost.

Read More
What Does a Typical Kitchen Remodel Cost?
The national average cost to remodel a kitchen is about $22,000. That number doesn't tell the whole story though. Your new kitchen could cost anywhere from $5,000 to $50,000 or more, depending on the size and scope of your project. Typical kitchen remodels range from $12,500 to $33,000.
We created this chart to show what a kitchen remodel would look like under different budgets.
Low, Medium, & High Remodeling Budgets
Remodel Budget

Low

$5,000 - $15,000

Medium

$15,000 - $30,000

High

$30,000 +
Remodel Features
Mostly DIY
Reface or refinish cabinets
Sink and faucet upgrade
Replacing countertops with inexpensive materials (laminate, vinyl, tile)
Painting walls and ceilings
Appliance upgrade
Installing LED or insert lighting

Hire installers
Installing semi-custom cabinets
Installing new sink and faucet
Building a kitchen island
Replacing countertops with high-quality materials (stone, wood, metal)
Replacing floor (tile, laminate, stone)
Installing high-end appliances
Adding tile backsplash
Hire general contractor
Have custom cabinets built and installed
Replacing countertops with high-quality materials (granite, quartz)
Adding overhead lighting
Adding hardwood flooring
Installing new sink and faucet
Installing high-end appliances
Structural changes (knocking down walls, installing pipes, wires, gas lines)
The average cost to remodel a kitchen continues to increase. However, each kitchen renovation budget varies based on kitchen size, types of materials used and your personal budget.
What Does it Cost to Install a Kitchen Remodel?
This pricing chart from HomeAdvisor provides a breakdown of the various costs of installing the elements of a kitchen remodel.
Kitchen Installation Costs
Remodel Budget

Low

$5,000 - $15,000

Medium

$15,000 - $30,000

High

$30,000 +
Install appliances
$100 - $300 per appliance
$400 - $600 per appliance
$700 -$900 per appliance
Install cabinets
$1,200 - $3,200
$3,500 - $5,500
$6,500 - $8,500
Install countertops
$900 - $1,100
$2,100 - $4,100
$5,100 - $7,100
Install a faucet
$130 - $230 a faucet
$330 - $430 a faucet
$530 -$630 a faucet
Install flooring
$700 - $1,700
$1,800 - $2,800
$2,900 - $3,900
Install a sink
$500 - $1,500
$1,600 - $2,100
$2,200 - $2,700
*Costs vary by location
Kitchen installation costs for cabinets and other materials vary depending on location and over kitchen remodel budget.
Is Remodeling My Kitchen a Good Investment?
"For potential buyers, the kitchen is the room that can make or break the sale," writes Kristen Hampshire at HGTV. "An upgraded, attractive kitchen can make your home irresistible."
Kitchen remodels continue growing in popularity. For one reason, they often give a huge boost to home resale value. In 2019, a $66,000 kitchen remodel recouped an average of 62% of the cost upon the sale of the house. A smaller $22,000 remodel netted an average return of 80%.
Smaller remodels can have greater ROI because they tend to aim at solving functional problems. They are often designed with more versatile styles. More expensive projects tend to place a high priority to personal style and aesthetics. Although potential buyers will care that the plumbing and appliances work, most will not need a highly ornamented kitchen.
Unless your goal is to immediately sell your house, it's best to design a kitchen you'll love. Ultimately, your kitchen is more than an investment. It's where you provide for and nurture your family. The kitchen is where you entertain friends and guests. It's the living and breathing hub of your home, where thinking, conversing, and resting happens.
If you're living in your home for the years to come, then pick out what you want and enjoy it. The Research for Cooking & Kitchen Intelligence found that 40% of homeowners say they wish they had spent more money on their kitchen renovation. Their biggest regret was not adding more organizational features.
How Can You Save Money on a Kitchen Remodel?
You can have the design you want while saving money on a kitchen remodel.
Kitchen remodeling budgets have ballooned over the last several years. Not only have kitchens gotten bigger over time, they've also gotten fancier. Even modestly priced homes are increasingly demanding luxury features.
While you can include special features on a smaller budget, you may need to find way to be frugal.
Here are some ways to trim costs:
Shop smart
Start early and take your time to find bargains. First, research products so you can evaluate quality. Next, look online and at discount outlets for deals. Keep in mind that buy in-stock merchandise usually costs less. Finally, if you find a product you like that's out of budget, look for similar styles at less expensive retailers. You could also try shopping at reuse centers and salvage stores.
Keep your current layout
Anything that involves moving plumbing, gas, or electrical will hike up your budget. To cut costs, get a design that preserves your existing kitchen footprint, or modify it only slightly. It is possible to move some appliances without moving their hook-up. For example, a dishwasher can usually be moved to the other side of a sink.
Get free professional services
CliqStudios offers free professional design services. Let your designer know that cost is a priority. They will use their expertise to help design your kitchen with cost in mind. The professionals at lighting, appliance, tile and countertop stores can also be valuable sources of advice.
Do-it-yourself or Manage-it-yourself
Even if you don't have construction or DIY skills, you might consider managing your project as your own general contractor. Being your own general contractor could save you up to 30 percent on your entire remodeling project.
Save on countertops
To give some relief to your budget, consider using single thickness countertops or opting for laminate. Choose less expensive countertop materials to save money. If you're selling soon, keep in mind that many buyers look for stone surfaces like granite or quartz.
Hit the books
One of the best ways to stay on budget is learning from other remodelers. Luckily, there are extensive resources on remodeling on a budget. Here are a few:
Remodel! Without Going Bonkers or Broke: A Home Improvement Primer by Jim Molinelli
Affordable Kitchen Upgrades by Steve Cory and Diane Slavik
Do It Yourself: Kitchens: Stunning Spaces on a Shoestring Budget by Better Homes and Gardens
Learn more about kitchen remodeling costs: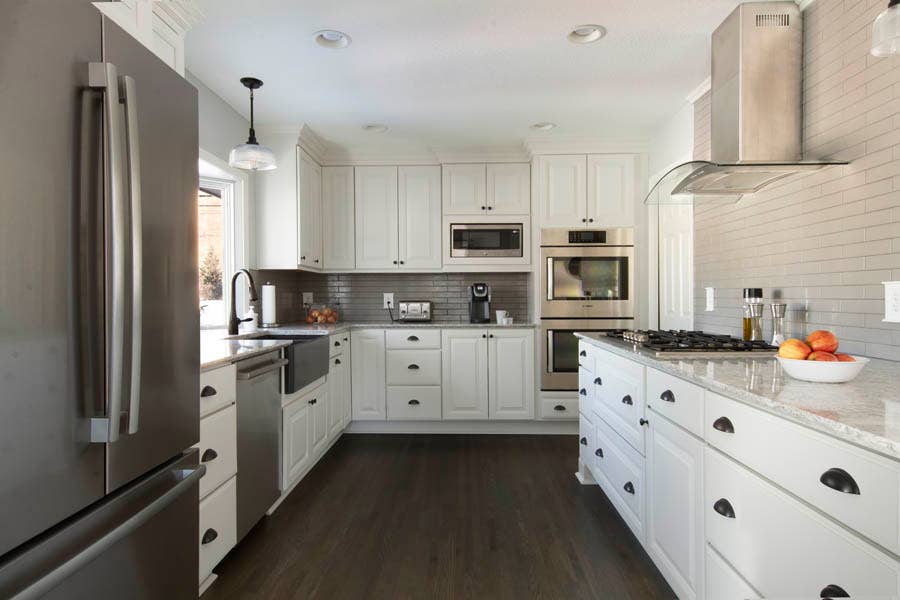 Ready to start your free design?
Take the first step toward your dream kitchen today! We'll connect you with your personal designer to make your project a reality.
Let's Get Started
Showing 8 Comments

Thomas Harris
Apr 19, 2021 15:13
Hello there. Good share for everyone. Anyway, we're searching on how to start our renovation and kitchen remodeling Providence RI, Thanks that I have found this post with a direct point and insights for our remodeling budget! My partner and I created a plan a budget that is the best fit for us. Kitchen remodeling is beautiful but would be a lot of works awaiting us from the first day at work, we would try hiring a contractor soon but we're still looking up and stick to our budget. Do you here have any ideas or suggestions? Good job and thanks a lot!

Dan Jones
Apr 23, 2021 03:12
There are many things that you can do to save on budget. The savings is directly based on your skills - in DIY projects and shopping. Shopping first. Appliances can be a huge savings be patient and wait for sales, purchase ding and dent new appliances. Most ding and dents will never be seen when installed. You also don't have to purchase the same "suite" of appliances. If you are looking for stainless steel there may be some color differences but many times it doesn't matter because rarely are appliances next to each other. But don't get too low in quality - you use appliances everyday and they don't last like they used to. Countertops is another savings area. Stone or composite granite are a great surface and it's what most people expect in an "average" price home now. Stick with the basic colors and this can be a large savings. There is also many new (and very good) laminate options that can save money and worth looking into. Flooring and backsplash tile can also be a huge savings. If you have the time go to different flooring/tile stores and look for close-outs and remnants of lots. (You will need to know square footage.) Many times these materials are marked down considerably. As for Labor? DIYers can do the tear out and disposal of the kitchen space. How much DIY skill you have to install items is really up to your comfort and skill level as well as do you have the correct tools to do the job. Another savings is your design. Not moving major utilities (water, gas, electrical) can save thousands. Not ripping out walls helps save on budget. When you tear out a wall support usually needs to be added, and if it doesn't now the ceiling has become part of your project. Hope this helps and good luck and be patient.

Thomas Harris
Mar 08, 2021 08:58
Yes You have a good point in here. Good job in makng this information as it is very useful to readers. We are currently looking anf planning to start our renovation and kitchen remodeling providence ri and your content gave us some great tips and insights for our remodeling budget! This is a better plan to consider.

Kitchen remodeling is a good start however we would take a lot of work from the first day at work, we would try hiring a contractor soon. My friend suggests pawtuckethomeremodeling in Ri, can you drop any ideas. Thanks in advance =)

Dan Jones
Mar 12, 2021 02:10
Thanks for the reply. Keep in mind two always get multiple bids for contractors and allow extra time as the result of COVID-19.

Kitchen Tune-Up Bloomfield
Feb 14, 2020 16:26
Love it! Great insight for consumers researching how best to go about remodeling their kitchen.

I am remodeling my kitchen and thinking about quartz for my countertops. Is there a guide or something that explains what I should be looking for?

QUEEN ALEXANDER
Jan 27, 2019 02:29
I WANT TO REMOVE MY WALL OVEN AND INSTALL A ROLL UP DOOR IN THE SPACE.