Chances are there is often a flurry of activity in your kitchen, and whenever you reach for an item from your cabinets and pantry, you set off an avalanche of spice bottles or soup cans. Well, it's time to take control! Why have a kitchen pantry stuffed with everything you need if it's a disorganized mess? We have just the right cabinet and pantry storage ideas to transform your kitchen into an efficient workspace.
Pantry Cabinet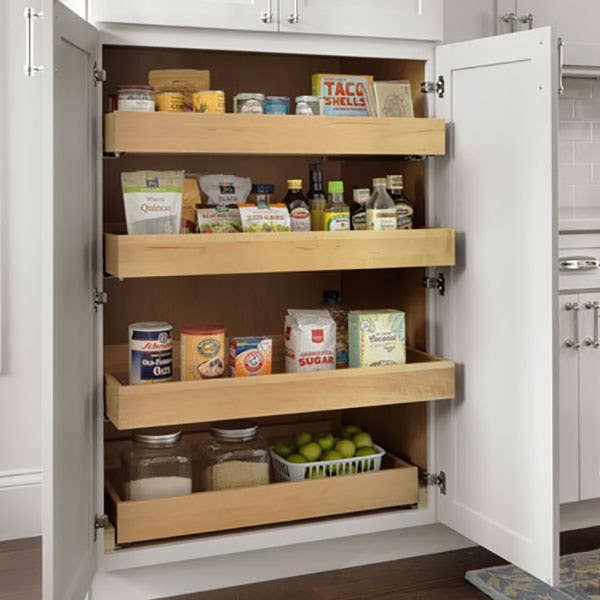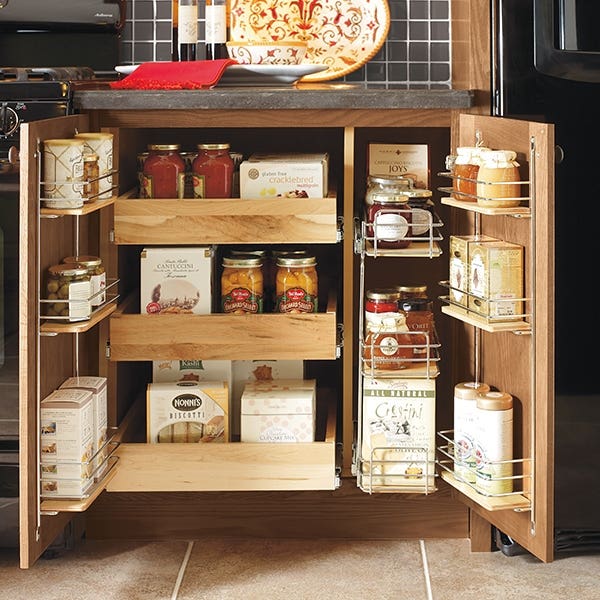 Whether it's for food, cookware, or small appliances, the pantry is the place for storage. Want to make it easier for the kids to get their own snacks? Looking for an easy way to bring pantry items out into the open for quick access? Our Pantry Cabinet is just the solution. It can be customized with super-convenient Roll-Out Trays that allow you to slide every item out to you — no more digging for items buried in dark cabinets.
Lazy Susan Cabinet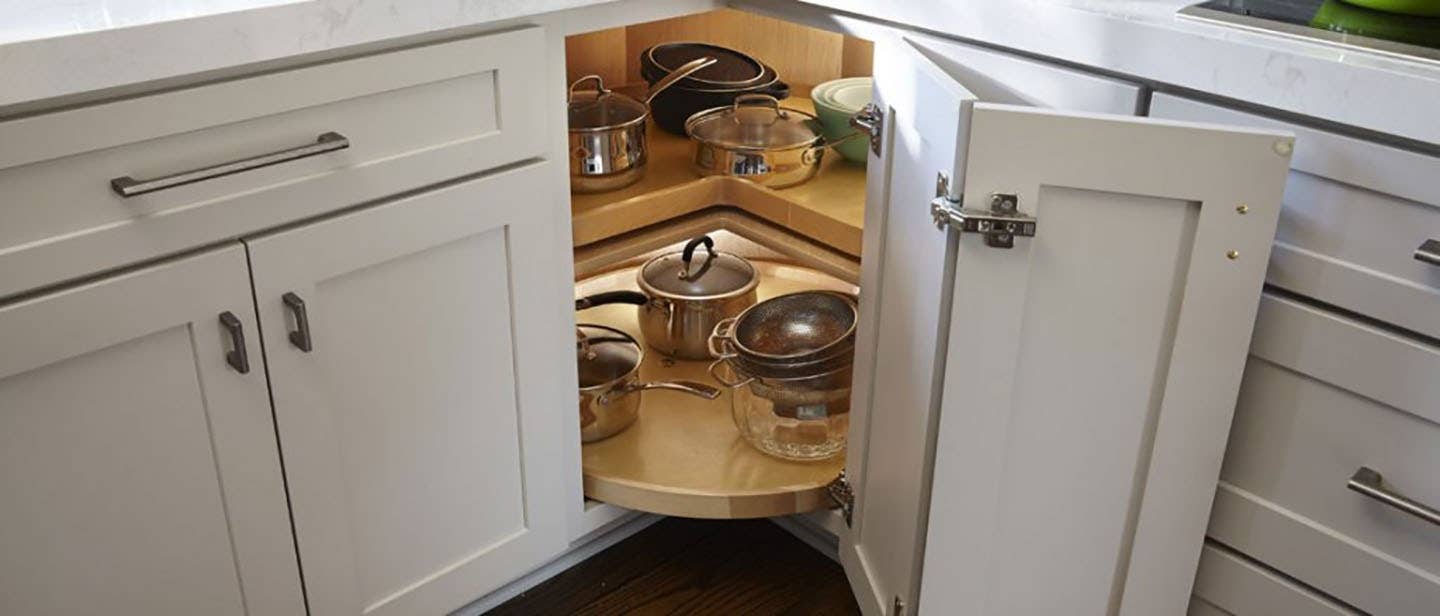 Multi-Storage Drawer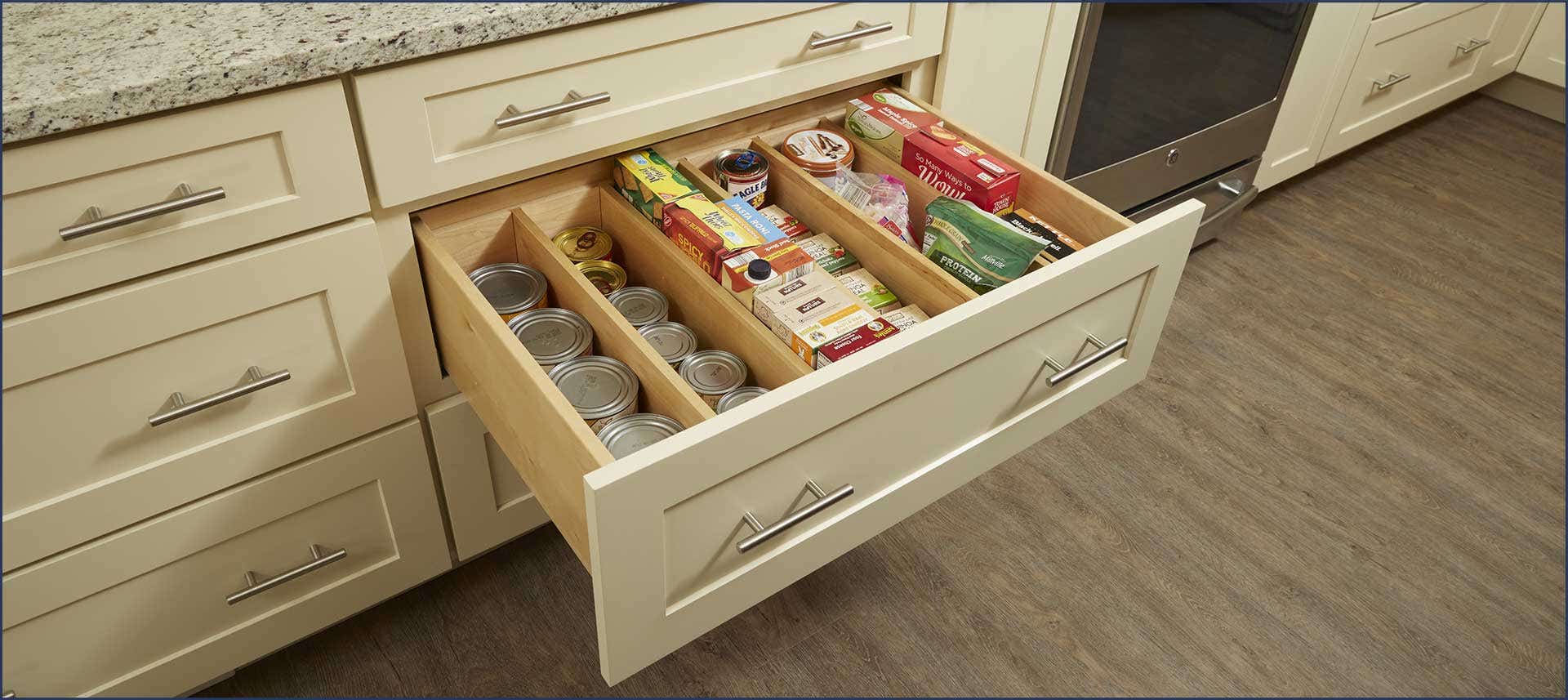 Drawers are a smart, ergonomic choice the whole family can appreciate. The Multi-Storage Drawer makes it easier for kids to reach items in the kitchen or to help clean up. The deep drawer contains dividers that create efficient storage. Whether for pots and pans, containers, or pantry items, the Multi-Storage Drawer makes it easier to keep your kitchen organized and clean.
Spice Drawer Insert
Conveniently organize your spices near your cooktop with a dedicated Spice Drawer. The tiered layout reduces clutter and makes all of your spice containers easy to see and easy to reach.
Pull-Out Storage Cabinets
Pull-Out Storage Cabinet organizers operate much the same way as Roll-Out Storage Cabinets, but in a vertical design. For optimal convenience, we offer wall and base cabinets with adjustable shelves. Store canned goods, bottled sauces, baking powders, boxed items — really anything you put on a shelf that you want to pull out easily for quick access. All pull-out cabinet doors and roll-out cabinet drawers feature soft-close hinges and glides.
In addition to these handy drawer inserts, pull-out and roll-out cabinets, CliqStudios designers have the best ideas to turn your cluttered kitchen into the sleek and functional workspace of your dreams. Contact us today to get your busy kitchen organized!