Why Do I Need a Kitchen Designer?
The kitchen is one of the most complicated rooms of the house to lay out. Kitchens are full of utility lines, appliances, doors, windows and walkways. Remodeling a kitchen is about more than just making a beautiful space – it is about making a more functional space. This is why you need a kitchen designer.
Content
CliqStudios Kitchen Designers
How Will a Kitchen Designer Help Me?
How Does CliqStudios' Design Process Work?
CliqStudios Kitchen Designers
A great kitchen designer brings your ideas to life. They transform your space and the way you use it. That's why a CliqStudios designer works on every project at no charge to you. Providing design services is part of our goal to make kitchen remodels easier and better. We believe everyone should have the best layout possible in their new space.
We also believe your time is valuable, so our designers help you plan your project on your time, from anywhere. Our design studios are located in Minneapolis, St. Louis and Indianapolis, but designers work with homeowners nationwide. Through email, phone calls and screen sharing our designers make dream kitchens a reality.
How Will a Kitchen Designer Help Me?
CliqStudios' professional kitchen designers reimagine spaces and recommend the best ways to lay out cabinets. They are experts at accounting for the details, while creating a beautiful design.
It's challenging to sum up all the skills and advice a kitchen designer brings to a project. Overall, homeowners find designers' perspectives in these three areas invaluable.
Design star transform a 49-square-foot kitchenette.

Read More

Follow these principles to create a beautiful and functional kitchen.

Read More
Personal Advice
First and foremost, a kitchen designer will help guide you through the kitchen remodeling process. Whether this is your first or fifth remodel, you will want personal advice. Yes, there are online tools for designing kitchens, but when questions arise, you will be happy to talk to a real person who knows you and your space. Many homeowners say that working with their kitchen designer was one of the best parts of their remodeling project.
---
Our designer

was great at listening to our needs. Dana P.
---
Beautiful Space
A kitchen designer creates a beautiful space that fits your style. They are knowledgeable about trends, styles, and colors that work well in kitchens. A designer knows how to beautify every odd nook and cranny so they look meant to be.
Functional Design
A beautiful new kitchen needs a functional design behind it. CliqStudios designers make kitchens functional and comfortable by learning who uses the space and how. Not only do they avoid errors like placing doors too closely together, they also personalize the space for each household. These are a few of the top things kitchen designers take into consideration for each project.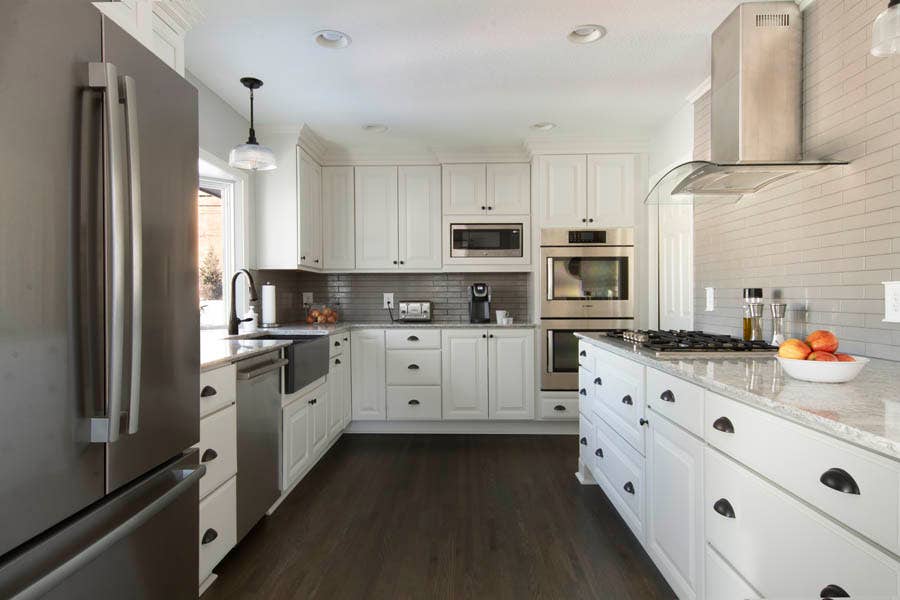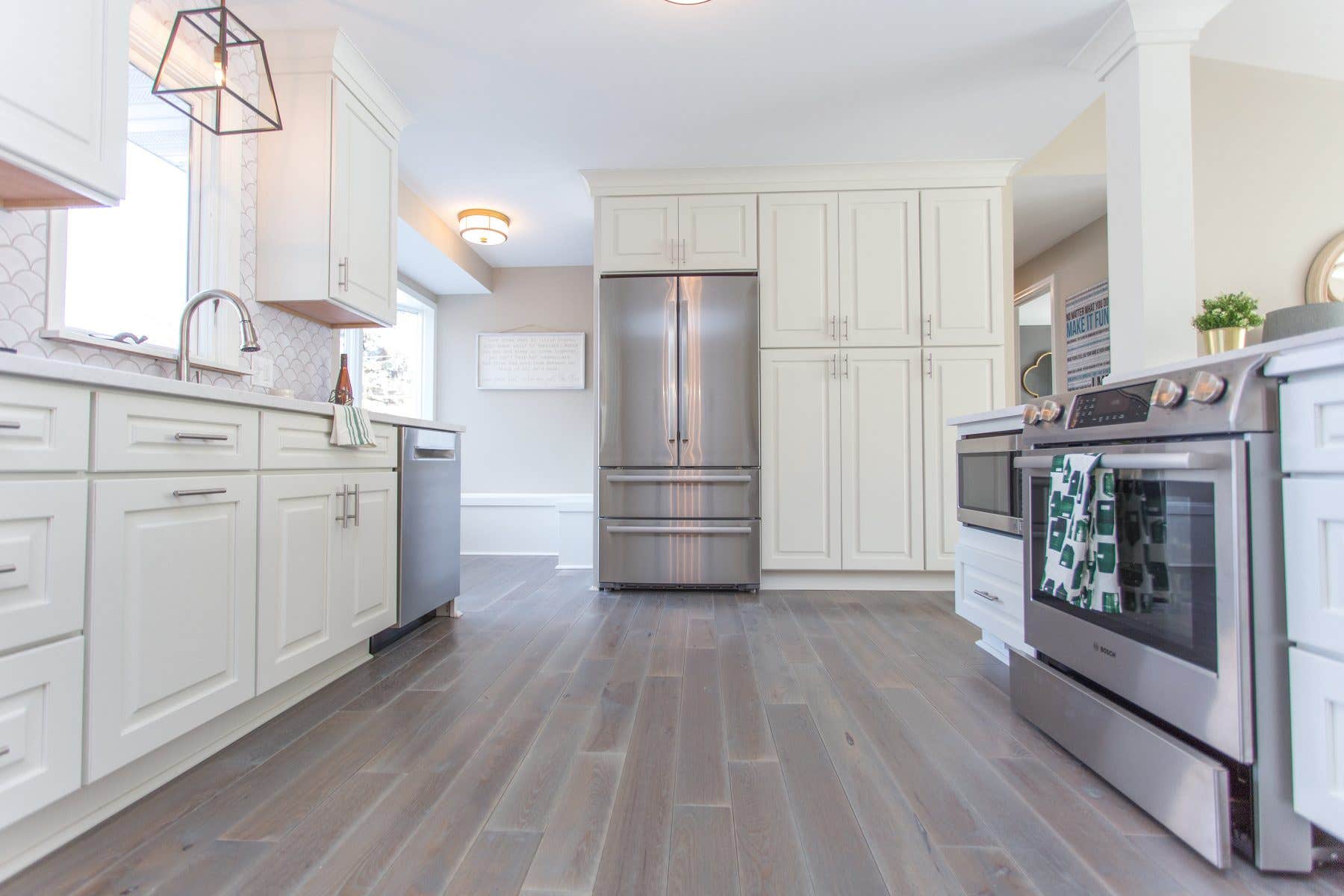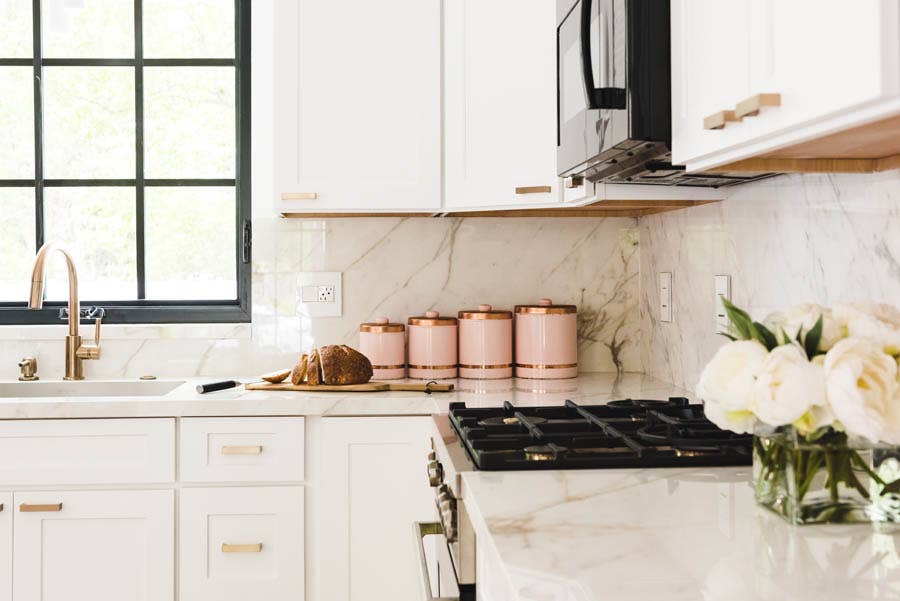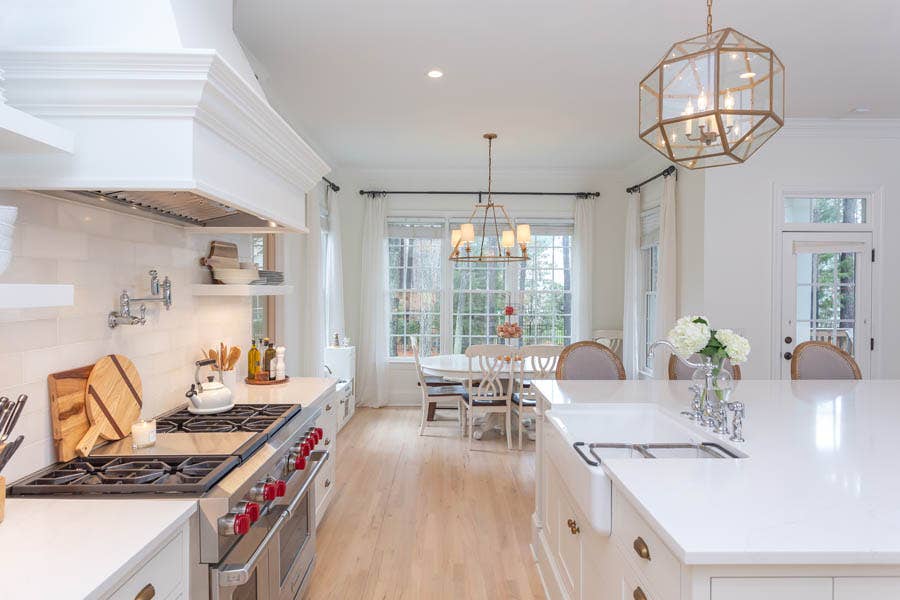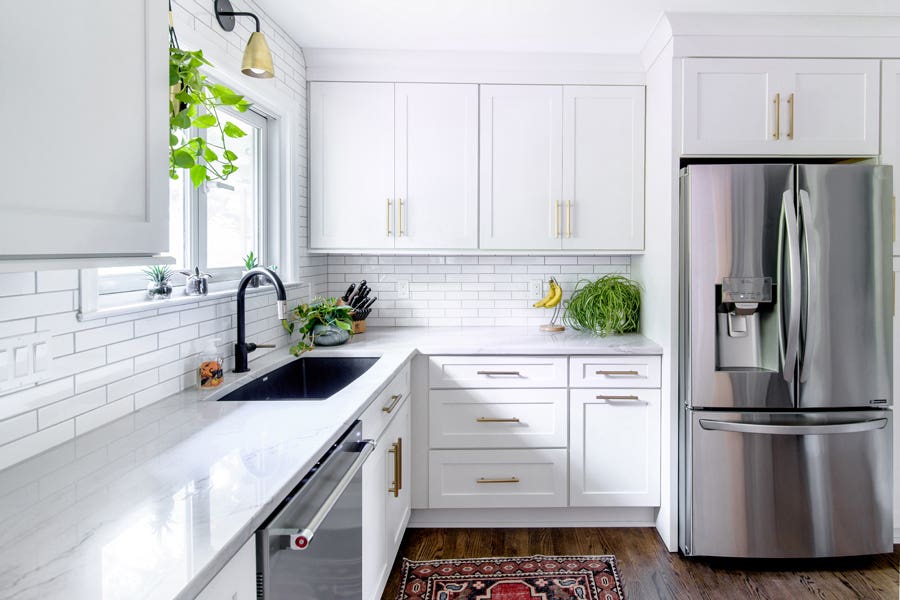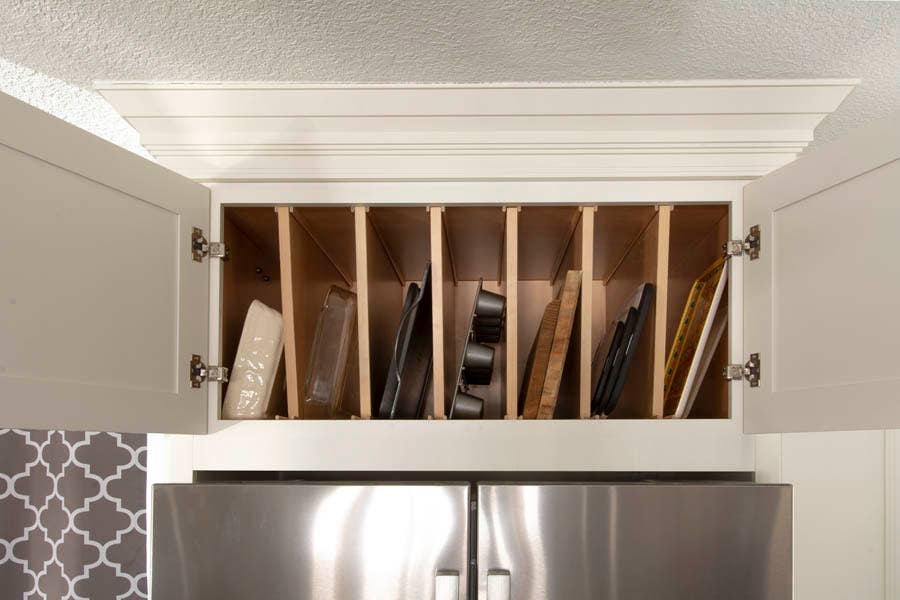 How Does CliqStudios' Design Process Work?
Although the kitchen remodeling timeline looks different for every project, the CliqStudios' online design process works the same. Your designer will work with you, at your pace, to create your dream kitchen.
1. Contact CliqStudios
Whether you request a free kitchen design online or call our studio directly, we're ready to get your project started!
2. Send in a Sketch and Measurements
The first step of every design is taking a few measurements of the space. These tell the designer the size of the space. They also help show them what they need to design cabinets around, like windows and doorways.
3. Initial Call With Your Designer
Next you will have your initial call with your designer. They will get to know your remodeling goals and find out about the wants and needs for your space. Because designers are working remotely, sharing pictures also helps them see your space and how it flows with the rest of your home.
"I could not have survived my kitchen remodel without the knowledge, kindness and patience of my designer Molly."
-Charlotte B.
4. Receive Initial Design and Cabinet Quote
After your conversation, your designer will create your initial design and cabinet quote. You will receive 3D drawings of your space and an itemized list of each kitchen cabinet in your design.
5. Make Revisions
Whether the changes you want to make are large or small, your designer will edit your design until it matches your vision. Many homeowners choose to add more cabinet storage solutions to their space.
6. Approve Final Design and Quote
After finalizing your design, you will receive a detailed packet to approve. The packet will include elevations, 3D drawings, cabinet details and installation instructions. You will also receive your final cabinet quote.
7. Order Cabinets
After reviewing and signing off on your final design, you will order cabinets. Your designer can walk you through the ordering process over the phone or through screen sharing.
8. Install Cabinets and Enjoy!
Your fully-assembled cabinets will arrive 4-6 weeks after you place your order.
"Our designer, Debra, was so patient and detail oriented throughout our entire kitchen re-design process. We would never have been able to come up with such a thoughtful design by ourselves!"
-Jen C.
CliqStudios' has completed more than 30,000 projects following this process. Designing a kitchen and choosing cabinets is a big decision – and a big investment. With a kitchen designer by your side, you won't feel like you're making these choices alone.
Showing 6 Comments

Chuck Hahn
Dec 11, 2018 06:36
It sounds good =, but I am very leary of making such a major purchase without actually seeing and putting hands on the product. I have explored Kraft Maid, but was surprised how costly a 10x10 kitchen cabinet package can cost. We are remodeling a home to relocate to in North Carolina. I have read reviews from a number of cites about CliqStudios, but want to see and handle the product. Do you have any ability to accommodate that?

CliqStudios Social Media
Dec 13, 2018 08:02
We fully understand the need to see the product up close. We offer two free samples so you can get a feel for our style and material up close. Check out our sample page: https://www.cliqstudios.com/kitchen-cabinet-samples/

There must be a cost for this service. What would be my obligation to your company if I signed up for a kitchen design? Do you do bathroom designs?

CliqStudios
Oct 30, 2018 09:54
Hi Carl, we often get that question, "What's the catch?" It's a valid response since expert design services can be a significant cost up to 10% of a kitchen remodeling budget. So why are kitchen designers with 10+ years of design experiences offering their services for free? Here at CliqStudios we are dedicated to providing a simpler, smarter and better solution for homeowners and professionals to purchase cabinetry for kitchens and bathroom remodels. That said, there is no catch and no obligation to purchase cabinets with your complimentary design.

Take a look here to see some of our <a href="https://www.cliqstudios.com/blog/bathroom-remodeling/">bathroom vanities and designs</a>.

Melinda Marsh
Apr 16, 2018 06:49
I would of loved to have input on a design but unfortunately this was bypassed for us with a kitchen remodel with Lowes. Old kitchen is gone, new cabinets were placed but didn't fit in several areas. Lowes has been here but we are in limbo for the last 6 weeks and I'm looking for my options. We are real close to having them to refund my money, take their cabinets and starting over. I'd appreciate any advise.

CliqStudios
Apr 17, 2018 04:53
Oh gosh, Melinda. That experience sounds so frustrating, if not downright discouraging. If you're looking to start over with cabinets, then once your return is successful, we would be happy to work with you - just give our design studio a call at 888-350-1242. Do you have a contractor who can help take and verify your room measurements? Our designers will can ensure that your cabinets fit and you don't run into this problem again.