3 Kitchen Design Principles That Create Beautiful Spaces
Planning a new kitchen but don't know where to start?
A basic understanding of kitchen design principles will help you make decisions about your space that are both artful and functional.
When planning a new kitchen, many different elements need to come together into a unified whole. Cabinets, appliances, backsplashes, countertops, flooring, and decorative pieces all have their own colors, textures, and forms. In short, they compose design elements. Design principles help you to guide the use of those elements.
For example, take the element of color. You need to not only consider the color of your cabinets (Stained or painted? One color or two colors?), the color of your countertops (Light or dark? Patterned or solid?), etc., but you have to also have to figure out if all the colors will work together as a whole.
With a solid understanding design principles, you'll be more prepared to put all of the different pieces together in a way that is beautiful and suitable to your space.
These are the basic principles of interior design we will talk about in this article:
Balance and symmetry
Focal points
Scale and proportion
Principle #1: Visual Balance & Symmetry
Have you ever walked into a room and had an immediate sense that something was "off"? Perhaps there's too much empty space in one area, while an oversized TV and sofa dominates the rest. When a space doesn't feel right, it might be because the visual balance is tilted in one direction or the symmetry is off.
A well-balanced room communicates a sense of relaxation and security. When you enter a space that follows the kitchen design principle of balance, the whole room will feel centered and composed throughout.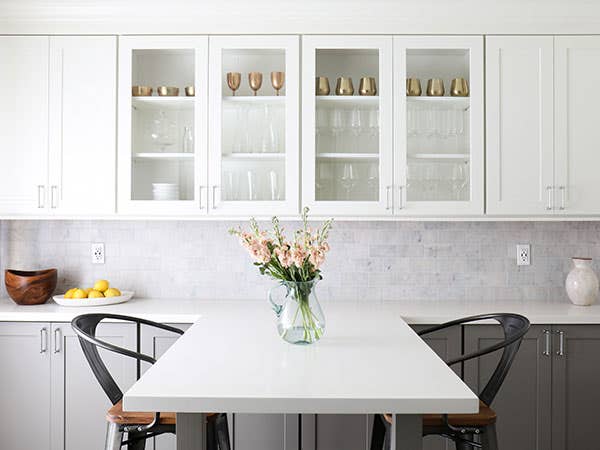 To create a balanced room, start with a center point. As the point where your gaze lands, this is typically the literal center of a wall or room, though it may not be. Around that center, build symmetry.
Take for example the above image. The chairs, cabinets, table, and décor are all symmetrical around the center point, upon which a vase of flowers is placed (this is a strong example of a focal point – more on that below).
All in all, symmetry helps create a sense of harmony and calm. However, your space doesn't have to be a mirror-image of itself to have balance. Asymmetrical kitchens can still distribute its elements such that they balance out.
Symmetrical Spaces: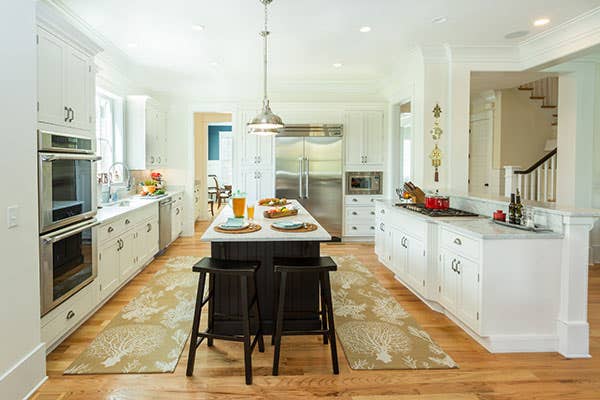 Here, the center point is the kitchen island, marked out by a contrasting paint color and hanging pendant lamps. Even though the cabinets to the left and right aren't perfectly symmetrical, they're well-balanced by the cabinets framing the refrigerator and microwave on the back wall.
In this kitchen, the windows, wall cabinets, and kitchen island are balanced and complemented by the hanging pendant lights.
Symmetry around the sink and window creates a sense of orderliness to this narrow space.
Principle #2: Focal Points
Focal points are objects or displays that immediately draw your attention in a room. You might think about a fireplace, a TV, a large piece of art, or a wildly colored piece of accent furniture.
Common kitchen focal points include the stovetop, backsplash, and hood, but your kitchen's focal point may be a sink, center island, or a window. Ideally, other objects in the room will support and not compete with the decided focal point, although larger spaces might benefit from having multiple focal points.
Kitchens with Focal Points: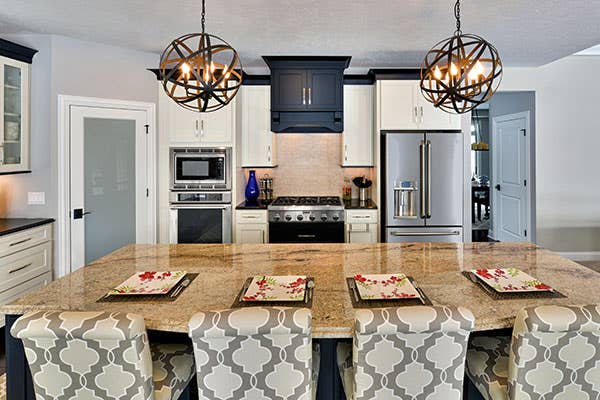 In this kitchen, the bold use of contrasting black and white paint makes the wood range hood really pop-out.
Without a focal point, a kitchen might appear bland or uninteresting. Take for example the following remodel of a kitchen with standard builder-grade cabinets:
Hardly the most inspiring. The design for the newly remodeled kitchen mostly preserved the existing layout, but the difference was striking:
The new kitchen has focal points on both walls, with an elegant wood range hood and glass cabinet doors. Moreover, the eye is drawn to the warm wooden accents. By keeping tight control over the use of color with a neutral two-toned scheme of white and gray cabinets, the designer was also able to add interesting accents in color as well as form.
As a side note, these photos show why two-toned white and gray kitchens are a favorite among modern designers – they create big visual interest with minimal décor.
Principle #3: Scale & Proportion
The kitchen design principles of scale and proportion ensure that elements in a room are properly sized in relation to one another. Any object should be scaled relative to its surroundings so as not to seem too large or too small for a room.
Your dream kitchen might have a large, professional-grade cooktop and a massive kitchen island for entertaining guests. But does that 48" induction range really fit in your 12 x 12 space? Will your island seating squeeze your walkways to the point of discomfort? This is where proper sizing is important: ensuring that the elements in the space suit each other and suit the space as a whole.
Perfectly Proportional Kitchens:
This was a narrow and cramped galley kitchen in New York City. Luckily, they had a high ceiling. The answer to creating more functional storage was to scale the height of the cabinets in proportion to the height of the room, which immediately made the space feel larger and more comfortable.
In this kitchen, a high ceiling was scaled down with soffits to provide a cozier working area. The kitchen island is moderately sized to suit the space. Though it doesn't support seating, it still provides ample working space. Any larger, and the island would begin to interfere with the ability for multiple cooks to comfortably work around each other.
On this kitchen wall, notice how the width of every element is approximately equal size. The cabinets, shelves, appliances, hood, and windows are all scaled to fit each other simply and elegantly (including the decorations!). This lends a sense of peaceful orderliness to the space.
The wide, open concept design of this space allows for the large, customized L-shaped island with banquet seating. The island is not only super large to support preparation and entertaining space; the proportion of the island to the rest of the room allows it to function as a sort of divider that creates distinct zones for cooking, dining, and living in the space.
Create a Kitchen You Love
Designing your space can feel intimidating – even overwhelming. There's a whole world of detail and creative freedom available in designing a space (not to mention details in materials, building, and installation!). Remember that you don't need to be a professional designer or an experienced DIYer to create a kitchen you love. Having a grasp of the basic vocabulary of design will help you work with a kitchen designer – it's their job to make your vision come to life. Your voice matters, because your home should ultimately be designed to suit your unique wants and needs.
Resources to help you through your project.

Read More

The basic tools used for designing an interior space.

Read More

Most kitchens will fall into one of these five.

Read More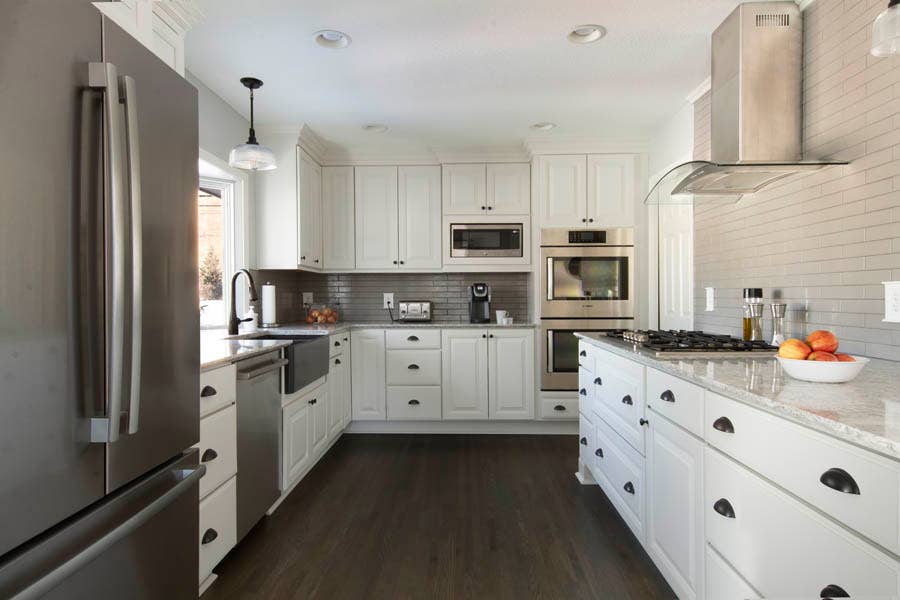 Ready to start your free design?
Take the first step toward your dream kitchen today! We'll connect you with your personal designer to make your project a reality.
Let's Get Started
Showing 3 Comments

Meh. Those designs must be for people that eat take out every night, not cooks. Very pretty, but cooking efficiency and food safety don't seem a priority. You should never have to cross clean up areas with food. Think of a big triangle. Pantry and refrigerator move to prep surfaces then cooking (stove, oven). Cooking moves to trash, then cleanup. That way waste can be dumped without crossing prep and before dish sink/washer. Serving should happen from between cooking area and pantry, and cleanup never crosses cooking or pantry.

Thanks so much for your comment! I'm laying out my kitchen floorplan, and after one too many comments from others, my vision went kaplooey. Thanks for getting my thoughts back in methodical order.

Years ago, I read that a sink shouldn't be directly across from the stove. I don't recall the reasoning, but it seems that most floor plans do just that. What are your thoughts?