Stay or Sell? When to Remodel Your Kitchen

You can't stand your old kitchen anymore, but is remodeling it worth the effort? Maybe you're wondering if moving is an easier solution? If you're deciding whether you should stay or sell, this article will help you decide when to remodel your kitchen and how much to spend.
Content
Kitchen Remodel Return on Investment
Should I Remodel My Kitchen?
Should Sellers Renovate Their Kitchen?
What Do Homebuyers Want to See?
Home Value vs. Kitchen Remodel Spend
Kitchen Remodel Return on Investment
Before spending money on a kitchen remodel, many homeowners want to know what their return on investment will be. That answer can vary based on a number of factors including the location of the home and when, or if, it will be put up for sale.
As with most home remodeling projects, getting a 100 percent return is unlikely. The best way to value any home improvement project is considering how it will benefit you while you live there and how future buyers may react to the updates.
According to Remodeling's 2019 Cost vs. Value report, a midrange kitchen remodel recouped 62.1 percent of the job cost. An upscale kitchen remodel recouped 59.7 percent of the renovation costs. Of all home projects, kitchen updates of any kind have the highest appeal to buyers.
Major Midrange Kitchen Remodel
62.1% of cost recouped nationwide
Based on: 30 linear ft of new semi-custom cabinets, 3x5 ft island, new flooring, laminate countertops, energy efficient appliances, new paint and finishes
Source: 2019 Cost vs Value Report
Major Upscale Kitchen Remodel
59.7% of cost recouped nationwide
Based on: 30 linear ft of custom cabinetry, stone countertops, tile flooring, built-in commercial grade appliances, designer sink and faucet, task lighting
Source: 2019 Cost vs Value Report
Should I Remodel My Kitchen?
If you're getting by with your current kitchen and aren't planning to sell your home soon, maybe you're questioning whether you should even invest the money in a kitchen remodel. According to NARI, the National Association of the Remodeling Industry, of the homeowners who choose to remodel their kitchen, 81 percent want to be home more and 76 percent enjoy their home more. Most homeowners spend hundreds of hours per year in their kitchen and remodeling helps them to better enjoy that time.
For those questioning whether to renovate or move, remodeling an existing kitchen can be more cost effective and can refresh your outlook on your current home. NARI conducted research with REALTORS® to find out which home renovations provided the highest Joy Score for homeowners. According to NARI's Remodeling Impact Report, "The Joy Score was calculated by combining the share who were happy and those who were satisfied when seeing their completed project and dividing the share by 10 to create a ranking between 1 and 10. Higher Joy Scores indicate greater joy from the project."
The projects that received a Joy Score of 10 were new bathrooms, complete kitchen renovation, new master suite, closet renovation and refinishing hardwood floors. If you love other things about your home like the layout, location and neighborhood, updating may be the best thing for you. Many homeowners find the effort of renovating is worthwhile and leaves them happier than the effort of moving.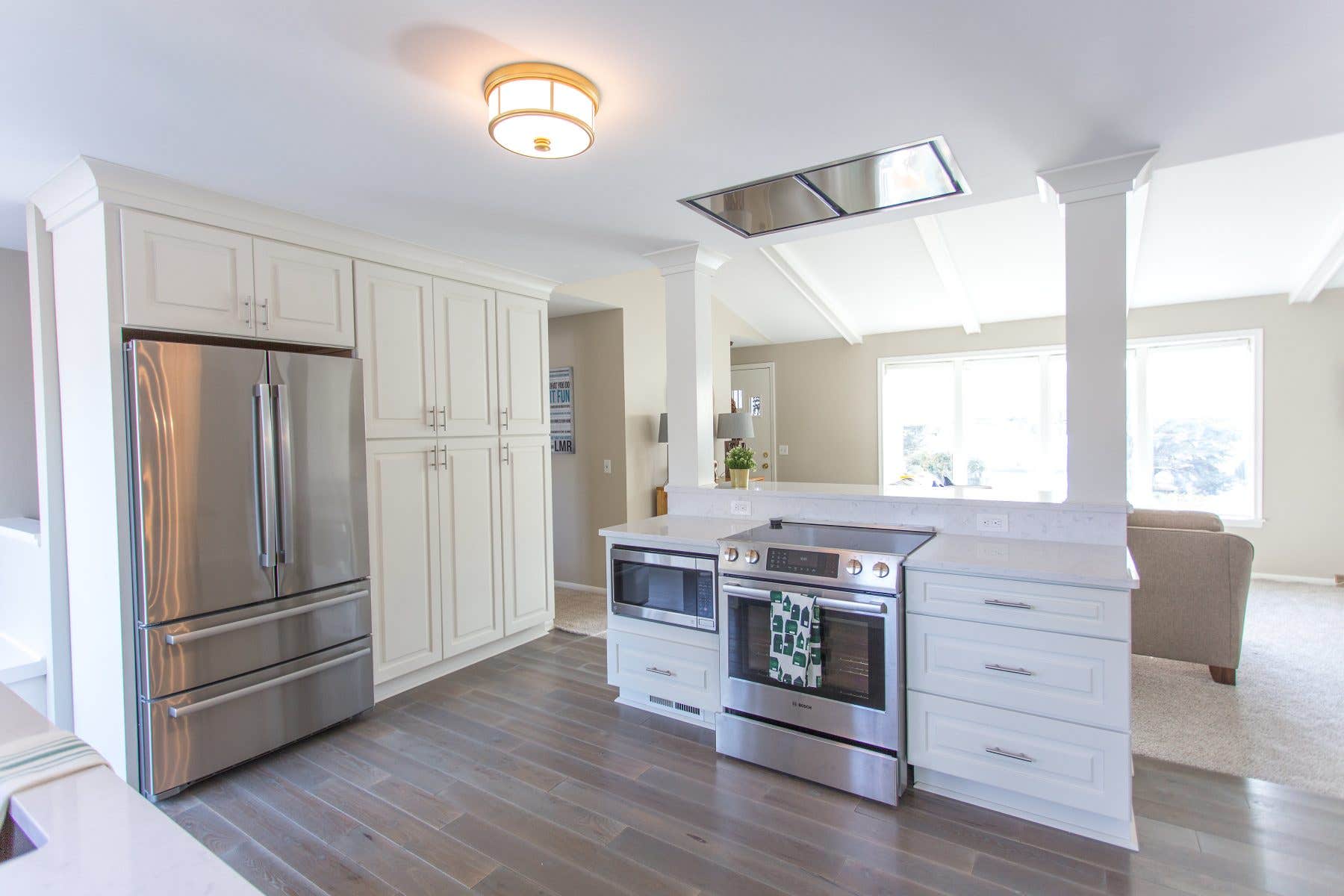 Should Sellers Renovate Their Kitchen?
REALTORS® ranked a kitchen upgrade as the project with the most appeal to buyers. Fifty-four percent of REALTORS® have recommended sellers upgrade their kitchen before putting their house on the market and twenty-three percent said an updated kitchen helped cinch a recent home sale.
However, most REALTORS® did not recommend a major kitchen renovation right before selling, because the return on investment is not as high. In most cases, homeowners should spend less on renovations if they plan to sell their home soon.
HGTV recommends soon-to-be-sellers "spend on functional features like pantry drawers, soft close cabinet drawers and doors, waste-recycling cabinetry. But don't over-personalize the space."
When upgrading a kitchen to sell, consider what features buyers will expect to see and choose a widely appealing style. Over-customization could hurt the resale value of a home, rather than help it.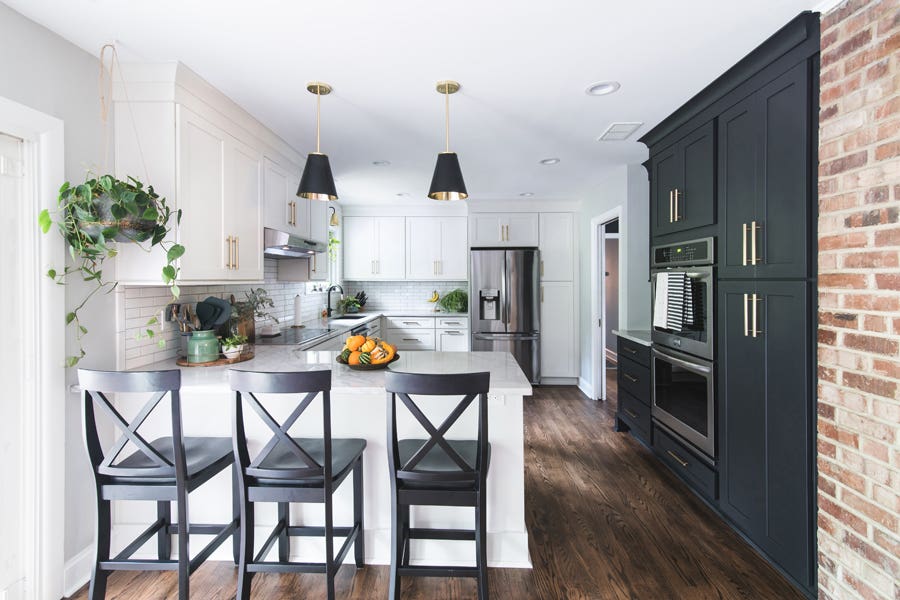 What Do Homebuyers Want to See?
According to Kiplinger, the features highlighted below stand out as must-haves for home buyers of all ages. Keeping these features in mind as you update your kitchen will ensure your home wows when put on the market.
Energy Efficiency
90% of all buyers want newer, Energy Star® rated appliances.
75% of millennials want new appliances
Open Floor Plan
Buyers want a kitchen that is integrated with the living spaces.
Buyers will pay up to 40% more for this layout
Eat-in Kitchens
82% of all buyers want dining space in a kitchen
Eat-in countertops on islands are popular
Cabinet Storage
Buyers want to see storage solutions throughout the home
92% want a laundry room with cabinets
While these features are desirable to homebuyers of all ages, understanding the wants and needs of millennial buyers will help optimize future resale value. Millennials are already the largest singe age group of homebuyers, at 34 percent. Sixty-six percent of all millennials say they plan to buy a home in the next three to five years. Overall, this group looks for move-in ready homes with open floor plans, updated kitchens and bathrooms, and newer appliances.
Home Value vs. Kitchen Remodel Spend
It is generally recommended to spend between five and 15 percent of your home's value on a kitchen remodel. However, similarly sized kitchens in different locations could have the same remodeling costs, but different returns on investment. It's important to get quotes for products and services in your area to determine a reasonable remodeling budget for your home.
For those planning to sell soon, it's especially important to talk with a realtor and evaluate the housing market where you live. Touring open houses near you will help you see what other kitchens in your area look like, which may help you determine which updates to make in your kitchen. A realtor can also advise on how long homes sit on the market and if an updated kitchen would help your home sell more quickly.
Whether homeowners plan to stay in their home for years to come or sell it soon, renovated kitchens are an investment that pays off in both enjoying your home and in resale value.