Las Vegas renovation features Shaker white kitchen cabinets with glass inserts and cool gray painted Blue-Gray lower cabinets.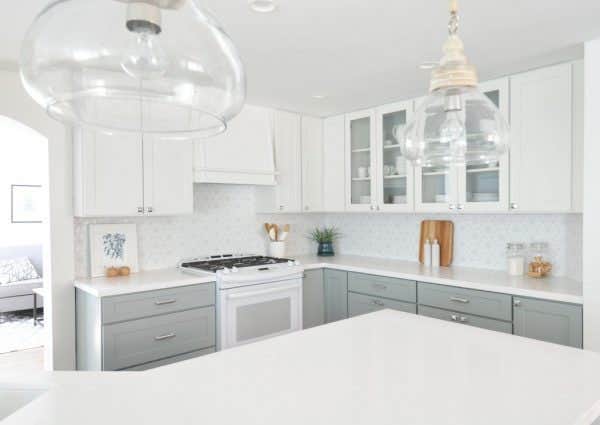 DIY expert Kate Riley is known for fabulous design on a dime. She regularly shares project ideas, tips and photos with her blog readers to show how to use color and pattern in a way that works. In fact, with more than 750,000 readers visiting her site every month, Kate's 'Centsational Girl' style has proven to be fresh, affordable and appealing to DIYers.
CliqStudios had an opportunity recently to partner with Kate on a renovation of a Las Vegas-area home, and the results were fabulous.
"We chose Vegas because I have a ton of family there and you can buy a fixer upper for a decent price." The home Kate selected, in the planned community of Summerlin, was dated, dark and suffered from an awkward layout and lack of storage space.
"I'll come right out and say it," states Kate. "I hated the kitchen at first." It was almost a deal breaker. She prefers the classic L-shape, U-shape, or galley kitchen, and always with a window. "This one had no window and an awkward peninsula with a raised counter that I found bizarre. But I welcomed the challenge and knew it could be so good with a remodel."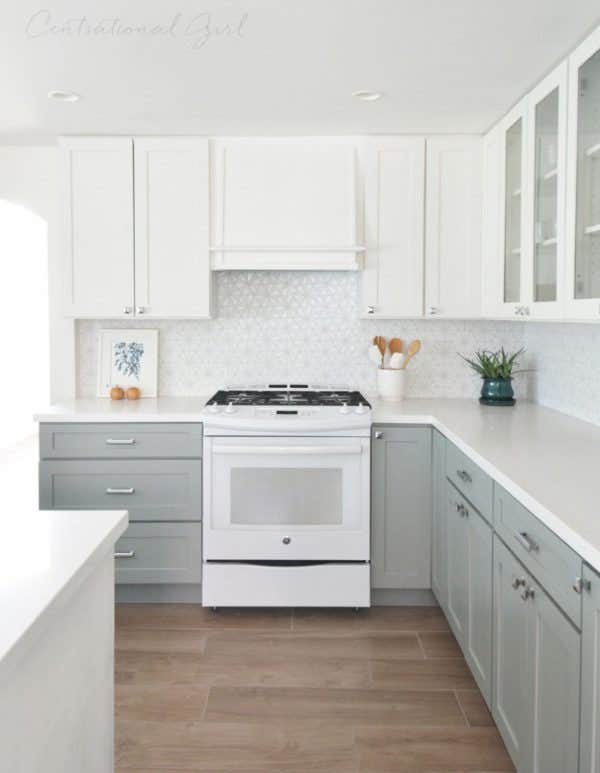 So she set to work gutting the kitchen, removing all the cabinets, wallpaper, florescent box ceiling light and flooring. "Our whole goal was to modernize the home so that it's fresh and contemporary but with timeless choices."
Her first decision involved cabinets. "Ordering new kitchen cabinets is not like a quick refresh with paint or toss pillows. No, the decisions are so FINAL… so you've got to think it through." After considering the options, she decided not to repaint the 25-year old oak cabinets, and chose to replace them altogether with a classic CliqStudios Shaker style.
"I wanted light and bright since the kitchen has no windows, so white cabinets with glass inserts were the starting point." But not all white. Kate opted for cool gray painted Blue-Gray lower cabinets to provide a base for the white countertops and painted white upper cabinets.
"The new cabinets look much more modern thanks to the elevation drawn up by CliqStudios kitchen designer Stacey Lindstrom." Without moving any appliances, Kate and Stacey upgraded the design with details like drawers for cookware, Super Susan cabinets in the corner and glass cabinets.
There is no walk-in pantry in the house for storage, so Kate added a built-in furniture-style hutch [also in the Shaker Painted White cabinet style] for pantry items, dishes and glassware in the breakfast nook. The result was transformative; the kitchen gained usable counter space, the lack of storage was resolved, and the dining area became a defined focal point in the home.
Kate picked upper cabinets rather than open shelving in order to maximize storage, with glass fronts that feel less heavy than solid doors. "They provide open shelf style storage, but protected behind glass."
When the cabinets were installed, she asked the finish carpenter his opinion of the CliqStudios cabinets. With 30-plus years of cabinet experience behind him, Kate was pleased with the answer. "Because they have plywood sides and a full back, soft close drawers, nickel-plated steel hinges, and smooth enamel paint, the cabinets are excellent quality."
With well thought-out design, timeless color choices and a vision of what the space could become Kate has transformed the fixer-upper to a stunning space.
"Lesson One" says the Centsational Girl. "Any kitchen can be beautiful with vision and quality materials."