How Much Does It Cost to Install Kitchen Cabinets?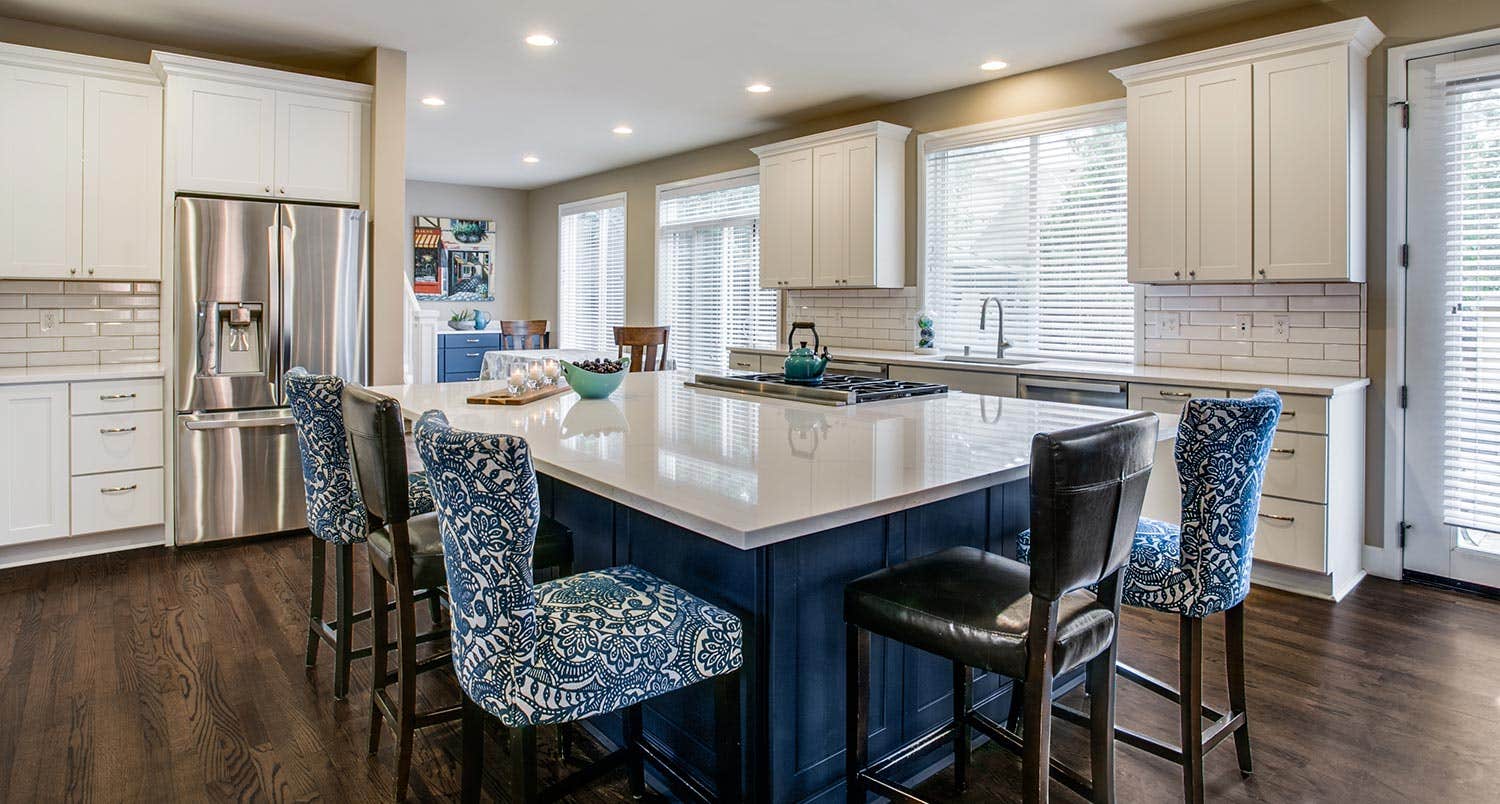 When creating a remodeling budget, many homeowners want to know how much installing kitchen cabinets will cost. We spoke with two CliqStudios installation experts to learn what factors affect prices and what is included in the cost.
How Are Cabinet Installation Costs Calculated?
What Affects Cabinet Installation Costs?
What Do Cabinet Installation Costs Include?
Interviewing Installers
How Are Cabinet Installation Costs Calculated?
While some sources say that cabinet installation costs are calculated as a percentage of cabinet costs, that doesn't tell the whole story. Whether you purchase ready-to-assemble cabinets online or locally made cabinets, the process of installing cabinet boxes is similar. That's why installation pricing is not based on the construction, or price, of the cabinets.
"Project complexity is really what drives installation costs," says Tony Stemper, Senior Manager of Field Services at CliqStudios. "Islands, detail work and finishing higher-end cabinets will cost more because they require more time and skill."
Choose the best storage solutions for your kitchen.

Read More

Learn how average cabinet prices compare to CliqStudios cabinets.

Read More
That complexity is accounted for in a per cabinet or per linear foot quote. Either way of pricing is considered standard. Although the costs are calculated differently, the final price quotes should be similar. Nationwide, the average installation cost for CliqStudios cabinets is $4,000. This cost is based on an average order size of 16 cabinets.
What Affects Cabinet Installation Costs?
Like cabinets themselves, their installation costs vary. There are several factors that affect cabinet installation costs. Understanding these factors will help you make sense of the quotes you receive.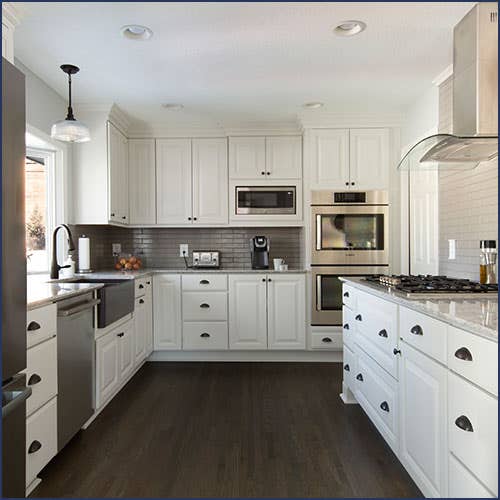 Number of Cabinets
Counting the number of cabinets is often the starting point of an installation quote. Generally speaking, an expansive kitchen will cost more than a smaller one. "However, some tight spaces have their own challenges that will be reflected in price," says Bill Hoeppner, Senior Designer and Install Specialist at CliqStudios.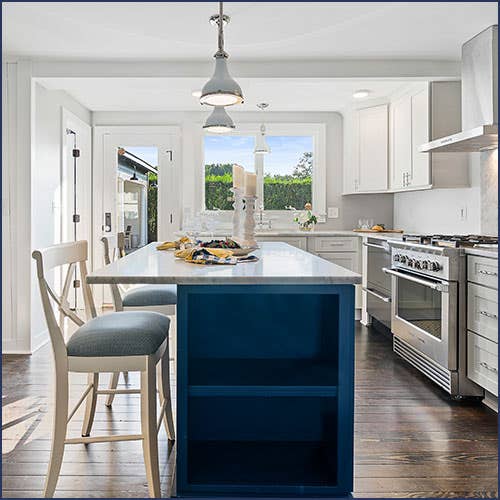 Location
Many kitchens are near an outside door or garage, but ones that aren't may cost more to install. Installers may increase prices if setup and installation spaces are far apart, like in condos.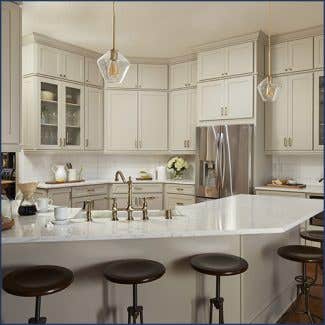 Decorative Details
Installing decorative details requires extra time and skill, which will mean a higher quoted price. Items like island legs, stacked crown molding, glass doors and any other precise carpentry work are all examples of decorative pieces that could increase install prices.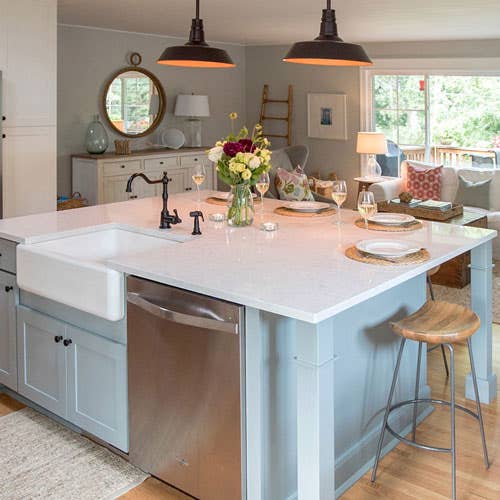 Islands
Building an island requires extra time and finish work because it must be anchored to the floor and wrapped. Peninsulas can also increase costs because of finish work on the exposed back.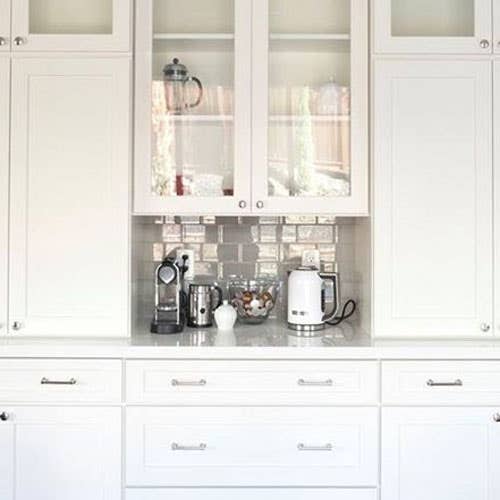 Number of Trips Needed
Some projects require installers to make a return trip for finishing work, resulting in additional charges. One example of this is when cabinets sit on a countertop. First, installers must place the base cabinets. Then they wait for the countertops to be installed. Finally, they make a return trip to set and install the upper cabinet on top of the countertop.
What Do Cabinet Installation Costs Include?
Each project quote will be slightly different, so it's important to clarify what your cabinet installation costs include. However, every contractor should include these tasks in their costs to install kitchen cabinets.
Installing Cabinets and Finishing Pieces
Installing cabinets and the standard trim, fillers and panels that help properly place them are part of any quote. Decorative extras may be an upcharge, but should be reflected in the quote.
Installing Hardware
Drilling holes and installing hardware requires meticulous measurements and accurate drilling. You will need to supply knobs and pulls. Once you find a style you like, add them to your overall cabinet costs.
Labor
An average kitchen with 16 cabinets takes 3-4 full days of work to install. Your payment covers all of the installers working on your project.
Set-up and Clean-up
Reputable installers take the time to clean at the end of each day and therefore must set up each morning. Clarify any expectations you have about cleanliness before work begins.
One part of the project that is generally not included in installation costs is demolition.
"Demolition is a separate project with a separate quote because it varies widely between projects," Tony explains.
Taking on demolition as a DIY project is a great way to save money. If the existing cabinets are still in good condition, considering selling or donating them.
Interviewing Installers
When you're ready for a cabinet installation quote, it's time to start interviewing installers. Checking professional references on website like the National Association of the Remodeling Industry will help ensure that you hire a reputable installer. Tony and Bill both say that hiring an installer with a license and insurance is a must.
Bill elaborates, "For example, if your installer hits a water pipe with a screw and they don't have insurance, that will turn into a claim on your homeowners insurance."
It's recommended to interview three contractors to compare prices and references. Remember that feeling comfortable with someone in your home is just as important as price. Hiring an installer can take time, so it's best to start looking early. Once you have an installation estimate, you can add that into your overall kitchen remodeling budget. This will help you create an accurate picture of what your whole project will cost.