What Do Kitchen Cabinets Cost?

Content
What Do Kitchen Cabinets Cost?
Why Do Cabinet Costs Vary So Widely?
Average Cabinet Prices
How Much Do CliqStudios Cabinets Cost?
What Makes CliqStudios' Cabinet More Affordable?
What Do Kitchen Cabinets Cost?
Due to the wide ranging differences in materials and quality, kitchen cabinets typically cost anywhere from $2,500 to $24,000. However, most new cabinet prices average between $4,000 and $13,000. This wide price range can be divided into three cabinet categories: stock, semi-custom, and custom.
High end of new cabinet costs, often custom cabinets
Learn how storage solutions will affect your budget.

Read More

Get an estimate of what your new kitchen cabinets will cost.

Read More
The terms stock, semi-custom, and custom refer to the manufacturing process of cabinets. Stock cabinets come in set sizes that have no modification options. Custom cabinets are built in dimensions specific to your kitchen and have almost unlimited selections. And semi-custom cabinets fall between stock and custom cabinets. This is because they offer standard sizes that keep prices low while offering some options for modifications.
Remember that stock cabinets from a factory can be better quality than custom cabinets from a neighbor's garage. If you buy custom cabinets, you are paying for the option to customize them. However, you may or may not need all those choices.
Why Do Cabinet Prices Vary so Widely?
As you decide on cabinets for your kitchen renovation, you may be wondering why cabinet prices vary so widely. Cabinet costs are affected by things like construction, materials, modification options, and even where you live and purchase them from.
Determining which cabinets are right for you involves more than just looking at the price tag. Cabinets need to suit your style, provide storage solutions, and have durability that fits your lifestyle and home. Make sure the brands you are considering offer all of the options you want. It's also important to be aware that these features will cost more.
As you set a budget and see the costs of different cabinets, be sure to factor quality into the equation. One cabinet brand may seem like the cost effective choice, however, cabinets of higher quality with more customization options may actually be a better value overall. Learning about how to compare cabinet costs will help you choose the right product.
Average Kitchen Cabinet Costs
Below is a sample kitchen showing expected average kitchen cabinet costs based on the average price per linear foot. Cabinets are generally measured in linear feet. Linear feet are calculated by measuring where cabinets are needed and adding up the total number of feet. The examples below show how cabinet prices for a kitchen can vary based on the type of cabinets. Per linear foot prices are from HomeAdvisor.
Stock Cabinets
$2,500 - $7,500 for 25 linear feet
Based on HomeAdvisor's $100 - $300 average cost per linear foot of cabinetry
Semi-Custom
$3,750 - $16,250 for 25 linear feet
Based on HomeAdvisor's $150 - $650 average cost per linear foot of cabinetry
Custom Cabinets
$12,500 - $30,000+ for 25 linear feet
Based on HomeAdvisor's $500 - $1,200 average cost per linear foot of cabinetry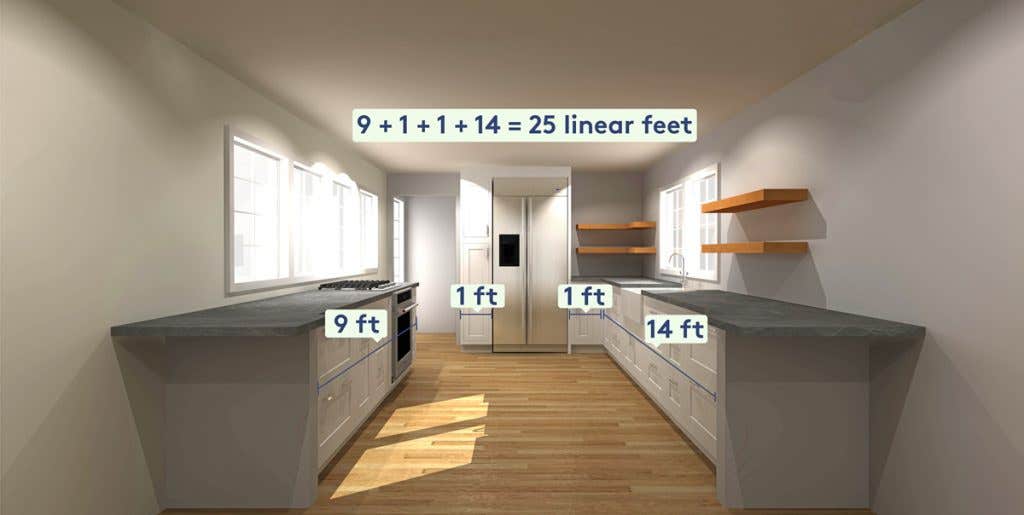 How Much Do CliqStudios' Cabinets Cost?
Most CliqStudios projects range from $5,000 to $13,000. The average CliqStudios cabinet order is $8,500. This average accounts for a range of kitchen sizes, styles, and customization levels. Below are three real kitchens that, when selected, show what cabinets in our most common price ranges might look like.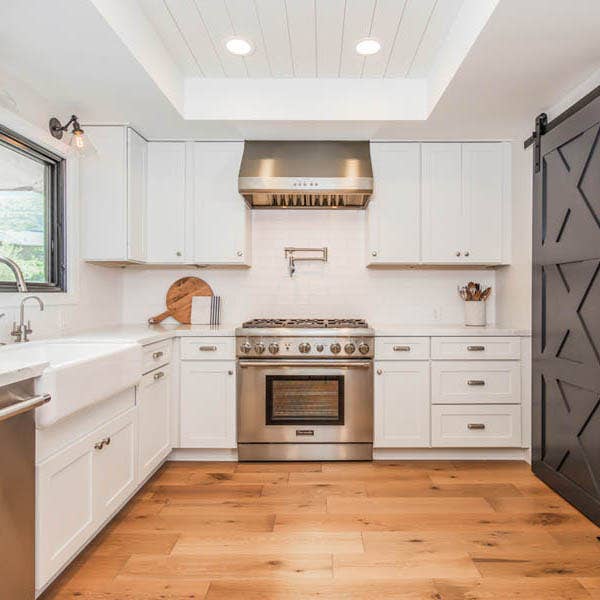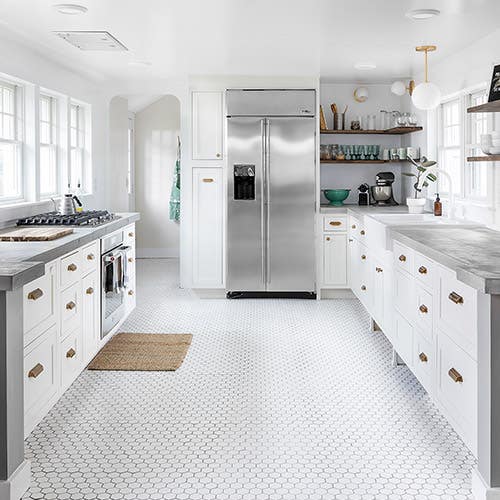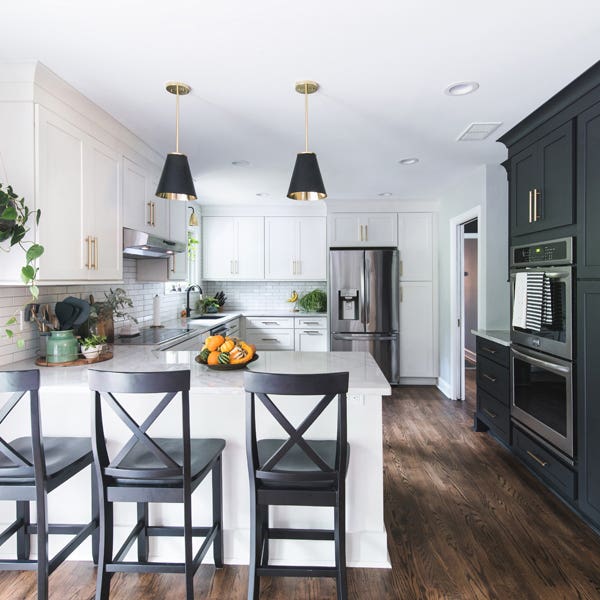 What Makes CliqStudios' Cabinets More Affordable?
CliqStudios was founded with the mission of making the kitchen remodel process easier and less expensive. But what makes CliqStudios cabinets more affordable?
1. We Are Online Only
We are an online only company, meaning we do not have the expenses of physical stores. Instead of marking up our cabinets like retail stores, we pass the savings to our customers.
2. We Specialize in Select Styles and Finishes
We do not offer every style and color of cabinet, instead we focus on the most popular. This allows us to specialize in producing the highest-quality cabinets in select styles and finishes.
In addition to offering cabinets for less, we also provide complimentary design services. This helps us ensure that every project is a success. Our kitchen designers will recommend the right cabinets for you. This is the best way to stay within your budget and have a well-functioning kitchen.
Remodeling is highly personal and most homeowners do it once in their lifetime. Therefore, it's important to choose cabinets with the right price and quality for you. This will create a kitchen you can enjoy years after the remodeling dust has settled.
3. CliqStudios Offers a Price Match Guarantee
CliqStudios makes it easy to compare cabinet prices. Our Price Match Guarantee promises that if you find a lower price on similarly constructed cabinets with the same design features, we will beat it.