How to Hire a Kitchen Remodeling Contractor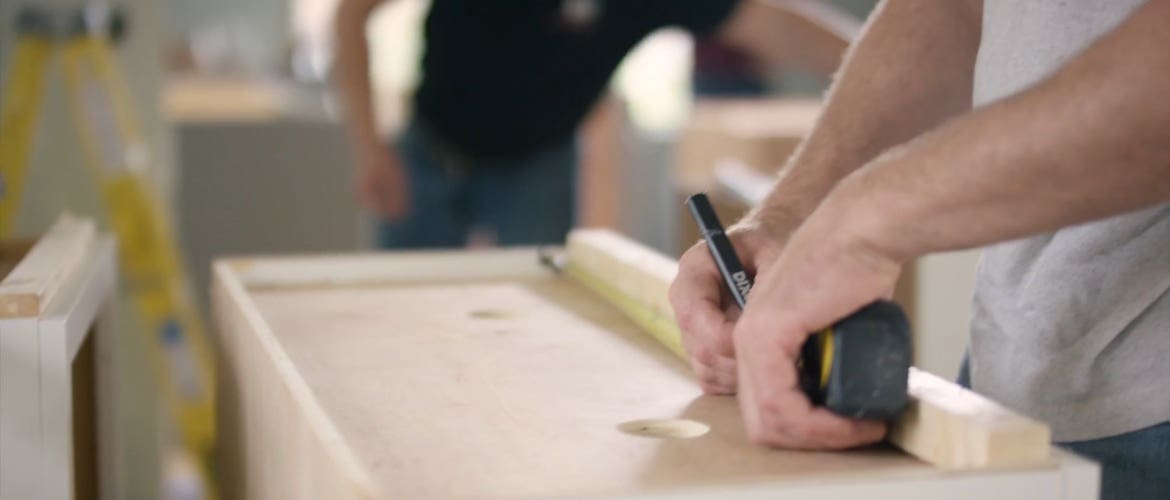 You've collected inspiration, assembled a remodeling budget, and determined your design goals. It's time to take your project to the next step: hiring a general contractor.
The key word when hiring a contractor or subcontractor is "trust." Hiring an unlicensed or disreputable contractor can cost you both financially and emotionally. It's critical to find a trustworthy professional who is proven, honest, and respectful with how they treat you and your living space.
Follow the steps below to start finding your own trusted contractor today.
Step 1: Assemble a list of contractors
A personal recommendation is often the best way to start. Assemble a list of contractors by asking friends, family members, neighbors and co-workers who they have worked with.
Forty-two percent of homeowners start their search with off-line, word-of-mouth referrals, according to a survey of 1,729 homeowners. That's compared to only 13 percent of homeowners who reported that they began a search for a contractor using Google.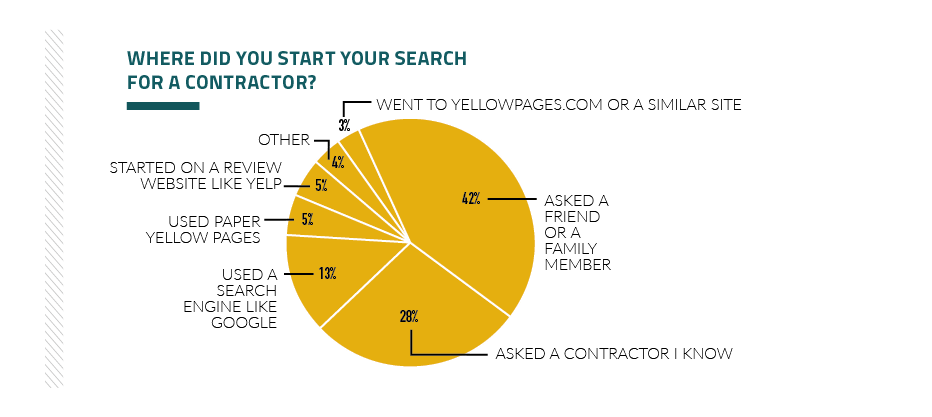 Chart data courtesy of Proremodeler.com
If you're not able to find a personal recommendation, online services can be a great tool. Luckily, there are several places you can go to find information and reviews about contractors in your area. Here is a list of free online services you can use to start generating your contractor list:
Angie's List. Founded in 1995, Angie's List is one of the oldest and well-known review services for local home needs. Users can sign up for a free account, find names of local area contractors, read and write reviews, and request quotes. Be aware that businesses spend advertisement dollars on Angie's List in order to show up higher in the search results, even if they don't have the highest ratings.
HomeAdvisor: Formerly known as ServiceMagic, HomeAdvisor is a free service that matches users with available contractors. Rather than browsing a list of contractors like Angie's List or Houzz, homeowners answer a series of qualifying questions about their project, information which HomeAdvisor then sells to local contractors as a lead. Be prepared to start getting calls from contractors soon after you complete the questionnaire. HomeAdvisor requires a background check from contractors.
Houzz: One of the best online sources for finding project images, inspiration, and design ideas, Houzz is a free site that lets you browse project galleries and post reviews of local pros. Like Angie's List, Houzz prioritizes paid listings in their search results.
NARI: Unlike the other sites listed above, The National Association of the Remodeling Industry, or NARI, is a trade organization for remodelers. In order to get NARI-certified, contractors must possess years of demonstrated remodeling credentials and a pass a code of ethics examination which tests "knowledge of the industry and a commitment to professional conduct."
Step 2: Research reviews and business ratings
Customer reviews are a great source of information, and may suggest topics to address when you meet your potential contractor in person or over the phone. All of the sites above (except NARI) have ratings and reviews, but cross-reference those customer experiences with other websites including the Better Business Bureau, Yelp, and Google. Companies may also have customer reviews posted on their website.
Ensure that the contractors on your list are licensed and insured. Licensing standards vary across the nation, but most states and counties have websites where you can verify whether or not your pro is properly licensed.
Take note of any complaints written in a review, and see if the contractor provided a response. Are they argumentative, or charitable? Do they try to resolve customer complaints, or place the blame on the homeowner? These online conversations will give you an early glimpse into their communication style and customer serviceability.
Step 3: Provide information to each contractor
In order to get accurate quotes for comparable work, provide each contractor with exactly the same information about your project in as much detail as possible. If you know what kind of materials and brands you want to use, name them. The clearer you communicate your project scope and goals, the more accurate the quotes will be.
Start with:
A kitchen design with cabinet installation notes
Type of cabinets
Countertop brand and material
Flooring brand and material
Placement of electrical fixtures, outlets and switches
Your expectation for working hours and any other on-site issues
Your timeline
Step 4: Interview prospective contractors
Take the time to interview prospective contractors. Remember that you and your pro will be sharing the space and making decisions together for the duration of the project. Connecting with a person and being able to communicating well is more important than the numbers, which can always be negotiated. At the initial phase, it's key to pick someone that you feel comfortable working with.
Here are some questions you can use to start off your interview:
What's your business history?
Knowing a contractor or subcontractor's business history is important to make sure that they are legitimate and reputable.
How long have you been in business?
What percentage of your business is repeat or referrals?
Are you a member of a national trade association?
Do have a list of references from your past 3-4 projects, including a present project?
Do you provide a detailed written contract?
Misunderstandings happen, especially with projects as complex as a kitchen. A detailed written contract helps you and the contractor know what is expected from each other. The contract should be very specific. It should detail each step of the project and include an estimated completion date.
What is your process for change orders?
Change orders are part of every kitchen project because there has never been a perfect kitchen remodel. It is not possible for yourself or the Pro to account for every single detail in the initial contract. Make sure that each change order is agreed to by everyone. Clearly note the change, price, time and any adjustments that need to be made.
What are your payment terms?
A contractor's payment terms often depend on the scope of the work. Generally, the contractor will ask for an initial deposit of up to 30-50% of the total budget. It's not recommended to pay the entire job up front. You should hold a significant portion of the money until the project is completed, and all details are to your satisfaction.
Do you provide itemized pricing?
A quality contractor will provide a price estimate itemized with cost of labor, demolition, materials, electrical, plumbing, permits, and more. An itemized list is important because you may encounter unexpected expenses midway through your project. For example, say you discover mold in your walls. To properly clean it, you need to trim back your existing budget, so you decide to put in a less expensive countertop than the one originally discussed. It'll be important to know the exact cost of the first countertop, to make sure you're credited back the right amount.
Who will be working at the site?
Your contractor will not be the only person working on site; in fact, they may not do any of the physical labor. It is very common for GCs to be responsible for supervising and coordinating multiple projects and job sites including your project. Ask your contractor for a list of subs that they are using. The subcontractors are the muscle behind the remodel, and you'll want to know who they are.
Step 5: Request bids and talk to references
Request at least three bids from the contractors you feel comfortable with. Ask them to include a breakdown of the price and estimated start and finish dates. Throw out bids that are greatly underpriced or over-priced compared to the others. That could be a sign that a contractor is either cutting corners or overcharging you. If you laid out clear and detailed information, the quotes should cluster within a small range.
As you compare bids and get closer to making a final decision, reach out to references and previous customers. While it can be time consuming to call and email references, it's worth the effort. The information they provide may prevent suffering down the road. Ask them if the contractor stayed within the budget and within the start and finish dates. Find out if there were any quality concerns or problems with having the crews working in the home.
Construction bids are not the place to bargain-hunt. The lowest bid may result in disappointing work, costing you in the long run. Evaluate bids based on the contractor's competence and experience executing similar projects.
Step 6: Sign a contract
Read every word of the contract before you sign it. Feel free to bargain over details before you sign. A contract should include:
Names, addresses, and phone numbers of material suppliers and labor
A detailed list of work to be completed with start and estimated finish dates
Daily work hours
Itemized pricing by labor and materials
Payment terms
Who will secure permits (this should be the contractor)
Documentation of insurance, bonding, and licensing
During the Remodeling Project
Be available for questions as they arise. Keep an eye on your project, but refrain from hovering or engaging in long chats with the crews. If you have a concern, be friendly but firm. If an unexpected problem appears, be willing to work with the contractor to find a reasonable solution.
Learn more about hiring a contractor:
Homeowners take on role of general contractor

Read More