Is a paint or stain better for your kitchen cabinets? That all depends. Making this decision has a lot to do with home environments, pets, how the kitchen is taken care of, and more. Both options are beautiful and will work for a variety of design aesthetics, but only you know which will function best for your home. Let's explore some of the differences and see which might be best for you.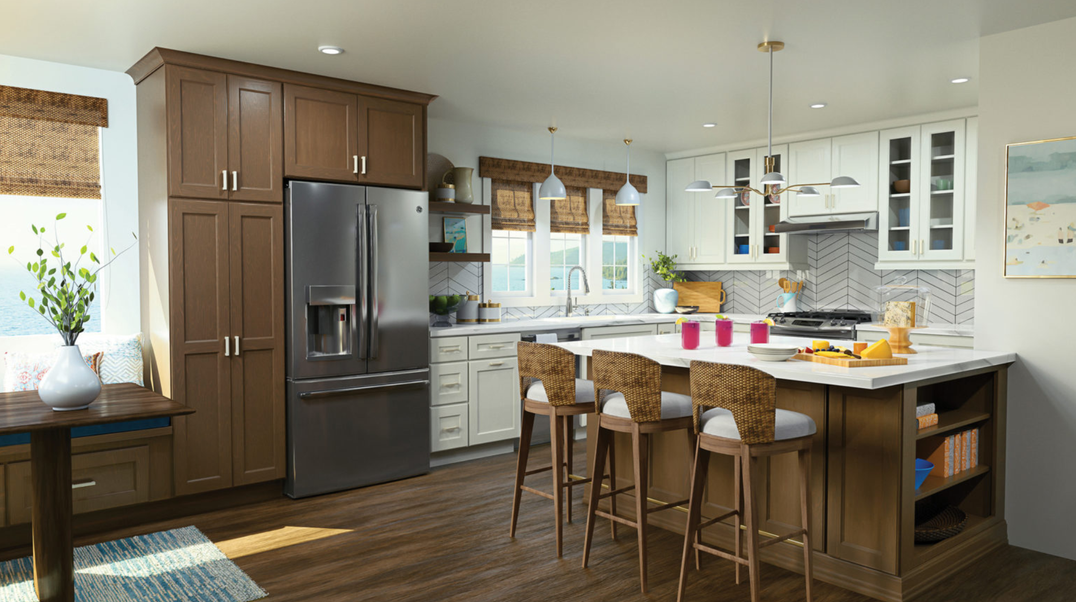 Paint
This baked-on enamel has been a classic choice for years. Whether it's a beautifully painted white kitchen or a more dramatic blue or gray, the ability to create any style you desire is at your fingertips. Painted finishes are typically opaque and do not show any wood grain unless they are sheer.
Things to Consider:
Do you have young kids running through your house? This may be a reason to avoid paint. Little trikes and hard toys being thrown can damage the finish and paint is less forgiving.
Owning a dog, especially one that jumps, can be another reason to avoid paint. Any dogs' nails can scratch and damage household finishes and leave the homeowner frustrated.
Repairing a painted cabinet is the same as paint on a wall. When it's first touched up, the colors won't look the same because the original is 'older' paint compared to the touch-up kit.
If you're not big on cleaning up right away, a stained finish may be your best bet. Prolonged exposure to sticky, colored, wet, and acidic substances can do damage to any finish. Stained finishes are better at disguising any potential accidents.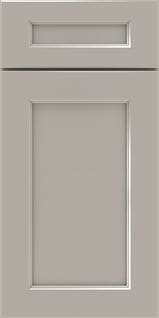 Stain
Stained finishes are so loved because of their natural ability to warm up a room and create an inviting space. This type of application brings the outdoors in and shows the depth of grain and natural variation in the wood underneath.
Things to Consider:
Wood grains and darker stains are better at concealing any mishaps that may occur. Although it's a similar process to paint when touching up, you will find it's easier to blend in.
If you have young kids and want a painted finish, consider using a stain on the base cabinets for a two-tone look that will cover up any little accidents.
Stain ages over time and as it's exposed to different lighting, it will settle into a darker tone.
Stained finishes will amplify all the elements of natural wood, from wood grain movement to dark mineral streaks.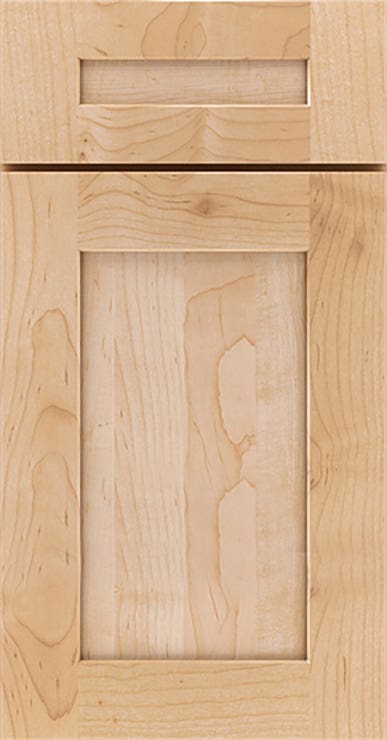 Care & Maintenance
Make regular cleaning a routine for either finish by wiping down cabinets at least once or twice a year with a damp cloth and dry off immediately. If you'd like to use a mild cleaner, try something like diluted Ivory soap for paint and diluted Murphy oil for stains. Outside of scheduled cleaning, wipe up grease or accidental spills as soon as you can to prevent long-term damage to the finish.
Overall, online galleries and perspectives can only do so much. Order some free samplesto make sure you like the look and feel of the finish you choose. If you still have questions, talk to a designer and they will be happy to discuss the options with you.
Schedule a Complimentary Design Consultation to speak with a designer!