What's not to love about a perfectly designed kitchen, ready for parties, family get-togethers, and so much cooking and baking? Today we are sharing what we think creates the perfect kitchen for entertaining. Whether you host big events or small socials, we think these ideas will be just the inspiration you need to get started on your dream kitchen.
An Open Floor Plan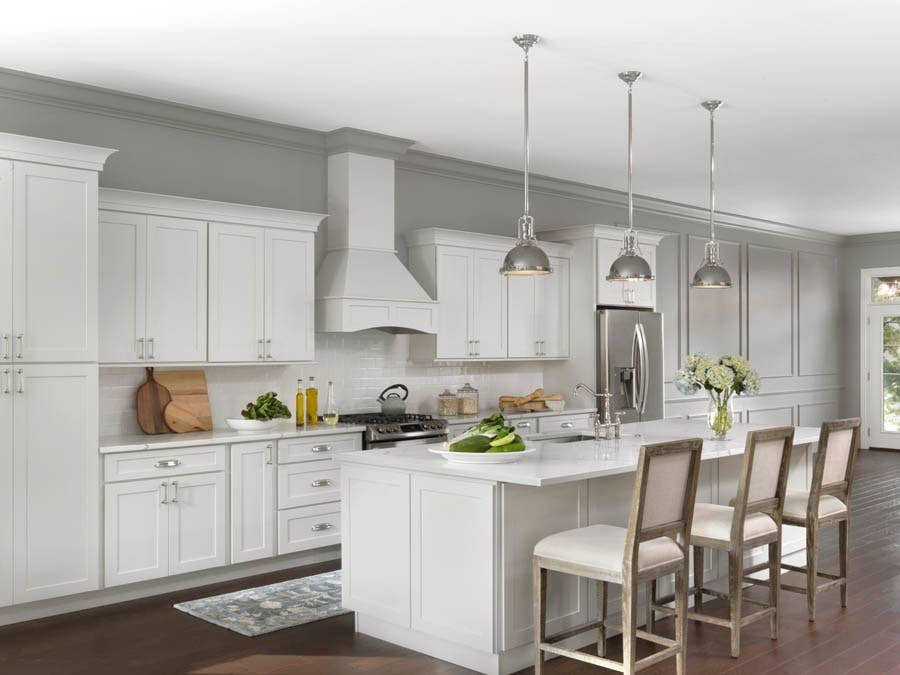 Opening up a kitchen floor plan is a perfect solution to cramped space and creates the perfect kitchen for entertaining. Party guests tend to wander into the kitchen and an open floor plan better accommodates a crowd. Additionally, an open kitchen makes it easy to socialize while preparing meals. Rather than one person being sequestered in the kitchen cooking, everyone is welcome to pitch in and share in the fun.
An open floor plan can also reduce the hazards that come with a cramped space. Having more space decreases the chances of bumping into grandma while she's holding a hot gravy boat. Instead, you will have a kitchen designed for all of the activities and traffic in your space. According to the NKBA Kitchen Planning Guidelines, the width of a walkway should be at least 36 inches and the width of a work aisle should be at least 42 inches for one cook and at least 48 inches for multiple cooks. Your kitchen work triangle allows for safe reach to cooking, cleaning, and storage areas with ease and space.
A Center Island with Seating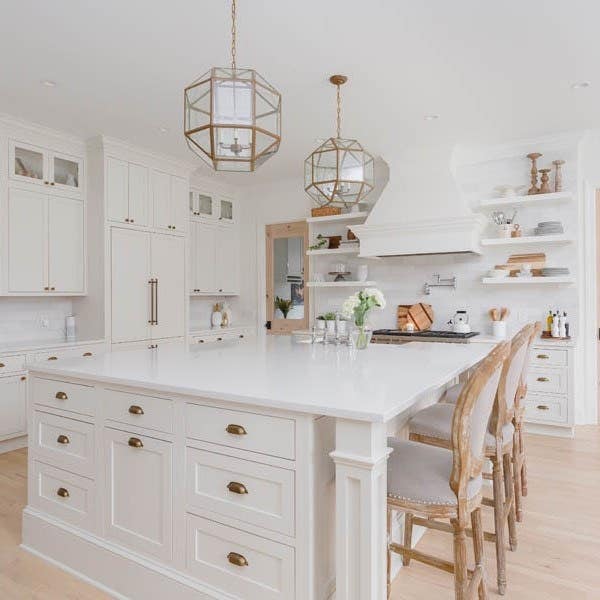 Looking for a functional place to gather in your newly open kitchen? A kitchen island is an ideal socializing spot. Whether you use it as a buffet for holiday treats or five different casseroles, you'll be glad you added an island.
An island is packed with storage opportunities. Fit it with Pull-out Wastebaskets for easy clean up or a Built-in Microwave cabinet to free counterspace.
Did we also mention the seating? Seating around an island allows for casual gathering without the kitchen feeling crowded. Think of it as the perfect place for your aunt to sit while she walks you through her chocolate chip cookie recipe. It's a win-win for entertaining in your kitchen.
Adding Storage and Prep Space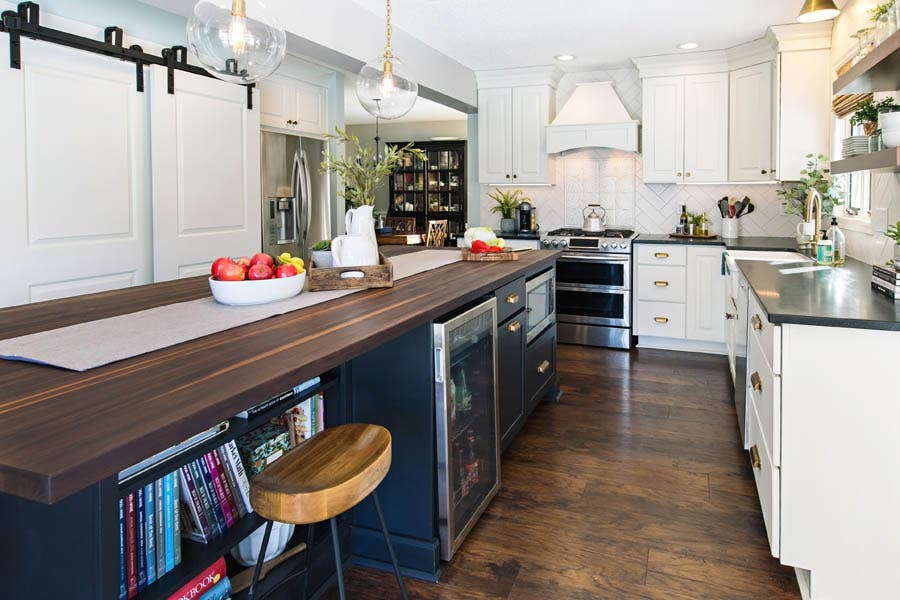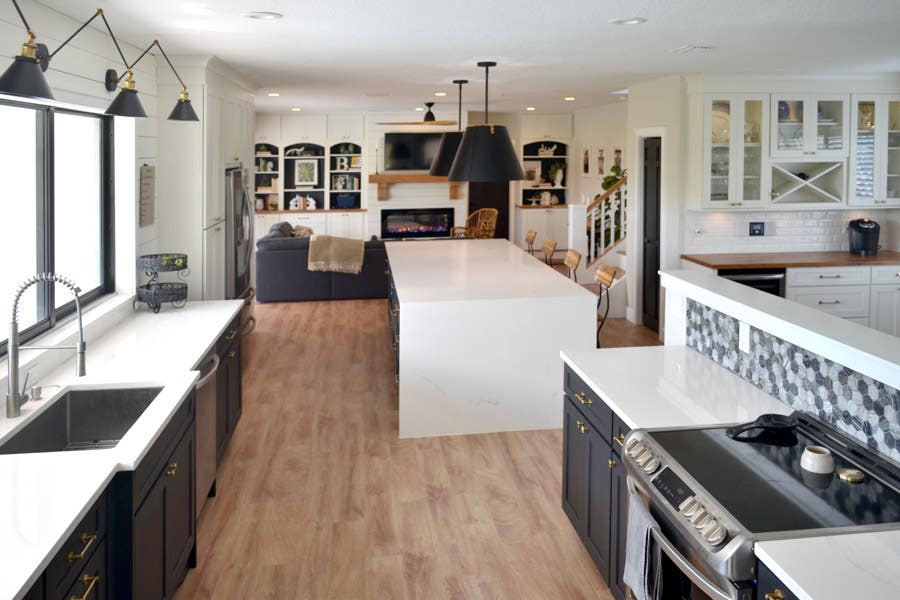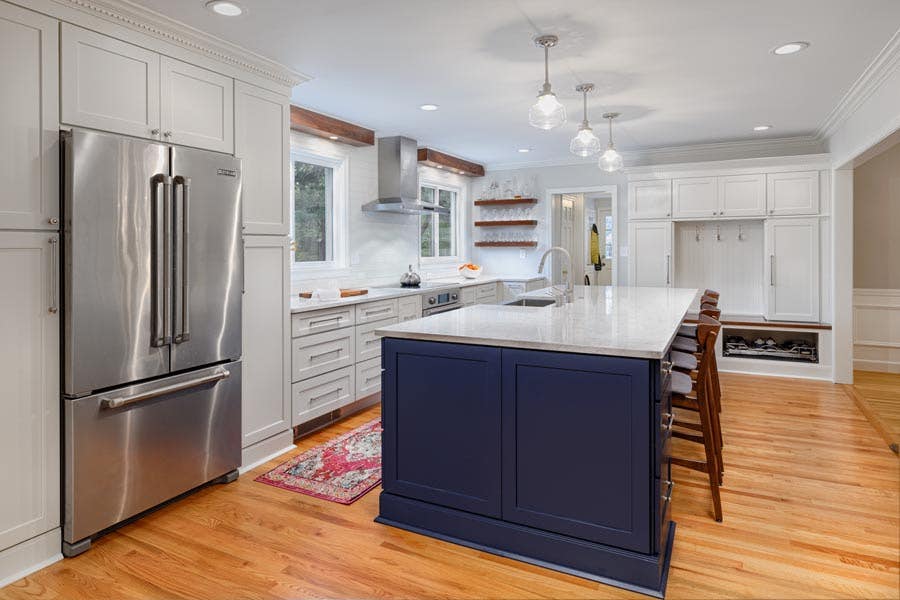 Ready to host an event, but don't know where to stash unnecessary kitchen items and clutter? A kitchen designed for entertaining has ample space for tucking away less frequently used items like toasters, mixers, and cookbooks.
A well-designed kitchen also frees up counter space for meal preparation and setting out food. Instead of worrying about where your cousin is going to set her giant cookie tray, you will have plenty of room on your counters.
Create Your Dream Kitchen
Now is a great time to design your perfect kitchen for entertaining to have it ready for the holidays. At CliqStudios, we provide quality cabinets for every budget and the design expertise needed to transform your space.