Spatters of grease from last night's dinner. "Junior" got carried away with his crayons. Melted chocolate chips from the weekend's cookie bake-off. A lot of life happens in your kitchen, so a lot of "life" happens to your kitchen cabinets! In fact, your kitchen probably sees the most traffic of any room in your house! Your CliqStudios factory-finished painted cabinets will provide many years of beauty. Faced with food spills, fingerprints, and other assorted grime, some maintenance will be necessary to preserve their bright new finish.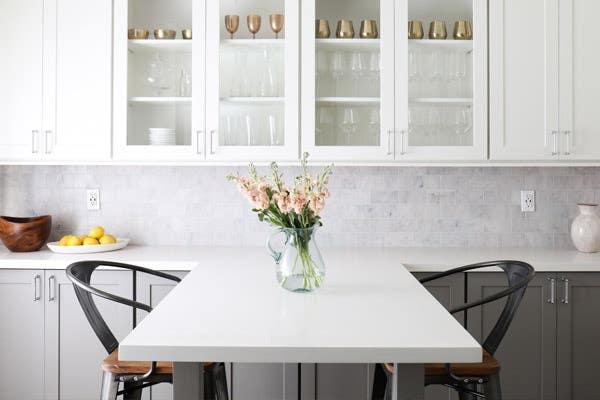 Daily
Wipe up spills as they occur, and watermarks as soon as they're visible. Take extra care around your sink and dishwasher!
After preparing any fried foods, make sure to wipe off any oil and grease from your cabinets.
Weekly
Remove everyday dust and debris with a soft damp cloth – a microfiber rag is ideal. Dry with a soft towel. Make sure to wring out any excess water, as a dripping wet cloth could result in moisture getting trapped in corners.
For oily residue, use a mild solution – a squirt of dish soap and ¼ cup of white vinegar in a gallon of water – will cut through the grease but not damage your cabinets. Dampen a soft white rag, clean one small spot at a time, rubbing gently in a circular motion. Rinse with clean water and buff dry.
Annually
Thoroughly clean cabinet exteriors at least once a year, twice or more under heavy use. Make sure to get into all the corner and tight areas near the trim work and molding. Get down on your knees to see what may be lurking on the underside of your wall cabinets.
Work one small area at a time, using a damp lint-free cloth, rinsing frequently and drying each area immediately after cleaning.
There are some safe solutions on the market, but be sure to test any product on the back of a cabinet door just to be sure. Do not use scouring sponges, cleaners with abrasive particles, harsh detergents, ammonia or oil soap. Avoid magic eraser pads and never use steel wool.
Touch-Up Care
Life does happen, and a lot of it happens in your kitchen! Although CliqStudios baked-on finishes are stronger than most paints, just like with any piece of furniture, you may start to see minor nicks and scratches after a while. CliqStudios is happy to supply a Touch-Up Kit on request, ensuring that the color is as close to the original as possible. Repairing a painted finish is tricky. Practice on the inside of a cabinet door before repairing a scratch or discoloration. If you are not satisfied with the result, or there is major damage, you may need to consult a professional wood and paint refinisher.
Read more about how to clean your painted kitchen cabinets here.