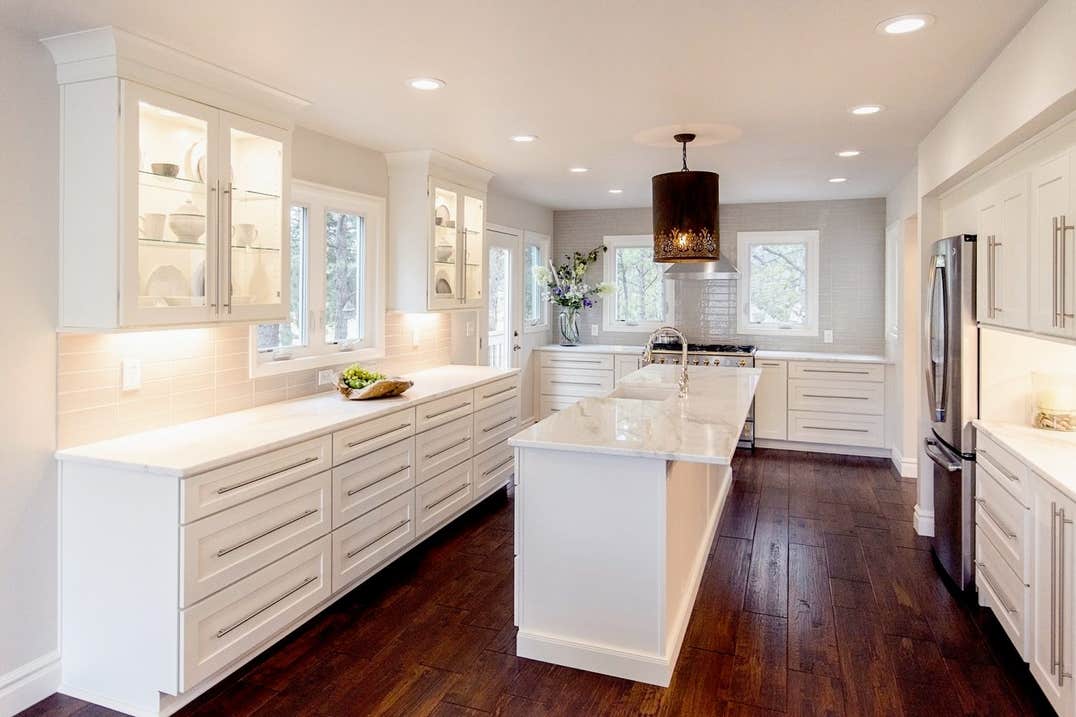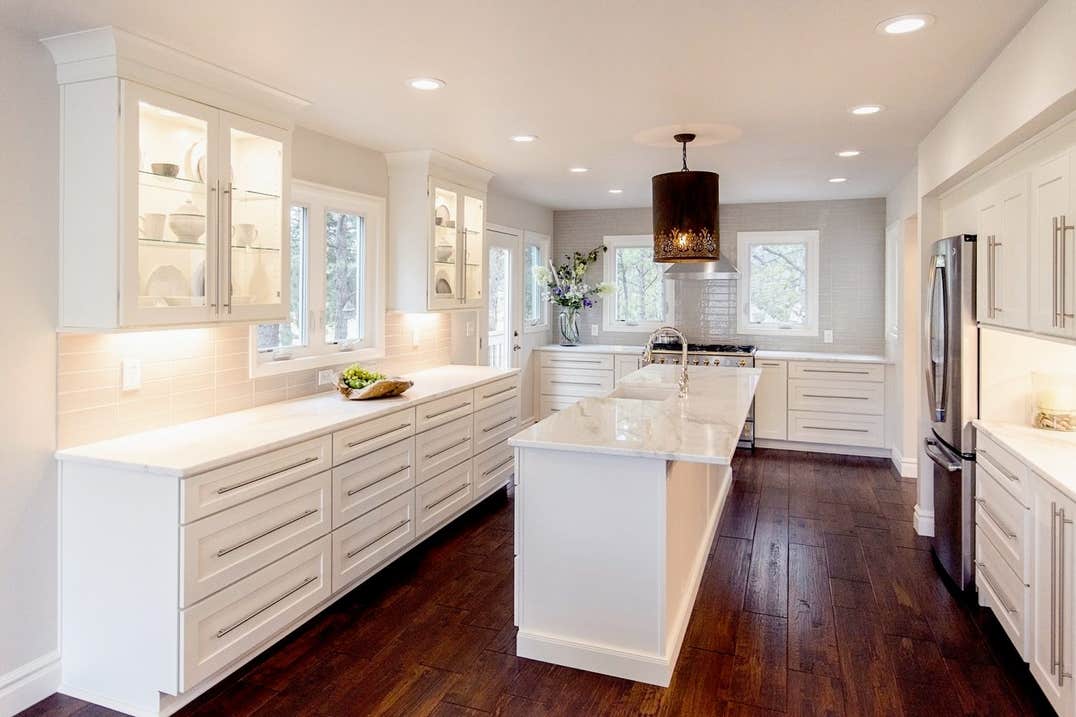 Planning the Renovation
The kitchen had been untouched for over 25 years when Carolyn and Dean bought the house. It was dated and closed-off from the rest of the house. The lighting was insufficient, and the room was very dark.
"It was awful," said Carolyn. "Everything was oak: oak floors, oak cabinets, this whole house was oak. But I was glad it looked like that. Nothing is worse than purchasing a new home with a new kitchen that you don't like because you it's hard to justify ripping out something new."
With a background in interior design, Carolyn was unafraid to envision her new space and design it to her liking. "This is a contemporary house by style," she explained. "I wanted to be true to the style of home."
"Carolyn had a clear picture in her head," said kitchen designer Erin York. "She wanted a nice, open, bright, and modern home." Erin listened to Carolyn's vision and drafted up a plan that they fine-tuned with small changes. After their contractor verified the kitchen measurements, Carolyn and Dean contacted Erin to place their order.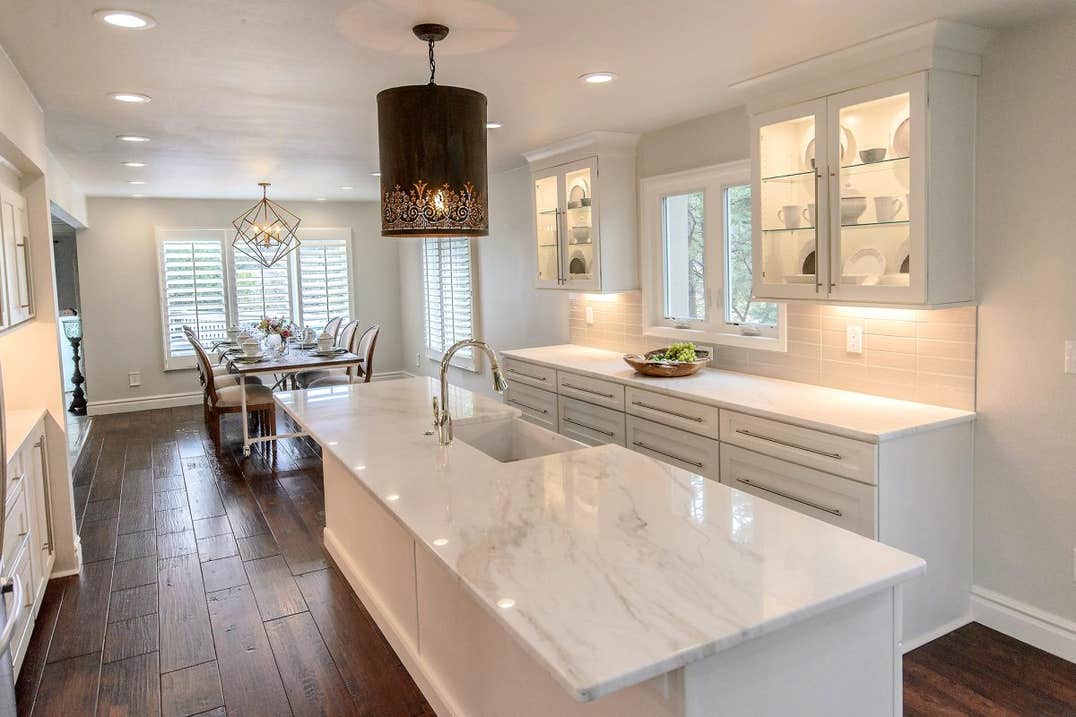 Impressed With the Value
"We looked at CliqStudios a couple of years ago and decided then to really look into the quality of the products once we read a lot of reviews," explained Carolyn. "The bottom line was price, and I wanted the price to match the quality. I knew that I wanted to update the appliances and the countertops, and in order to do that I needed to keep the price point at a certain level. We did look at other companies – I had two other high-level cabinet companies come into this home. Whether their cabinets would have lasted an additional 50 years, I don't know, but I didn't have the budget for that."
She continued, "My husband was very impressed with the video online explaining how the cabinets are made. He is very picky about how things are made, and he was sold on it. When we were able to finally do this kitchen, we went for it, but I have to tell you that it sort of scared me because ordering something online and not being able to actually see it was a bit daunting. But we did go ahead and order and take the chance, and we sure are glad we did."
In the course of shipment, a couple cabinets suffered scratches and damages. "The contractor was a little concerned about the turnaround time when we found that one of the drawers was broken, but I just called Erin directly over the phone, they opened a case immediately, and we got replacements in no time," said Carolyn. "It was very smooth, and the turnaround time was just fantastic. Erin did a beautiful job. We didn't have any surprises or problems with things not fitting."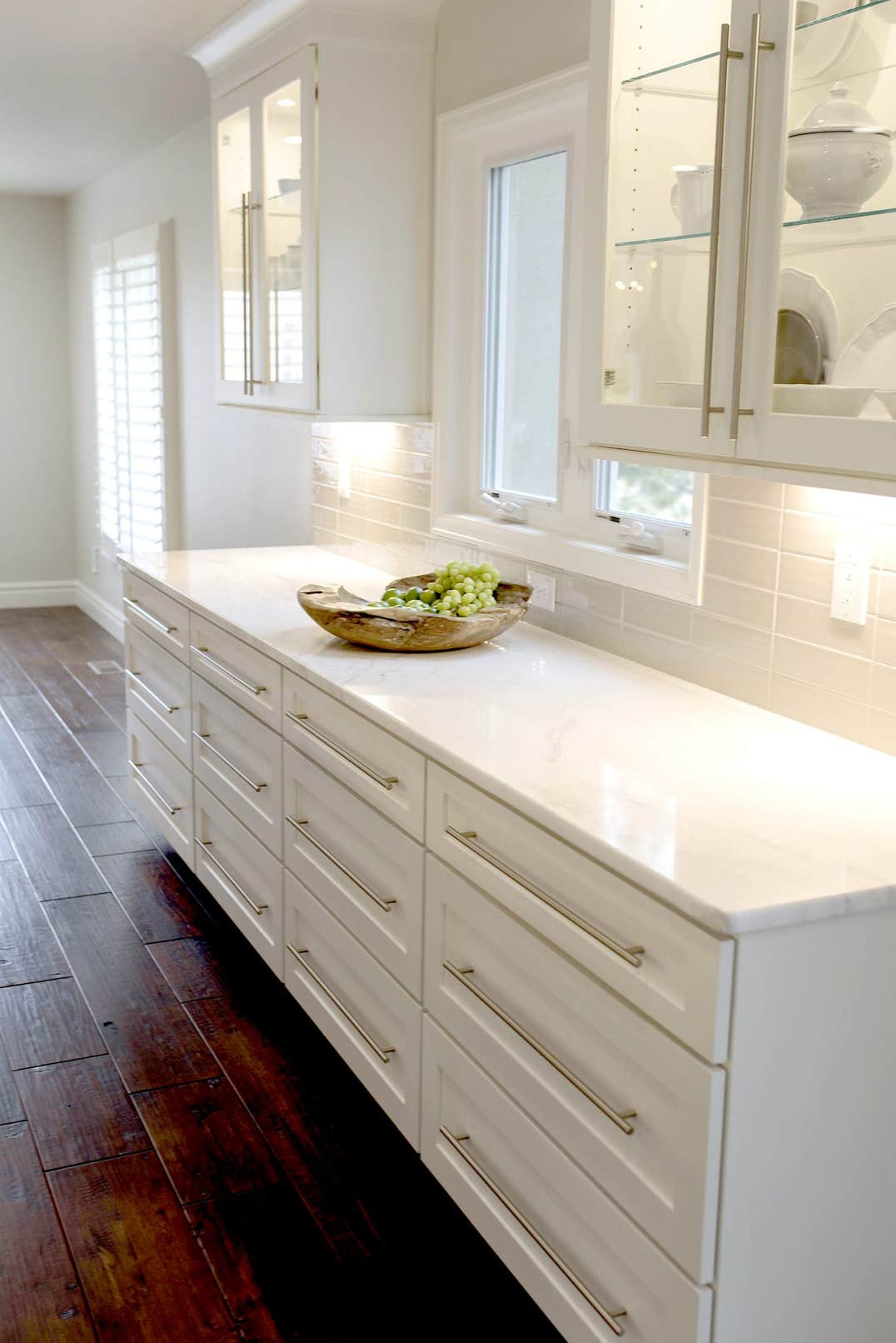 A Dream Space for Entertaining
It took about three and a half months of demolition, construction, plumbing work, electrical work, and finish carpentry before the dust finally settled. When it did, Carolyn and Dean were left with a large, bright, open, and functional space.
They removed the wall between kitchen and dining room and out of an old laundry room created a butler's pantry. A fantastic La Cornue range and built-in Miele coffee maker were installed, along with Painted White and Medium Gray cabinetry from CliqStudios. Not wanting the kitchen to look "sterile," they added dark hardwood floors and a magnificent vintage chandelier above the center island. Recessed, under-cabinet, and inner-cabinet lighting were all installed with dimmers.
Marble countertops were fitted across the whole space. "I was tired of granite," Carolyn said. "It's a little bit too busy for me."
The new kitchen is a dream for hosting guests. "I love entertaining," Carolyn says. With a ten-foot kitchen island, a ten-foot buffet counter, refrigerator landing spaces, and a butler's pantry, "there's so much room that I could have 40 people over for Thanksgiving dinner." The butler's pantry contains even more space, an undermount sink with a garbage disposal, and a microwave.
"I love the butler's pantry," said Erin. "The microwave is hidden and not too visible. It's definitely a nice extra storage and preparation area."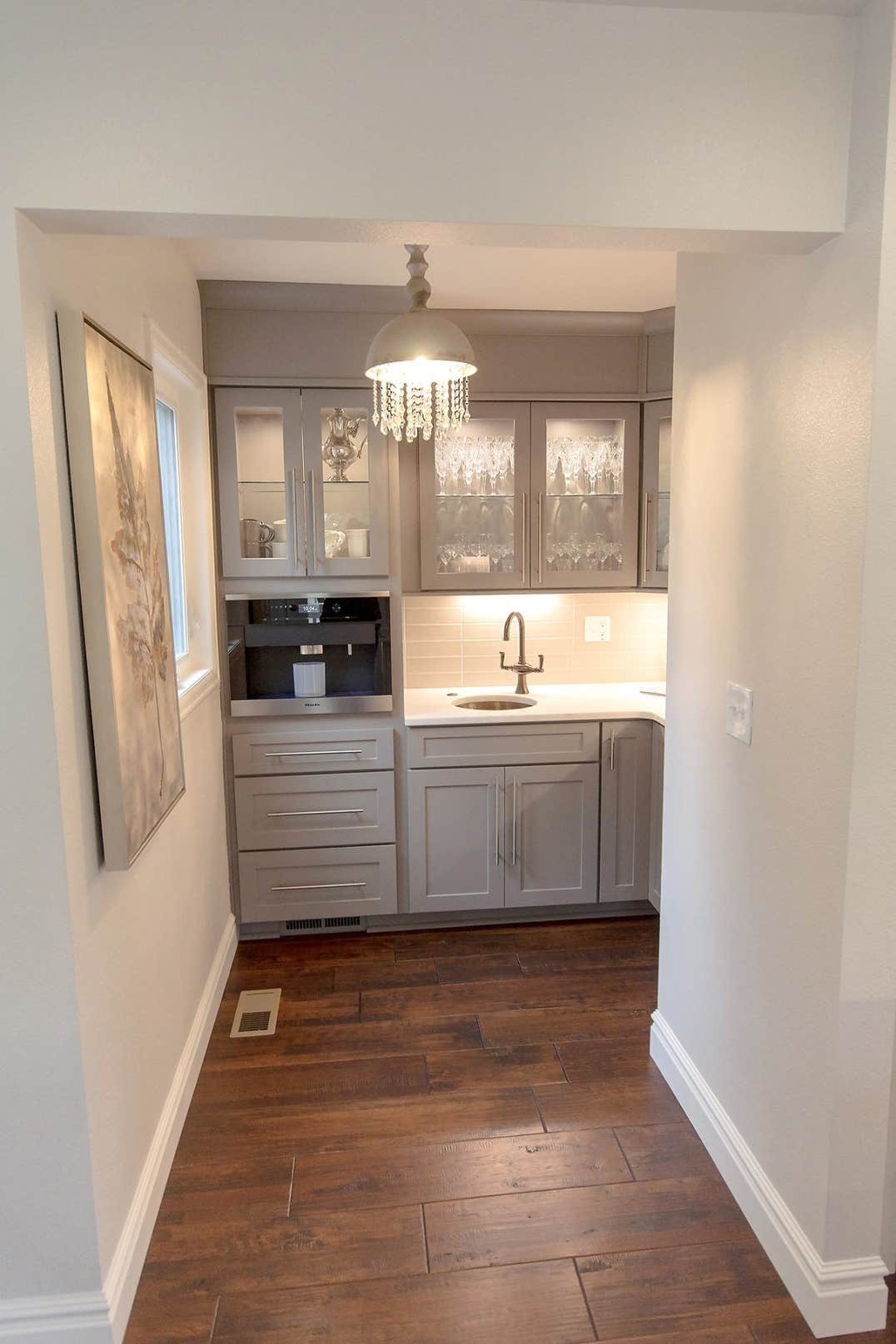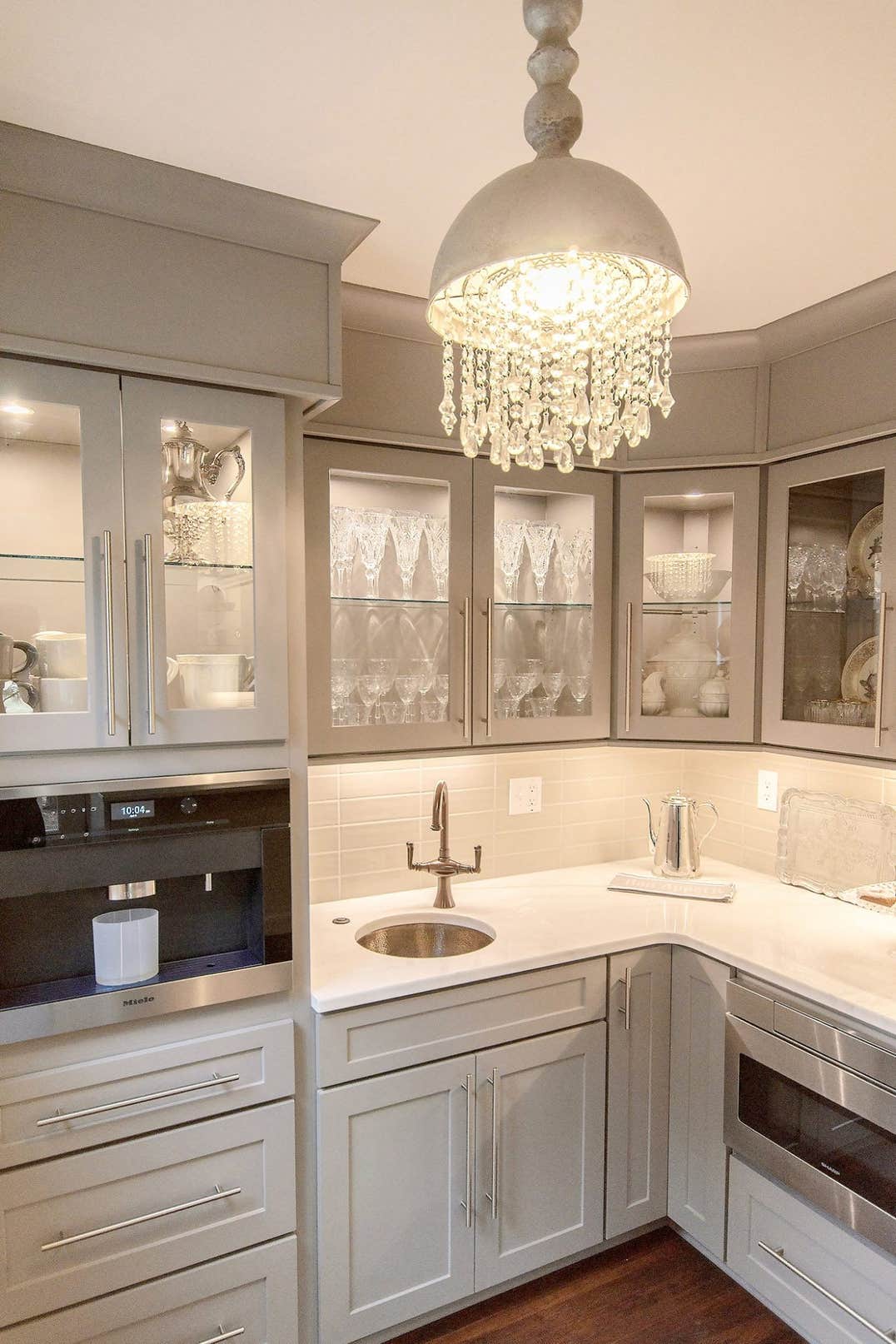 When it's finally time to clean up, Carolyn turns to a kitchen island that houses, not one, but two dishwashers. "Again, for entertaining," she said. "I think it's a smart idea when you cook a lot. I can fill a whole dishwasher in a day."
The first people to see the new space were Carolyn's sister- and brother-in-law. "I walked them into the kitchen and thought they were going to fall on the floor," she said. "It was a shocking difference. Their jaws just dropped."
And how has the renovation affected her? "I'm in seventh heaven," she said.
Kitchen dimensions: 17' x 11.5'
Pantry dimensions: 7.5' x 5'
Door style: Shaker
Finish: Painted White & Medium Gray
Range: La Cornue CornuFé 110 Range
Flooring: Shaw Hickory Hardwood
Lighting from Arhaus Furniture; The Emporium in Castle Rock, CO
Dining set from Restoration Hardware