There is not one kitchen that I have helped create that is cookie cutter. Each client has their own story, their own vision, and their own inspiration when it comes to remodeling their kitchen. While working with a client, my favorite part is learning what their unique needs are for their space. I like to challenge myself to make their dreams come true within their budget.
The Client
I really enjoyed working with Sandi, a baking enthusiast from Northern Virginia. Sandi knew exactly what she was looking for to transform the kitchen in her 1830's farmhouse to maintain the character of the home, add some Mediterranean flavor, and create a space she could easily bake in. She was very sweet and knew exactly what she wanted, which made me feel confident that she'd be happy with my design.
The Assignment
It goes without saying that a client who does their research for their space and provides inspirational photos helps me understand the client's personality and vision. From there, I can individualize their design based on their wants, their needs, and their dreams.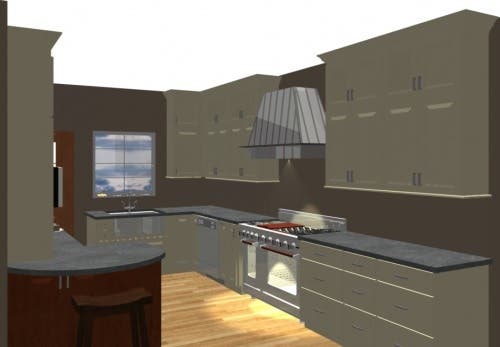 The great thing about Sandi was she was very serious about her kitchen remodel. She knew that she needed a baking center with a seating area for her husband, glass cabinets, and plenty of storage to keep her countertops clear.
The Cabinetry
To maintain the character and charm of her home, Sandi selected the Decorative raised panel door style in both the Medium Wood Stain finish and Painted Cream Bisque Glaze for a unique two-tone cabinetry design.
The Design
The passionate baker in Sandi wanted to have a special area in her kitchen where she could chop, mix, pour, and microwave to her heart's content without kicking her husband out. We came up with a custom baking center across from the main L-shaped kitchen. This would become the focal point of the space. By extending the counter from the wall into a mini-peninsula, we added extra storage space from her side. We also added space for a stool on the other side so her husband could sit.
My challenge was to create this custom baking center for Sandi with the semi-custom cabinetry options we have available. I incorporated a waste basket pull-out, microwave shelf, spice rack pull-out, furniture drawers for Sandi's stir spoons, and plenty of pull-out drawers and upper cabinetry for her storage needs.
Sandi's kitchen also features beautiful accent glass mullion doors. She now has deep pull out drawers to store larger pots and pans. There are furniture drawers near the sink to store kitchen towels and garbage bags. For organization she also got a pull-out spice rack, super lazy susan, and tray divider cabinet for her baking sheets and pizza pan. And of course, there was room for her stunning 48" range.
The Result
Designing the kitchen was very exciting since I had never done a baking center before. Once I sent Sandi the design packet, she was thrilled with how thorough it was and how every detail she had asked for was incorporated.
I began working with Sandi in mid-July and she purchased her cabinetry in late August. It was great working with Sandi. And it felt good to hear her positive reactions to my design and the cabinetry once it was delivered. Together, we created a space that she loves, and I am grateful to be able to provide clients such as Sandi their dream kitchens.
Author: Brianna realized that her drive to work hard, and enjoy working, were somehow not quite lining up together. Having a passion for design, space & interiors her entire life, Brianna turned a passion into a career. After graduating from the Arts Institutes in Minneapolis, she has found a great fit designing kitchens with CliqStudios! Utilizing her ability to communicate with clients in a personal way and finding a balance between customer's desires for functionality and their dream kitchen! This makes for interesting & enjoyable days!