A messy and cluttered kitchen is not only impractical, it can also add unnecessary stress to our lives. If you've ever spent any time hunting down that elusive vegetable peeler or favorite spatula, or if the odor of the fish you cooked three days ago is still lingering in your kitchen, you know what we mean. What's the solution? Which are the must-have kitchen cabinets? We've created a list of four cabinets every kitchen needs.
From cabinet pull-outs, to drawer organizers, to range hoods, CliqStudios kitchen designers have the best ideas for storage, organization and a healthy kitchen environment. Once your cabinet drawers are clutter-free and the countertops are clear, you can finally sit back, breathe easy and relax.
1. Super Sink Base Cabinet
The sink is your kitchen's most utilized appliance. Keeping your kitchen clean and organized starts with tidying up your cleaning tools. The Super Sink Base cabinet is an all-in-one sink storage solution that allows you to declutter your sink and keep everything organized and within reach.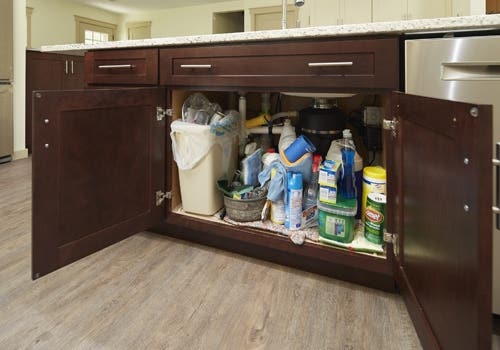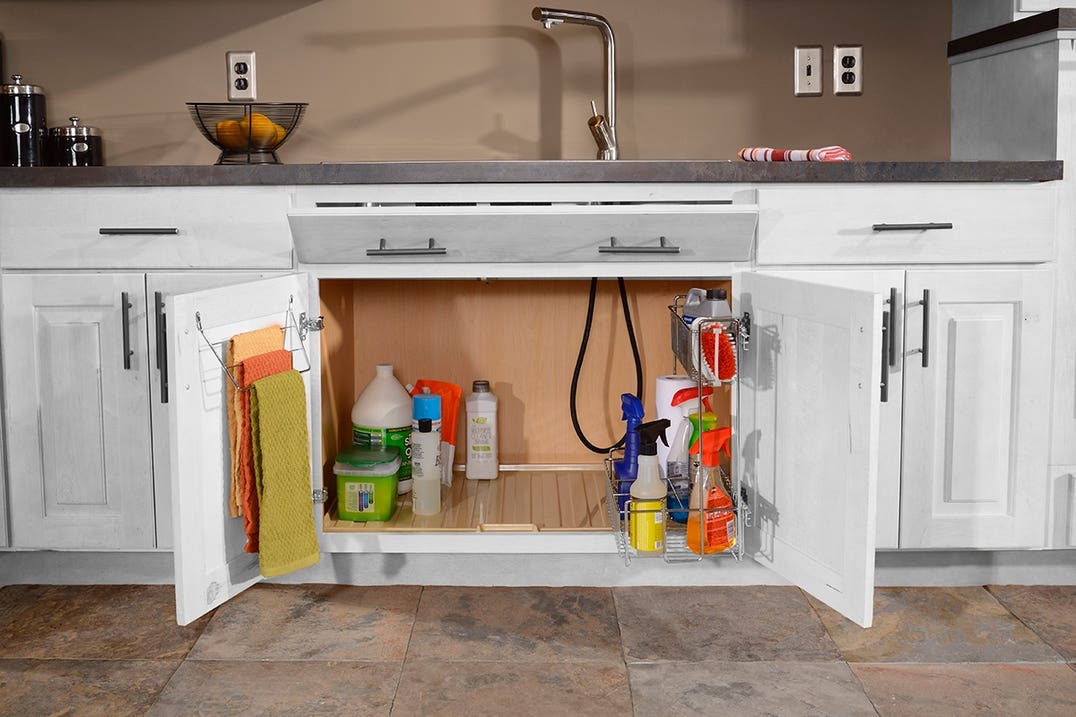 The Super Sink Base cabinet includes a number of components. The stainless steel tilt-out tray is great for storing sponges, scrubbing brushes and scouring pads. Our factory-installed pullout baskets fit around most under-sink plumbing. Ball-bearing glides bring chrome wire baskets and a load of cleaning supplies out into the light with a touch of a finger. The sink base liner protects your sink base cabinet from leaks and drips. Made of easy-to-clean polystyrene, the liner holds up to a gallon of water, keeping stored items above the mess. The three-rod under-sink towel bar will keep dish cloths, dish towels and hand towels close at hand but out of site.
2. Drawer Storage Organizers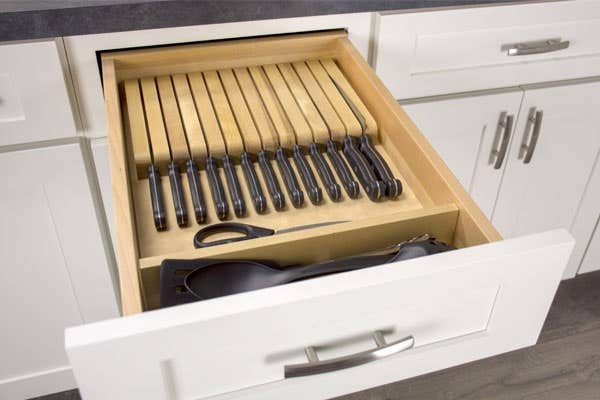 Keep your knives organized, sharp, and out of sight with the knife block drawer insert. Further reduce the clutter in your kitchen by taking advantage of cutlery and utensil dividers. Flatware and most utensils are best stored in drawers with dividers to separate and organize kitchen items.
Consider locating your flatware drawers near your dishes and your dishwasher for quick clean-up. Keep utensils located next to cooking and prep areas. A smart storage solution for smaller kitchens is to use a two-tier drawer to increase storage capacity.
Combine these drawers with other efficient drawer storage and organizers such as the spice drawer, spice drawer, utensil drawer, and peg drawer dish organizer.
3. Trash & Recycling Cabinets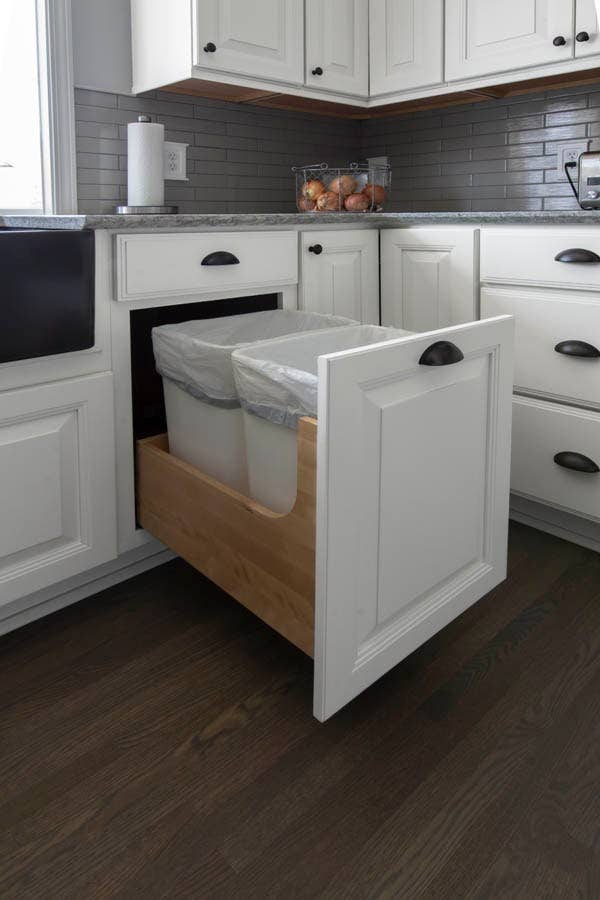 It's inevitable that if you are using your kitchen, then you are going to create waste. To keep your kitchen neat and well-organized, trash and recycling cans are must-haves. But who wants trash and recycling bins sitting out in the open? Trash cans, which can be both smelly and unattractive, break the flow of a clean design.
Additionally, if you have pets, then chances are someone will rummage through the bins when your back is turned. Reduce these risks by placing your bins in a cabinet. Often located near the sink and prep areas, the pull-out trash cabinets put your messes out of sight.
The pull-out wastebasket cabinet keeps your trash can and recycling bin easy to access but out of sight.
4. Wood Range Hoods
Style and practicality come together with our selection of range hoods. From wall-mount to cabinet-mount wooden hoods, we offer the right ventilation solution for your kitchen's decor.
According to Dengarden, the range hood is one of the most important elements in a kitchen. Cooking produces smoke and greasy build-up. More than simply unpleasant, these pollutants are unhealthy to you and your family. In fact, cooking can create airborne contaminants that are worse than any other element, appliance or electronic device in your home. This concentration of contaminants requires effective ventilation.
CliqStudios has specifically selected several range exhaust hoods that complement our cabinetry designs. These hoods all feature quiet, powerful and reliable motors that will keep your new CliqStudios designer kitchen clean for years to come.
Cabinet-Mount Wood Hoods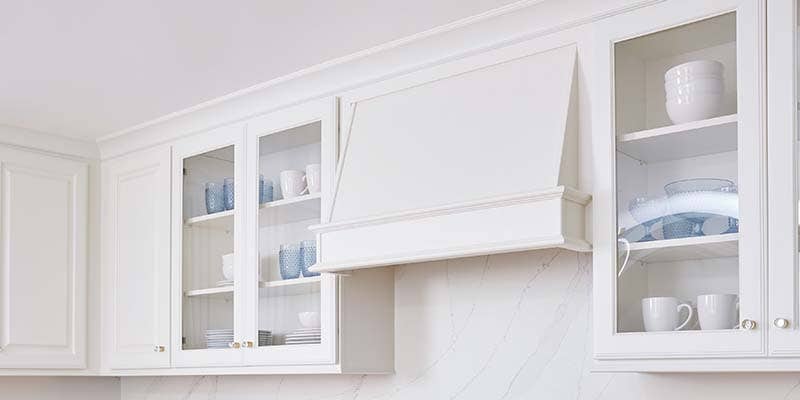 Cabinet-mount style range hoods are mounted between and attached to the two other upper, wall-mounted cabinets. Blending into your upper cabinets' design, this type of exhaust range hood creates a custom, built-in look to your kitchen cabinet ventilation.
Wall-Mount Wood Hoods
A wall-mounted chimney hood provides a striking look to the space above your cooktop. Because each wood range exhaust hood needs to be painted to match your cabinetry, the wooden exterior "liner" and the exhaust fan and motor assembly are chosen independently of each other.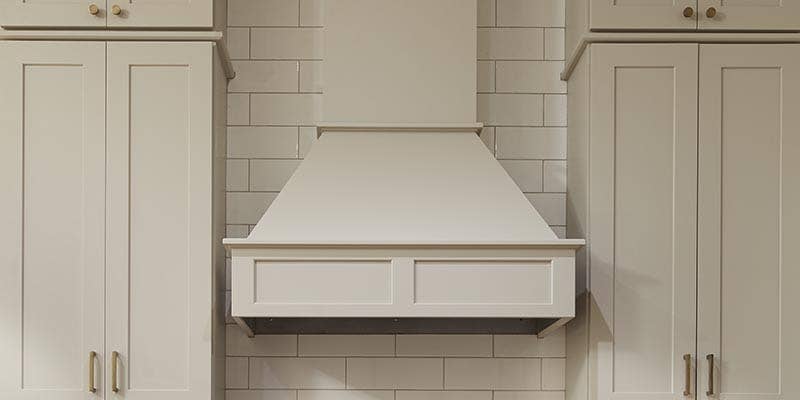 Each kitchen has its own unique requirements for cabinet design, style, and layout. However, one common denominator for every kitchen is the need for organization, cleanliness, ease of use and safety. At CliqStudios, our kitchen designers are here to help you achieve all of these requirements and much more!