It was a 100-year old house near the shores of Lake Minnetonka, owned by a family in the lumber business and marked by beautiful raised panel walls and millwork. But after decades of decay, the house and adjoining guest cottage were marked for destruction.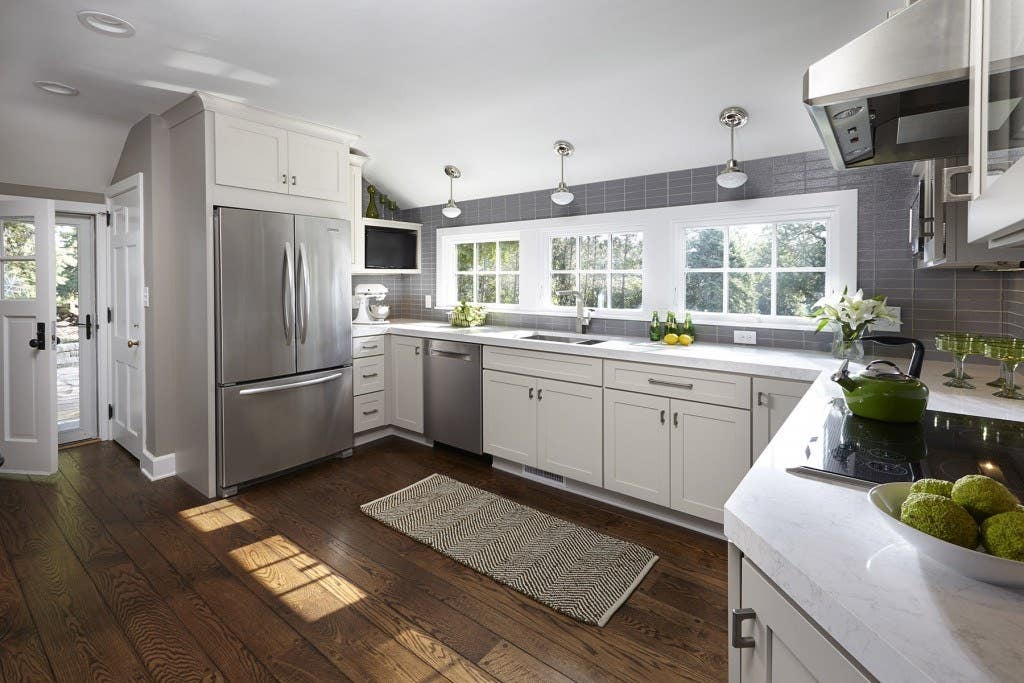 Historic Guest Cottage
Had the heirs of that lumber family not saved the house from oblivion in the 1990s, Florence Gropel would not have stood in the great room of the guest cottage in 2015 and wondered how to turn an ancient catering galley into a modern kitchen. A few years earlier, her daughter's family had purchased the property but had never fully used the guest house. Although the main residence had been updated, the guest house remained much as it did in 1940 when it was built.
Wishing to be closer to her children and grandchildren, Florence accepted an invitation to move into the guesthouse in the spring. It had almost all the amenities she needed. However, it had a very tiny kitchenette that would not work with her love of cooking and entertaining. So in partnership with CliqStudios, Florence set out to create a gleaming modern kitchen in place of the old one.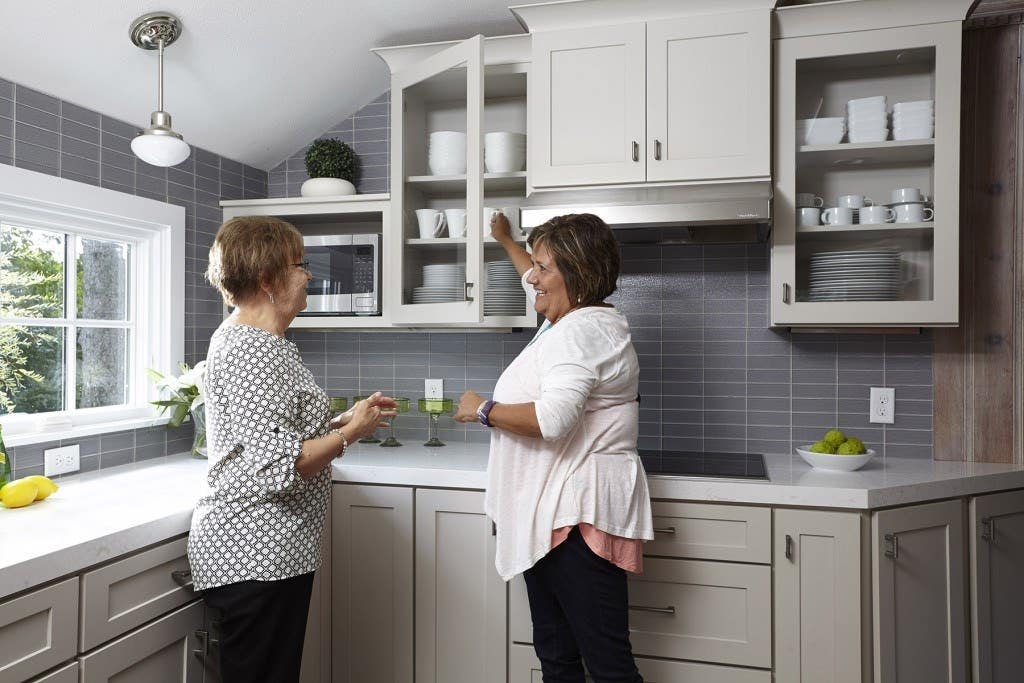 CliqStudios designer Jayelynn Carlson worked with Florence throughout the transformation. They overcame architectural issues such as sloping ceilings, odd windows and an open stairwell to the basement. "Jayelynn was very warm and responsive," says Florence. "She helped organize each elevation so the balance of cabinets and appliances was perfect."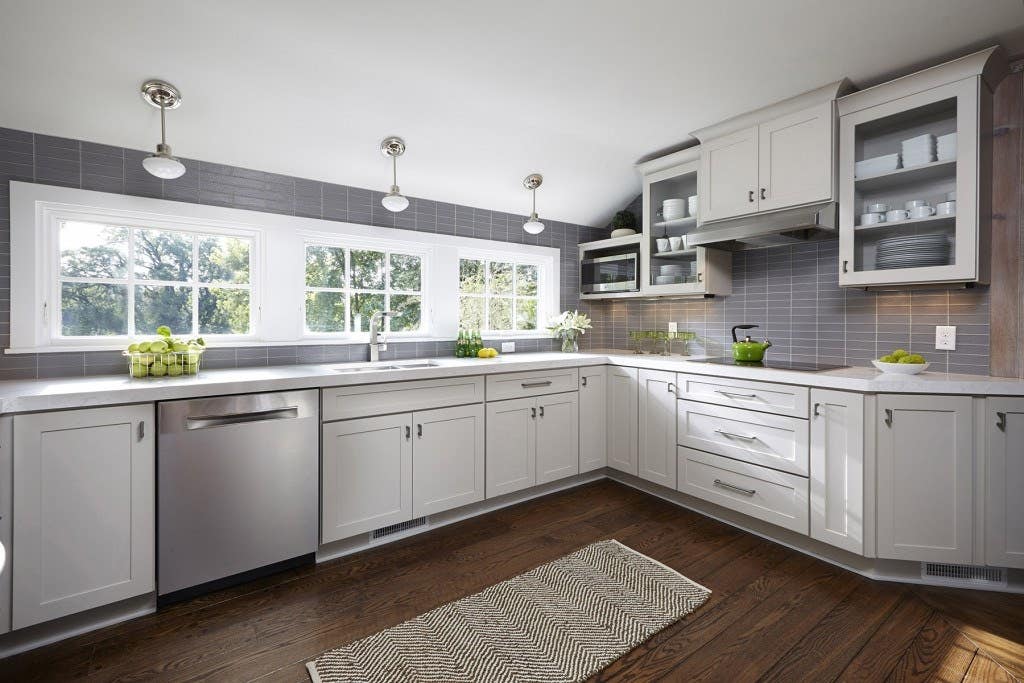 Cabinet Storage
Jayelynn helped with Florence's special requests. She incorporated the Wolf cooktop Florence brought from a previous home and designed more cabinet storage space. "The Super Susan sits on a shelf on the bottom of the corner cabinet," says Jayelynn, "so you get full access without having to work around a pole." Also, since microwaves hinge on the left, Jayelynn switched walls with the TV, placing the appliance on the wall opposite from the one Florence suggested for easier access.
"I was amazed how quickly Jayelynn responded with the changes I gave to her plans," says Florence. "Though there weren't all that many changes!" Florence was also happy to hear her contractors approve of CliqStudios' quality cabinets. They said they were as good or better than custom cabinets from a nearby kitchen center.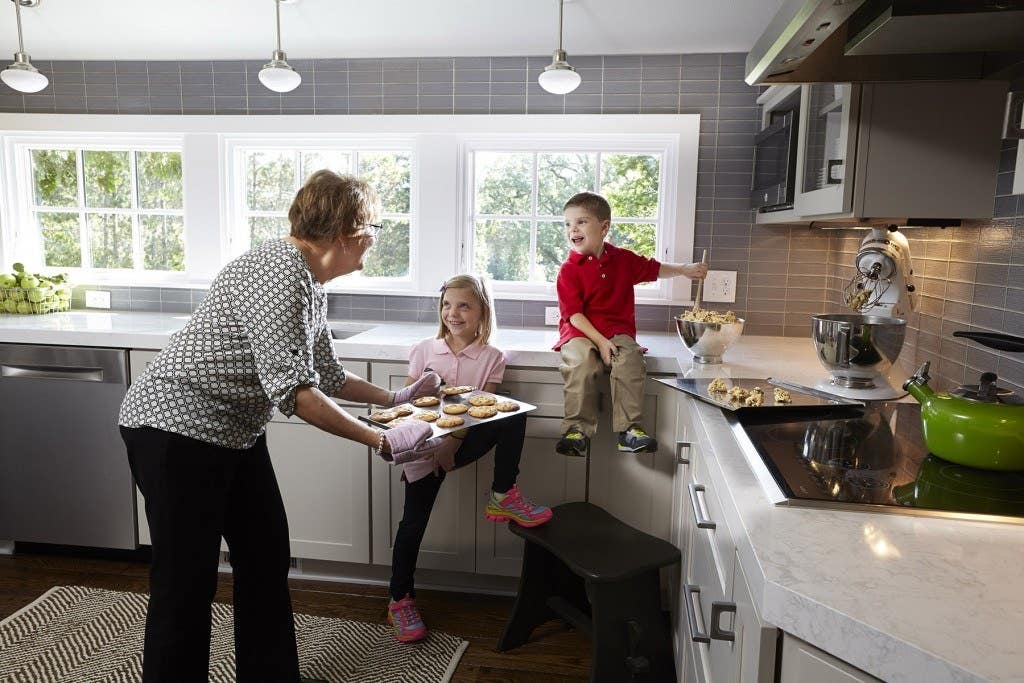 A Dream Kitchen
Now the sloped ceiling is neatly trimmed with cove moldings. The stairwell is hidden cleverly behind the wall of the refrigerator. Florence can entertain both friends and grandchildren who live thirty feet away in the main house in a kitchen she describes with a single word: "Wow."
A dream kitchen for the future in a guesthouse recaptured from history.