3 Min. Read
Finding the right style for your kitchen design can be complicated. If you fall into the category of homeowners who love a little bit of everything and don't know what to go with, transitional style could be for you. Almost anything goes since it's a mix of traditional and contemporary, and it pairs nicely with almost any home.
Since it can be hard to define, there's more leverage to personalize your design and make it your own. Shaping your design will take creativity and experimentation, so play around with colors, finishes, and accent pieces. Just make sure to strike a balance between traditional and contemporary elements for a cohesive design.
---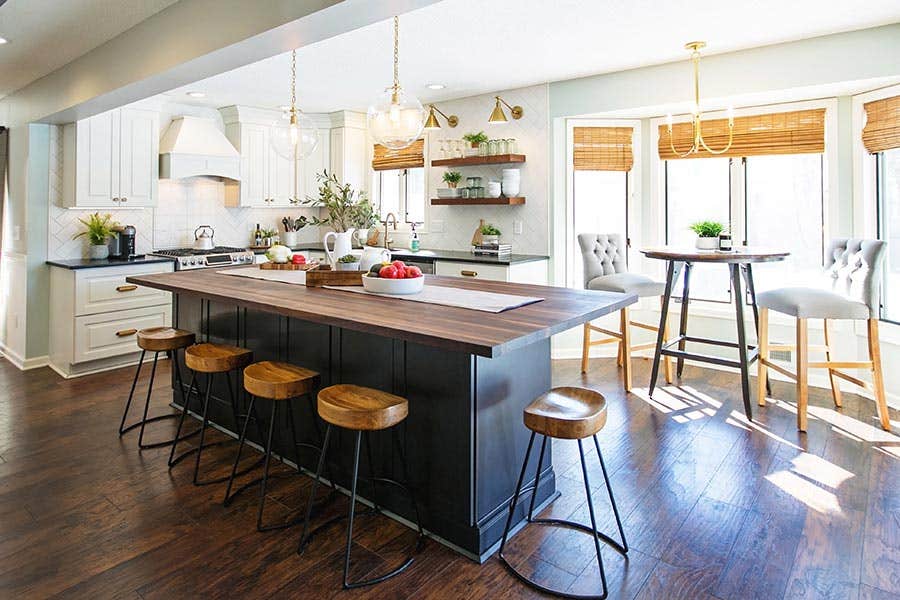 ---
Mixing Old & New
Many transitional kitchen designs have an ambiguous quality about them. They're comfortable and fresh, yet familiar in a way. It's probably because the traditional home-like design characteristics are showing through, but in a modern way. Maximize transitional style by bringing in traditional shapes and lines in an updated fashion.
This style is all about mixing old details with new trends. Shaker kitchen cabinets are a popular traditional choice, but have been modernized with crisp paint finishes. Other old details could be corbels, wooden island legs, brackets, and moldings in a modern finish. It could also include old buffets or armoires in an updated paint color with new hardware.
Fresh & Updated Palette
When it's time to select your color palette, pay special attention to the shades you choose. It can be easy to go too stuffy or minimalist. Neutral colors are a great place to start if you don't know what to do. They provide a pleasant foundation to build off with colorful accents and accessories that will round out any kitchen.
Start with colors like white, gray, or taupe and add in other neutrals in the form of rich wood tones. A great way to do this is by adding in a beautiful butcher block countertop, some floating shelves, or even a wood paneled ceiling. You will experience more visual texture and warmth in your kitchen, while balancing it out with crisp and modern paint colors.
Refined Kitchen Materials
Polish off your kitchen design with beautiful countertops, tile, faucets, hardware, and appliances. Transitional countertops tend to be less heavy in appearance and much more polished and clean. Stray away from green or black granites and try using a white marble, or a lightly flecked quartz top to add modern character. A current trend you should try is adding a slab countertop backsplash to your kitchen design.
For tile, white subway is currently and will remain a classic choice that melds well with traditional or modern styles. However, you can also experiment with rich patterned mosaics within your color scheme. Lastly, make a statement with your hardware and appliances. Stainless steel and brass are popular within the transitional style and help the space appear more updated while giving it personality. Combine both finishes for a bespoke kitchen of your own.
Modern Accents & Furniture
Furnishing your kitchen is the final piece that pulls everything together. Take this opportunity to select a unique table and chairs, bar stools, and pendant lighting. Bold lighting selections will go a long way in defining your kitchen. Take a chance on larger scale lighting like circular glass pendants that draw attention while not being too busy.
Make sure your tables and stools aren't too traditional. These pieces are a great chance to easily define your style and there's a lot of transitional furniture to choose from. If you chose more older elements throughout the kitchen, bring in modern bar stools and dining furniture with unique curves in a bright color to add some fun.