3 Min. Read
Modern farmhouse-style is currently one of the most popular kitchen design styles. Although some thought the trend was coming to a close, there still appears to be no end in sight. Farmhouse style is so desirable because of its warm, homey atmosphere that makes everyone feel welcome. It doesn't matter if you live in the city or out in the country, you are bound to see this style everywhere you go. So, how do you create the perfect farmhouse style kitchen for your own remodel?
---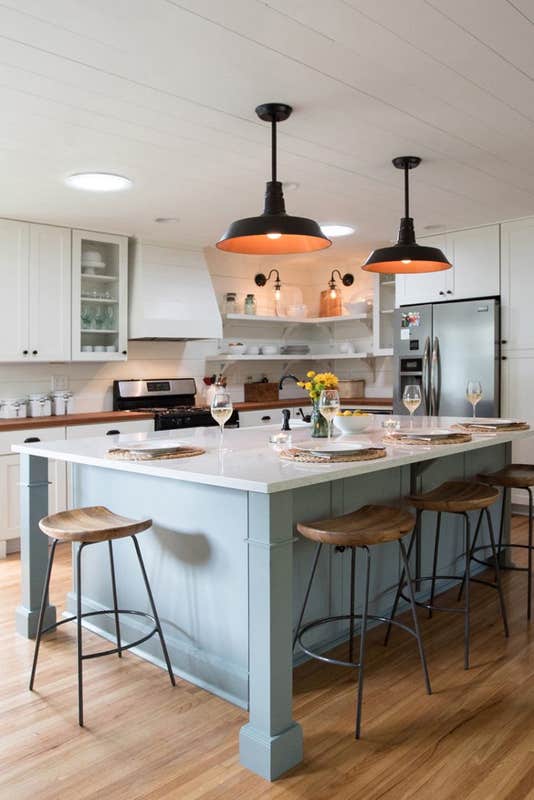 ---
1. Finishes & Color Schemes
If you're already a fan of farmhouse kitchen design, then you probably know standard finishes tend to be neutral color schemes and warm wood tones. This includes colors like taupe, gray, and warm brown wood stains. Part of farmhouse charm is that the warmth of the kitchen draws you in and makes you feel at home.
For a modern twist, add in pops of white or black to your design whether that's in your cabinet selection, wall color, or backsplash. To add some personality with color, try light blue, light green, or olive cabinet accents for more vibrance.
2. Cabinets & Countertops
By far the shaker door style is the most popular cabinet door style for a farmhouse kitchen design. Shaker's simplistic design gives you the options to dress up your kitchen, make it minimal and modern, or add lots of character and rustic touches. Think about this door style as a chameleon- for the most part, you can achieve whatever you want.
Countertops are a great opportunity to bring character into your kitchen. There's a lot of flexibility when it comes to your selection because every option will look beautiful. For natural stone, marble and honed soapstone bring in the natural earthy feel, but you can always use a marble look-alike in the quartz category, or butcher block.
3. Lighting & Fixtures
Lighting is flexible much like the color scheme you choose. Many farmhouse kitchen designs use pendant lighting and sconces to enhance the features of the space. If you prefer pendants, lantern-style will hone the French country side of farmhouse, as well as barn style sconces. Be bold and use lighting that goes with farmhouse style and creates a focal point.
Nothing says farmhouse kitchen like an apron sink and large gooseneck faucet. This is almost non-negotiable. The larger the faucet the better so the eye will be drawn to your kitchen's centerpiece. If you're going for traditional farmhouse style, you might even try a hammered copper apron sink.
4. Accent Pieces
Every aspect of your design will work to support the farmhouse kitchen style, but an argument can be made that accent pieces make this style what it is. The number of accents used will determined whether your style is traditional or modern farmhouse.
Cabinet accents or accessories come in a wide variety. You can dress up your cabinetry with crown molding, decorative legs, wooden feet, or valances. Add even more flare by bringing in vintage pieces like buffet and hutch cabinets that compliment your existing color scheme. To top of your design, barn doors and exposed beams are always a great touch.
---
Any well-rounded kitchen design needs to include a balanced color scheme, accent pieces, and complimentary lighting. Combine these principles to create your dream modern or traditional farmhouse design and family will soon be flocking to your kitchen.
Explore Cabinets now to create your own farmhouse kitchen!