4 Min. Read
When it comes to modern kitchen design, that can mean many things to many people. In this case, we're talking about minimalistic kitchens that showcase clear sightlines and simple living. Modern means clutter-free designs that are highly functional while simultaneously focusing on aesthetic. If you're hoping to simplify your living, and you want to start with your kitchen, here are some tried and true principles to create a modern kitchen design.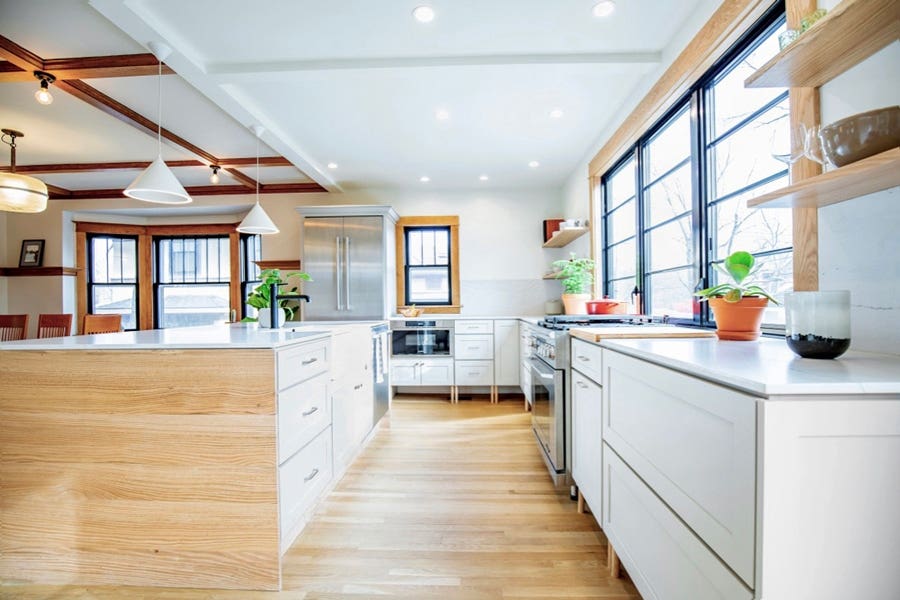 Sleek & Minimal Design
Creating a modern kitchen may prove to be less difficult than other styles because of the clean lines approach. Main staples of this style comprise of open space, long lines, lack of ornamentation, and clutter-free storage. This includes integrated appliances so there aren't bulky refrigerators drawing attention away from the design.
Commonly used door styles are shaker and slab. These are the most minimal and won't distract from the overall design. You will also notice most modern kitchens don't utilize crown or baseboard molding either. The main priority is to keep it clean and simple.
Horizontal Lines & Storage
One of the main underlying features of modern design are horizontal lines. This is to emphasize the openness of the kitchen. This will also benefit you if you have a small space because long lines trick the eye into seeing a larger room. This can be accomplished with long stretches of cabinetry, horizontal cabinet hardware, floating shelves, or long tiled backsplashes.
Storage is based on preference, however it's important to stay within the modern style. Plan your layout carefully so every kitchen item has its' place. To do this, focus on storage solutions that will conceal small kitchen appliances and other tools that would typically clutter the countertops. Use long stretches of drawer bases and pull-out storage over standard shelves. This will result in an aesthetically pleasing and functional kitchen.
Natural Design Elements
There's a big emphasis on natural materials within this style. Things like granite, marble, and quartz are often relied on as the star of the show in modern kitchens because all other décor is minimized. This is a great opportunity to do something unique like a stone slab backsplash, a waterfall countertop, or stone veneered range hood.
You can also pull in nature by installing large windows and using wood finishes across the kitchen. Wood finishes that show a lot of grain variation and warmth will be more inviting than a dark wood stain that's more uniform. Sprinkle it in through floating wood shelves, stools, or using a wood finish on the wall cabinets.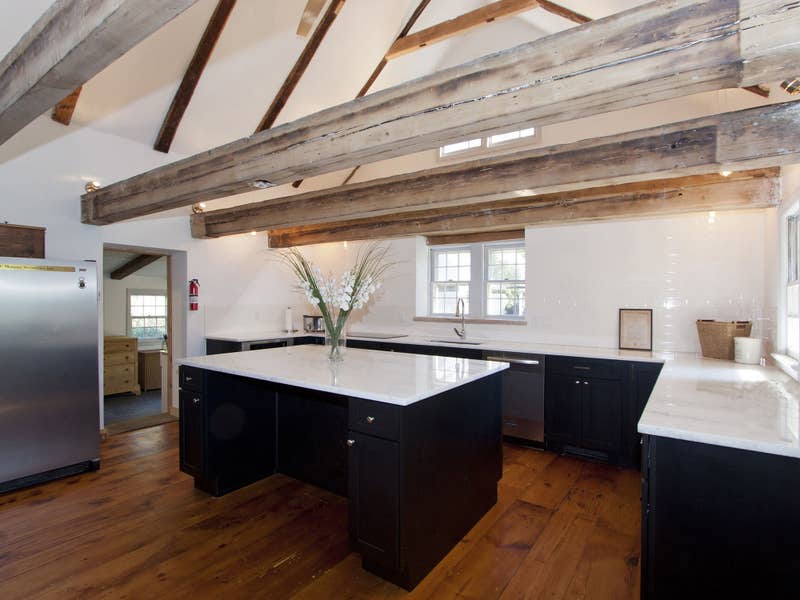 Bold Accessories
With the lack of décor and other typical ornamentation you would find in a kitchen, your modern design will need something exciting. This is your chance to infuse as much bold personality as you can handle. Again, stay within the clean lines of modern style, but pick a bold chandelier with gold metal features and shiny glass bulbs. Pendant lighting is also a great choice and will help balance the room.
Other accessories you can have fun with are range hoods, cabinet hardware, faucets, and stools. Don't be afraid to show your artistic side with these pieces. Choose a faucet that matches accent colors in your kitchen and tie it all together or add stools in a bright color. This is your time to show off, so don't be shy.
Color Schemes & Finishes
Modern kitchen color schemes are very versatile. Use whatever tones fit your preference whether it's bold or neutral colors. For a very clean modern design, use white or light gray. If you want something a little more edgy and moody, try darker tones like rich dark woods or black. Conversely, brighter colors like blues and greens will provide a happy and fun atmosphere.
In relation to finishes, rough textures like quarter-sawn oak combined with smooth surfaces are a great way to add some much-needed visual contrast into the kitchen. Even matte finished sinks or cabinets will go a long way to add some softness to the kitchen while creating more interest. Other trending modern kitchen design finishes include burnished brass, rich and warm woods, and natural stone surfaces.
---
Although the aesthetics and features of a modern kitchen don't include much ornamentation, there is still plenty of room to show your personality. Make it yours by using various colors, textures, and finishes to bring out your style. In the end, if you follow these guidelines, you will be excited with your results.
For more modern kitchen design advice on your upcoming remodel, schedule a Complimentary Design Consultation today!