At CliqStudios, our design team specializes in helping homeowners discover the perfect kitchen design ideas to fit their unique needs. Most often this includes kitchen cabinetry and storage solutions, but also open kitchen shelving ideas.
This design idea isn't for everyone and doesn't work for all situations (House Beautiful) listed a few pros and cons of open kitchen shelving), but when properly planned and installed correctly, it can transform your kitchen in unexpected ways. Our top 5 favorite open shelving ideas represent just the tip of the proverbial iceberg, but we think they're among the best examples of how and when to include open shelving in your kitchen design.
HGTV Design Makeover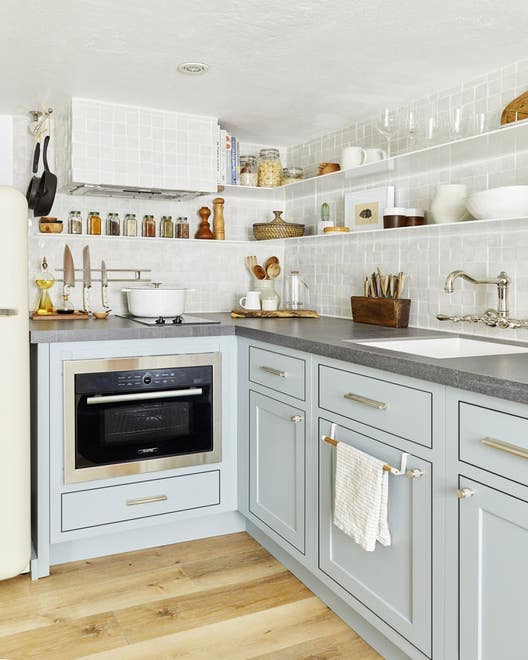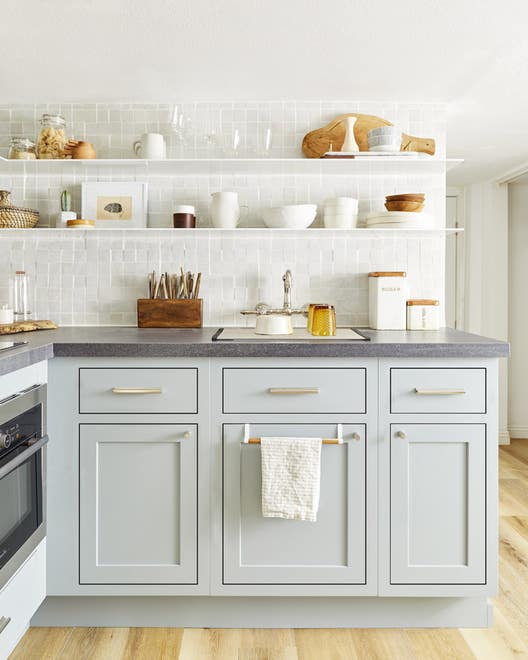 When Velinda, the business manager of HGTV Design Star winner Emily Henderson's design studio, reached out to us about her tiny 49-square-foot kitchenette, we were ready for the challenge. Henderson routinely does makeover takeovers for her employees, and Velinda wanted to renovate the dark and outdated kitchen in her bungalow's cramped basement.
After much deliberation, Velinda decided on open shelving to keep the space light and airy. For base cabinets, she chose Shaker Inset in the color Blue-Gray as the best fit. Blue Graykept the small space light and bright, allowing her to incorporate color without making the room appear smaller.
Sparse Floating Shelves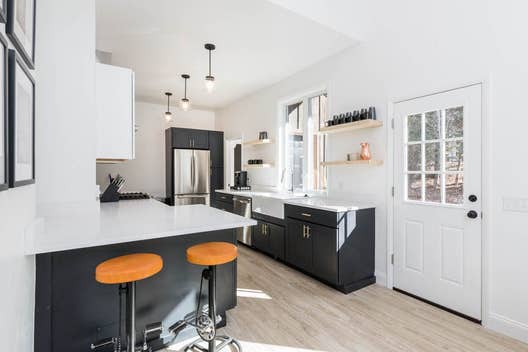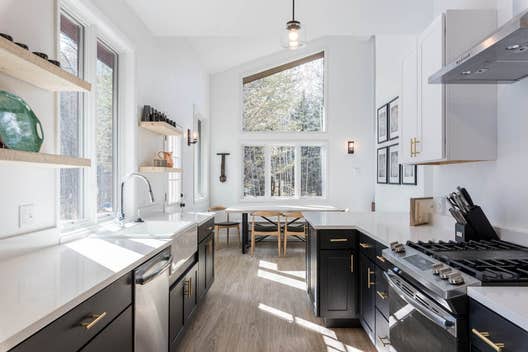 Black and white cabinets create a neutral backdrop that works with styles ranging from traditional to industrial. This polished industrial style kitchen includes bike-chain stools, metal accents, and sparse floating shelves.
Since this is a smaller kitchen, the floating shelves open up the space quite effectively. Plenty of tall windows let in natural light, making the room feels much larger than it actually is. CliqStudios cabinets shown here are Shaker style painted in Black and White.
White Open Shelving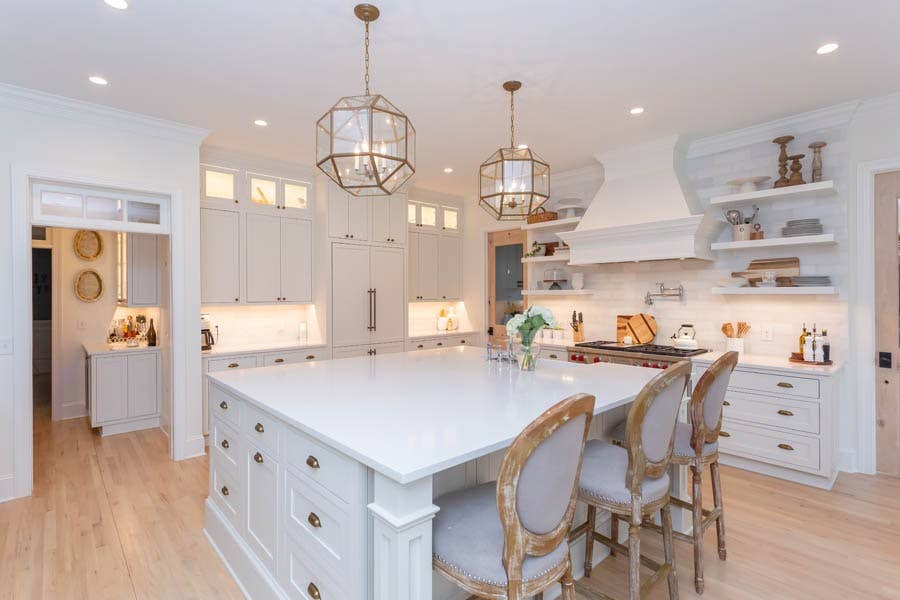 The homeowner dreamed of remodeling her North Carolina kitchen for years. When it was time to start the project, she had every design detail planned out. Walls had to come down to accommodate everything she wanted. Having a cabinet front refrigerator and a massive island were among the items on her list for a dream kitchen, and opening up the space to include the seldom-used formal dining room worked like a charm.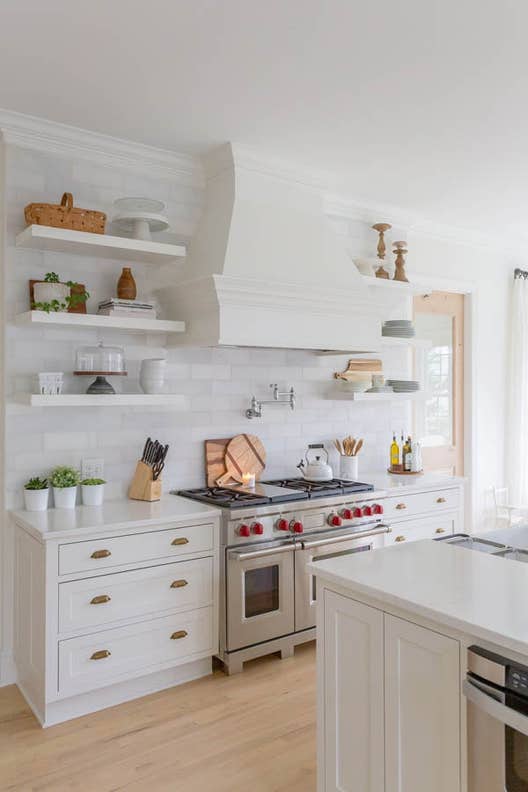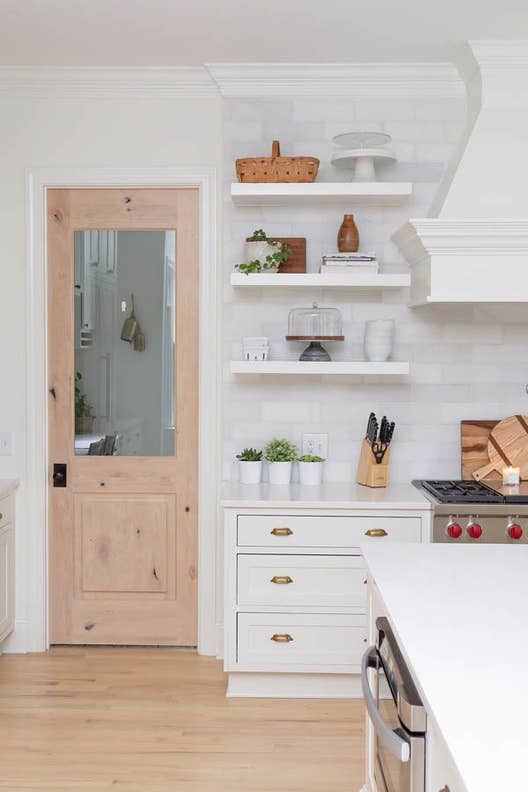 Bright open shelves surround the range hood, helping to keep one of the busiest parts of the kitchen clutter free. They also work to keep daily-use items handy and to display decorative pieces up high.
The base and wall cabinets she chose were our Austin style painted White.
Modern Minimalist Shelves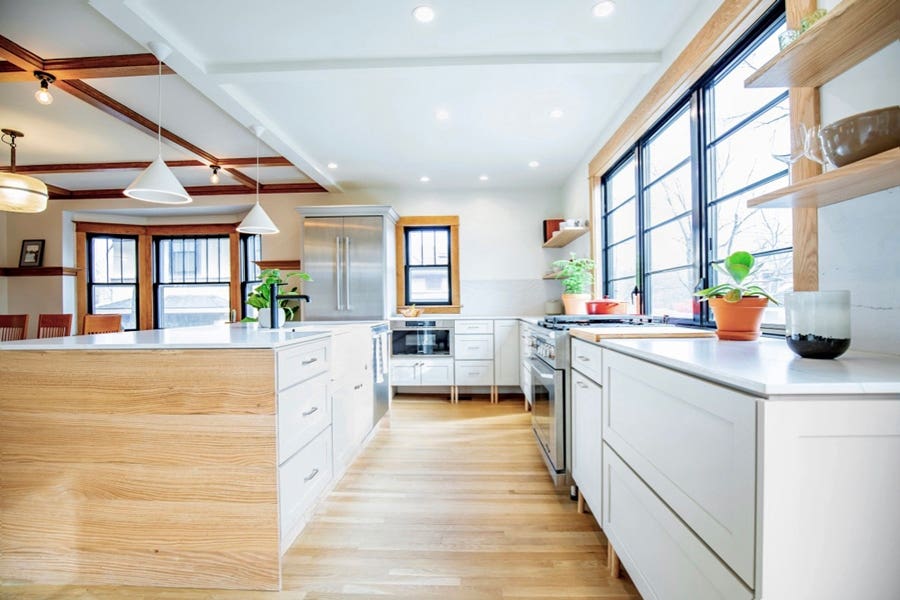 This homeowner wanted a transitional look that preserved the existing woodwork and character of the 100-year-old home, while adding a modern, minimalist style.
Transforming his ideas into reality turned into a year-long journey of finding just the right people and products to make it happen.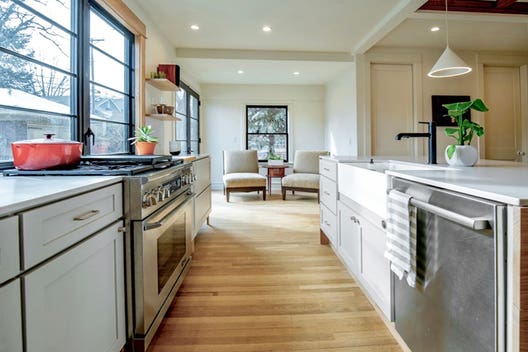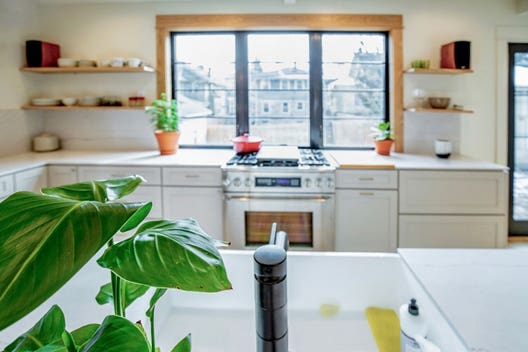 The homeowner heard about CliqStudios from one of his contractors, and he like the internet-based cabinet idea. He combined our cabinets (Shaker style in Light Gray paint) with locally sourced wood for the island, and light fixtures recreated from those he liked at a local restaurant.
As a part of his minimalist style, the homeowner opted for no wall cabinets. He also chose thin countertops that nearly match the cabinets.
Natural Wood on White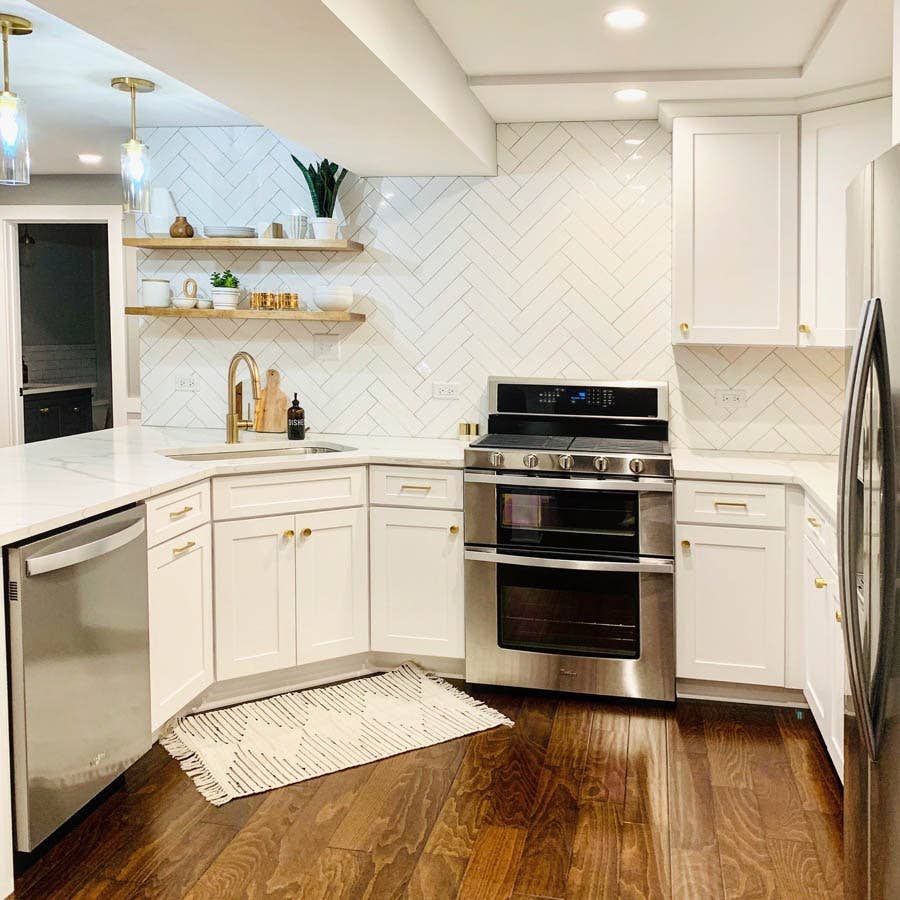 The herringbone backsplash and beautiful pendant lighting definitely take center stage in this kitchen. The rustic wood flooring carries over to the open shelving over the spacious peninsula. Shaker cabinets painted in White add just the right touch of elegance and comfort to this small kitchen space.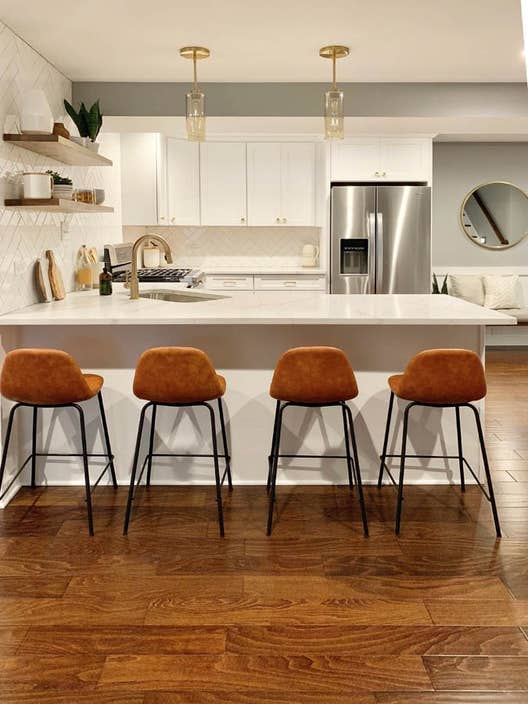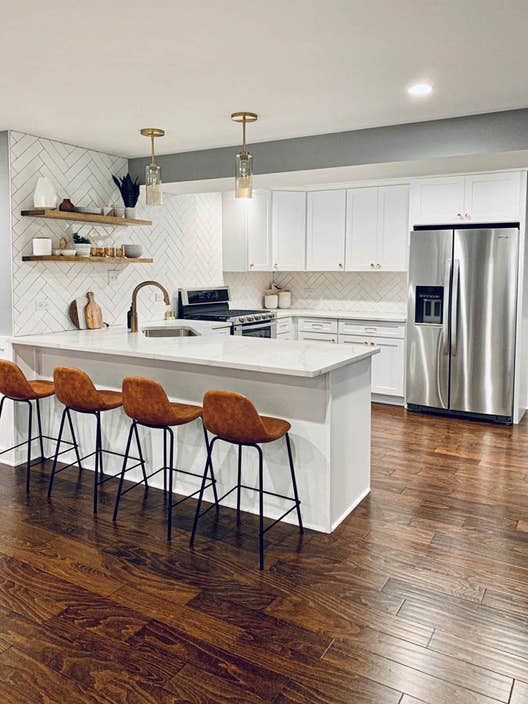 Open shelving doesn't have to be extensive to make a statement — it can be as subtle as you choose. As Ken Kesey once said, "You don't need a big tuning fork to find E."
Open shelving and floating shelves can do a lot for a kitchen design; however, they're not for everyone. To find out more, and to see if they're right for your unique kitchen, talk to a CliqStudios designer about these and other storage solutions.