How to Choose Between Full Overlay, Partial Overlay, and Inset Kitchen Cabinet Doors
Tips for Making This Important Decision
When it comes time to choose a type of kitchen cabinet door, there are several factors to consider. Style, budget, the timeline of the project, as well as cabinet features are all crucial to keep in mind when selecting either full overlay, partial overlay, or inset kitchen cabinet doors. Beyond the type of cabinet doors chosen, there are also decisions to be made regarding the kitchen cabinet interiors in relation to storage and organization. This is especially important when it comes to pots and pans as well as dry goods and spices that can quickly cause clutter if they aren't organized properly.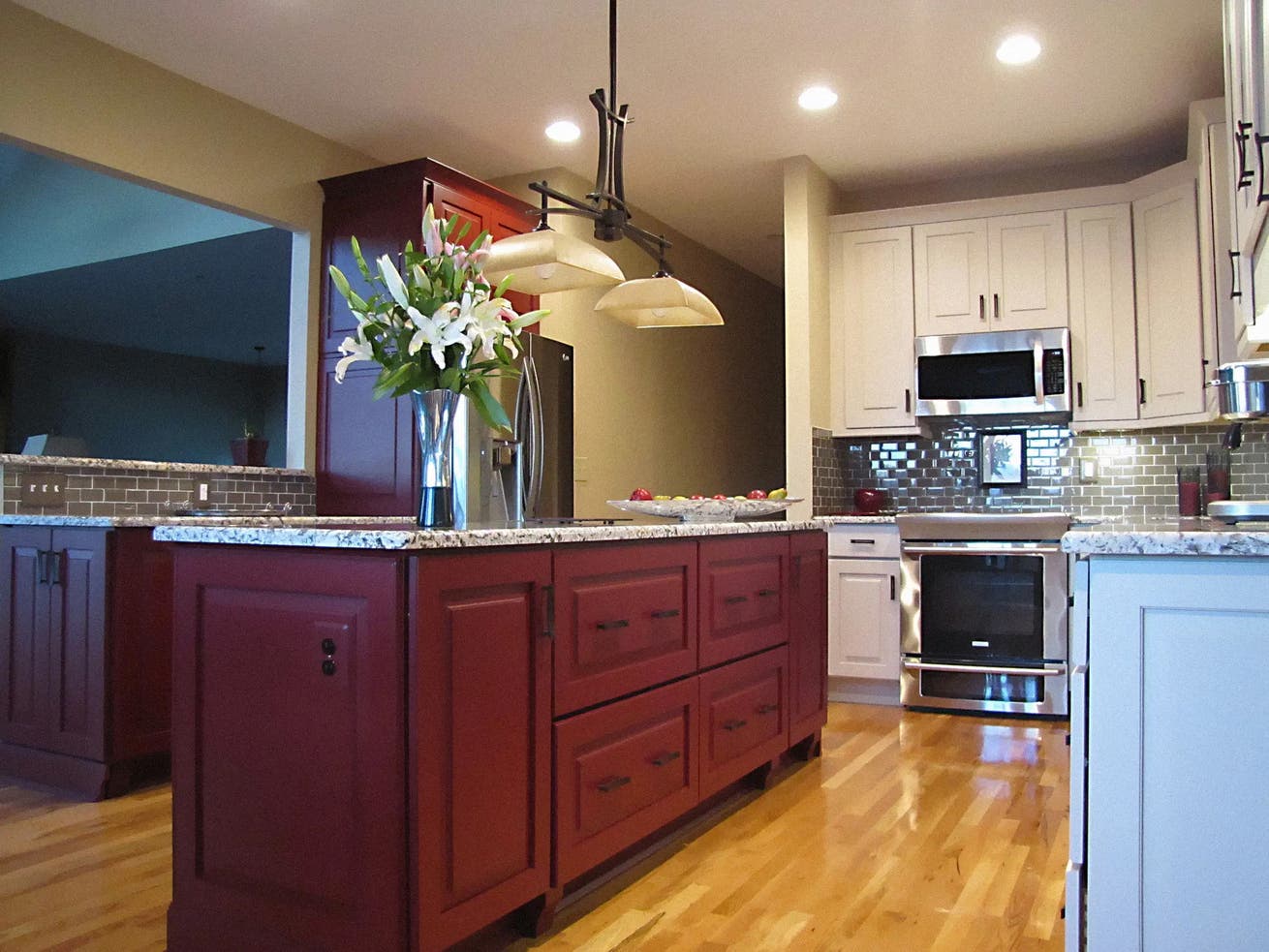 Full Overlay Cabinet Doors
When it comes to full overlay kitchen cabinet doors, the face frame is completely covered by the cabinet door frame. Cabinet doors and drawers have larger fronts, keeping the face frame from being visible. These kitchen cabinet doors are less expensive to install than the other styles available since they are easier for contractors to install rather than partial or inset cabinets which require more complicated installation.
Select full overlay cabinets now!
Partial Overlay Cabinet Doors
Kitchen cabinet doors with a partial overlay are categorized as such because they are designed with a ½" overlay on the doors and drawers. A full 2 inches of cabinet face frame are left exposed and visible. Partial overlay cabinets are also referred to as standard or traditional kitchen cabinets, as well as ½ inch overlay cabinets in the remodeling industry.
Inset Cabinet Doors
The inset cabinet door style is where the doors and drawers fit inside of the cabinet frame itself. This means the cabinet doors and drawers are flush with the cabinet frame. This creates exceptionally clean lines, and the cabinet frame is fully exposed with a minimally visible gap. Either an invisible or concealed hinge can be utilized in this type of kitchen cabinet door. Typically, these cabinets are 15-30% more expensive than full overlay kitchen cabinets because of the intricacy of work to create them which is why this type of cabinet tends to be more expensive.
Talk through options today!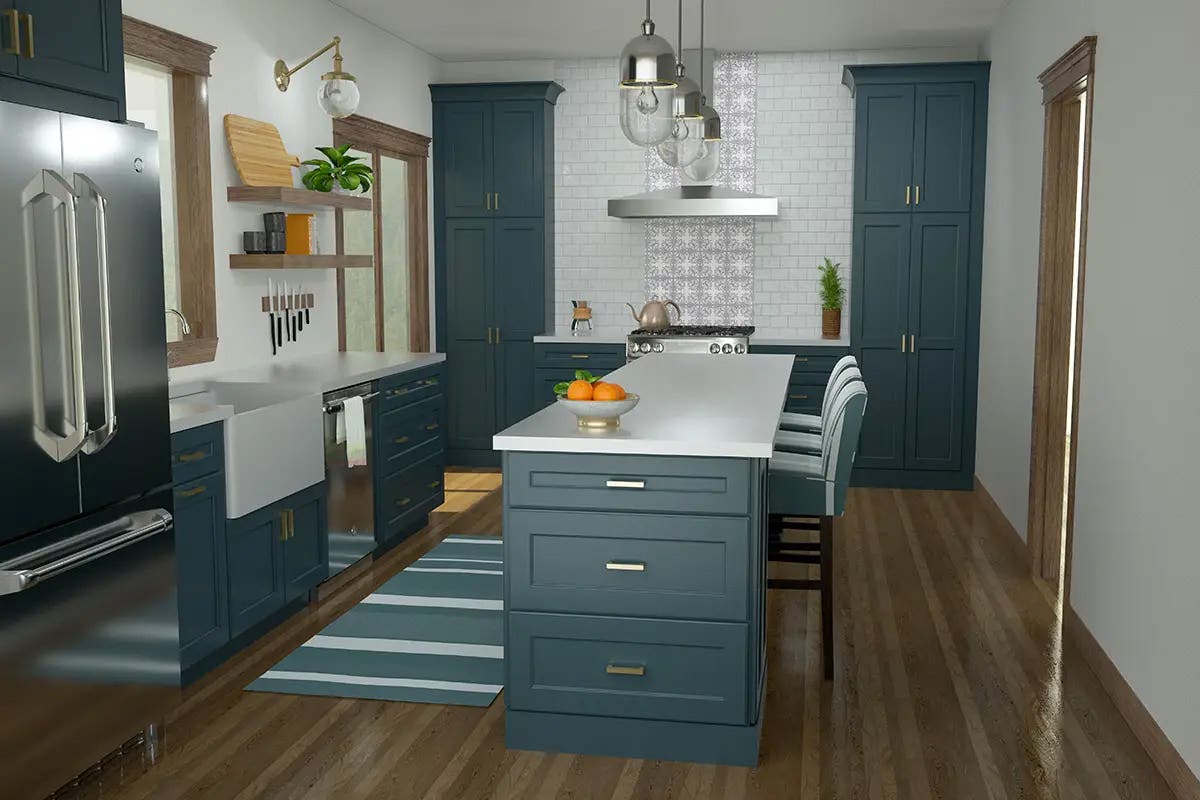 Pairing Cabinets & Interior Design Styles
You probably already know that each type of door overlay can be correlated with a specific interior design style. For instance, if you're looking to create a very modern design that's minimal in nature, then a Shaker-style cabinet may be best suited to your tastes. A Shaker-style cabinet door features a full overlay, so therefore the cabinet's face frame is fully covered by the doors and drawers. This creates a clean look that has become synonymous with modern kitchens. Inset cabinets are a classic style that features a timeless look. This type of kitchen cabinet will be in style for decades to come and fits with almost any interior design style that you can think of, from farmhouse to traditional. Last, but certainly not least, we have partial overlay kitchen cabinet doors. Partial overlays are extremely popular in the United States. These kinds of cabinets feature something that makes them unique. They are the only type of kitchen cabinets that can be opened without cabinet hardware such as cabinet doorknobs or drawer pulls. This creates a more contemporary appearance and is incredibly convenient for the homeowner. Each of the various cabinet door styles- partial overlay, full overlay, and inset cabinet doors, truly create a unique look within any kitchen design.
Replacing Cabinet Door Styles
Depending upon which type of cabinet doors are chosen for your kitchen cabinets, full overlay, partial overlay, or inset doors can be replaced down the line with another style of cabinet doors if one is so inclined. The replacement process will vary greatly depending on which type of cabinet doors are currently installed and which type of cabinet doors will be replacing those. For instance, if partial overlay kitchen cabinet doors are currently installed, but the client would prefer full overlay cabinet doors, a few things need to be done in preparation for this new cabinet door installation. First, new holes will need to be drilled into the cabinet doors. In addition, if the same cabinets are being reused, old holes will need to be filled in and painted over before the actual installation takes place. New holes are required because partial and full overlay kitchen cabinets use different types of hinges in the installation process. Make sure that the putty that is used to fill in the old holes in the doors is fully dry before moving on to the next step in the installation process and furthermore, that the filled-in holes are flush to the cabinet frame. Once the new holes have been created and the old ones have been filled in, the new hinges can be attached to the cabinet doors. Following this process, the new cabinet doors can be installed. In the case of swapping full overlay kitchen cabinets for partial overlay cabinets, you would follow the same steps, just filling in opposite holes in the door frame and utilizing whichever type of hinge is required for the specific type of cabinet door style.
Find out more now!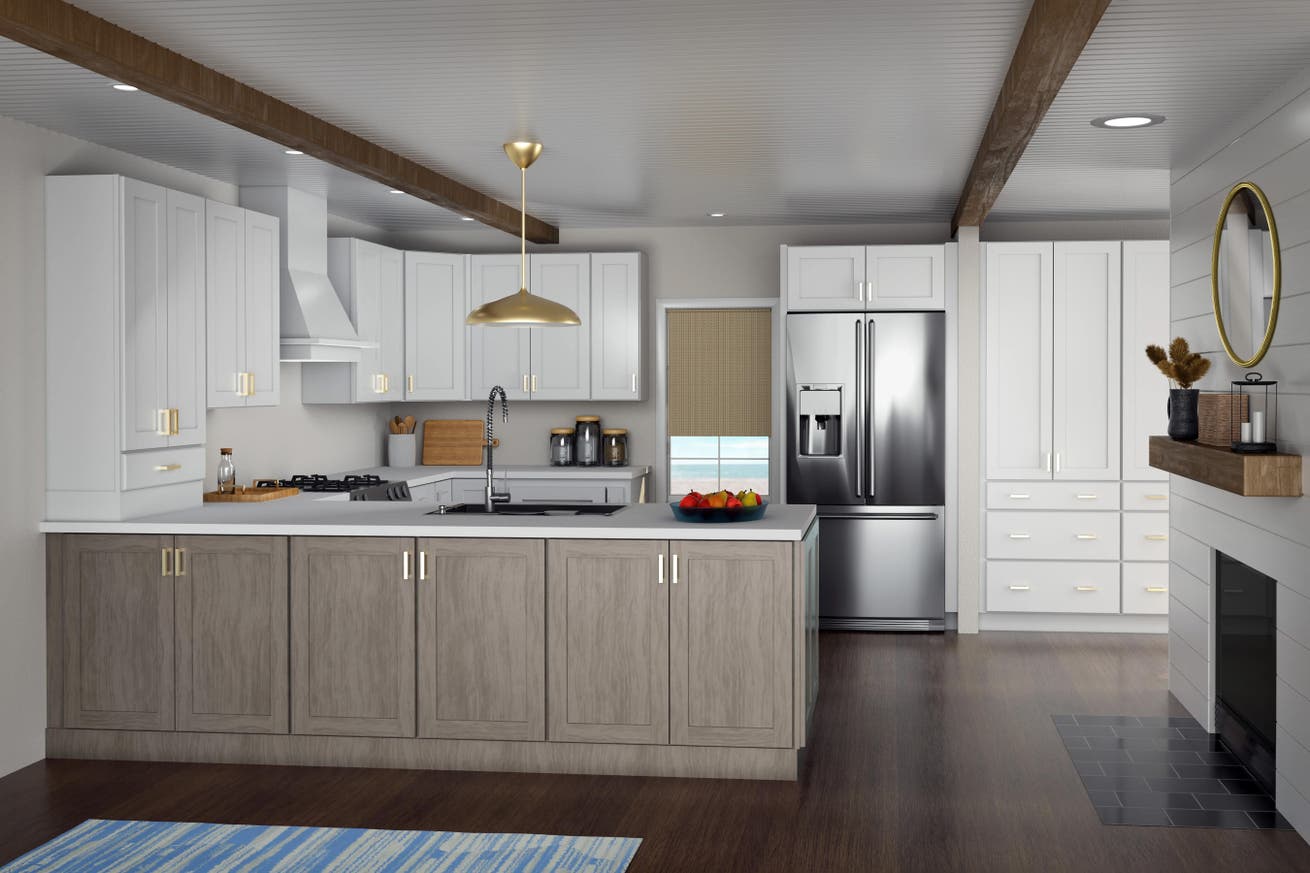 Kitchen Cabinet Storage Solutions
Beyond kitchen cabinet doors, CliqStudios also has a range of cabinet storage solutions to help organize all your kitchen essentials including pots, pans, baking sheets, spices, and dry goods, etc. This storage line is perfect for maximizing cabinet space and keeping smaller items organized within the kitchen cabinets. A few of these useful storage solutions are listed below for your convenience with everything from spice organization to storage solutions for waste and recycling.
Pull-Out Cabinet Storage
First on the list is an incredibly useful storage solution that can be personalized in several ways to best fit your needs, both storage-wise and in terms of design. Pull-out storage is great for clients that want to avoid clutter and have everything in its place. This type of storage is fantastic for items like small bottles of spices to jars of dried goods like rice, pasta, and beans. At CliqStudios, there are several varieties of pull-out storage to choose from including roll-out trays, pots and pans storage, built-in spice racks, and much more. This is a very versatile piece with limitless possibilities.
Shop pull-out cabinet storage!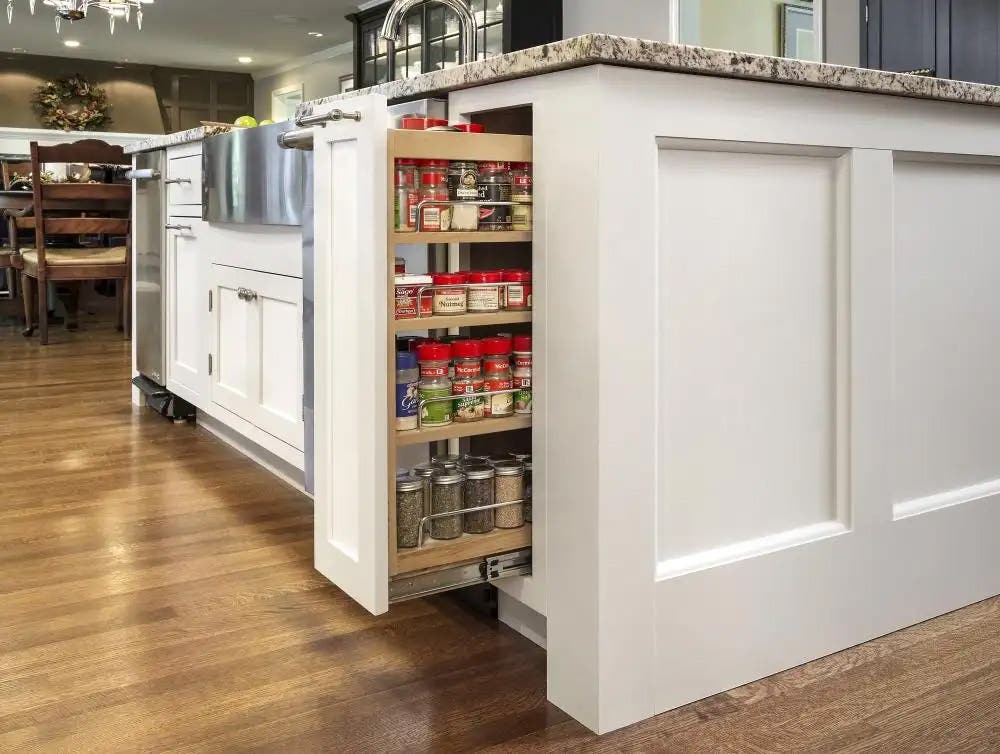 Wall Door Spice Rack
For the resident chef or baker of the family, this next storage solution will be right up their alley. The Wall Door Spice Rack from CliqStudios is the best and most organized way to store spices. No more messy cabinets piled high with spice bottles and jars. This spice rack is mounted directly to the back of the kitchen cabinet door with the inside of a walk-in pantry door as another option. It's available in widths that fit 15", 18", and 21" doors. It is 21-¼" tall and 3-3/16" deep, which is perfect for storing spice bottles. Additionally, it's constructed out of natural hardwood, so you can rest assured that it's going to last for years to come and look nice once installed. It includes 3 fixed wooden shelves with chrome rails so anything that's stored won't slip and slide when the cabinet door opens. Once this spice rack is installed, it's easy to get everything organized and keep it that way, even if you cook often and use a wide range of spices.
Explore the details now!
Lazy Susans and Super Lazy Susans
When you think of classic kitchen storage, you probably think of lazy susans. This storage solution has been around for generations, and for good reason. It gives easy access to small items within a large and open space that's easily accessible. In fact, CliqStudios has a range of lazy susans called Super Susans especially constructed for large corner cabinets. These rotating wooden trays are great for storing spices, dry goods, and even small food storage containers such as Tupperware and aluminum foil. CliqStudios' lazy susans and specially designed Super Susans are constructed out of high-quality wood, so they look just as great as they are useful. If you're an avid cook, then a Super Susan is a great solution for you, because it effortlessly organizes your kitchen.
Browse lazy susan options today!
Pots and Pans Organizer
Pots and pans organizers are high-quality, wooden storage solutions designed entirely in-house by the CliqStudios design team. This piece perfectly and efficiently stores numerous pots and pans of varying sizes. With a wooden organization unit, the piece is installed into a base cabinet and on pull-out glides for easy access when it's time to cook your famous recipes and mouth-watering dishes. It's equipped with 2 small, half-depth shelves that are designed specifically to store pot and pan lids, as well as a large space underneath for the pots and pans themselves to be stored. If you don't need that much storage, there are also pots and pans drawers which are deep drawers, that accommodate these items, but take up less cabinet space than the CliqStudios Pots and Pans Organizer. And when the drawers are shut, it blends in with the rest of the kitchen cabinetry since they are flush with the cabinet face frame.
Find pots and pans storage today!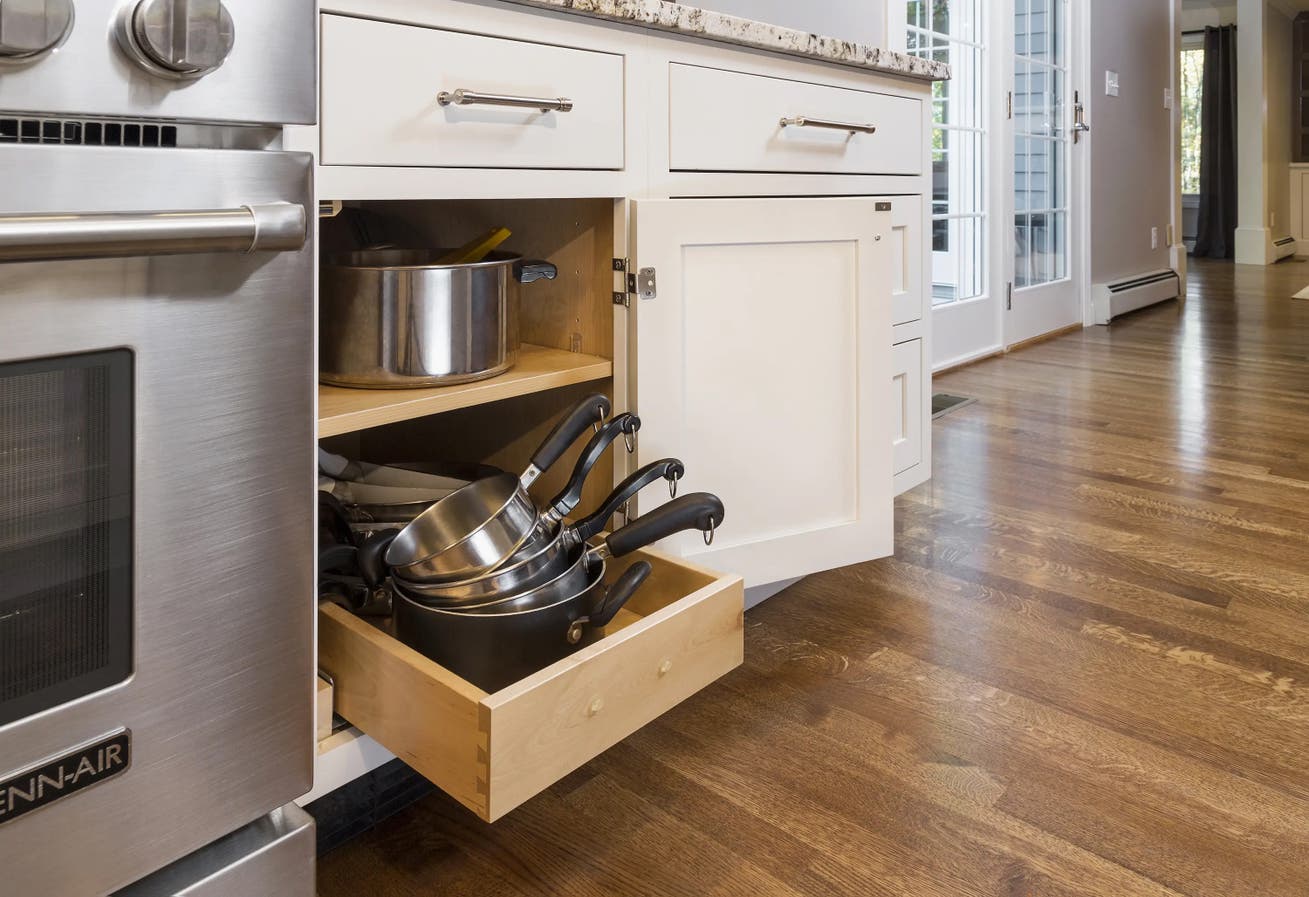 Super Sink Base Cabinet
Sink cabinets are a critical area in home organization. To help CliqStudios also offers a storage solution called the Super Sink Base Cabinet. This storage solution includes a tilt-out tray specifically designed to hold sponges and other dishwashing tools such as scrubbers and dish wands, and factory-installed pull-out baskets to store cleaning sprays and wipes. It also comes with a sink base liner to protect the cabinet from potential spills and leaks that can occur overtime, as well as a towel bar to hang dishtowels on the inside of the cabinet door. These storage essentials are key to keeping cleaning supplies and other items organized and out of sight when they're not being used. It will keep everything where it is supposed to be, so no more digging under the sink to find what you need when it is time to get some chores done.
Wastebasket Cabinet Pull-Out
An essential in any kitchen is a spot to store waste, whether that be regular trash or recyclable items such as plastic bottles and cardboard. The CliqStudios team created a space-maximizing storage solution called the Wastebasket Roll-Out that fits 1-2 trash cans, so one can be utilized for regular trash and the other can be used for items to recycle such as milk cartons and frozen food boxes. It is available in varying sizes to fit kitchen cabinets that are 15", 18", or 21" wide and 34 ½ inches high. The 15" cabinets can fit 1 trashcan that is 35 quartz, while the 18" and 21" kitchen cabinets can fit 2 trashcans that are 35 quartz each. So, the client can have peace of mind that their waste is out of sight and so are the odors associated with it. This is especially useful if the homeowner uses a lot of fresh produce and foods in their recipes, as it keeps the odors associated with these food scraps completely contained so they do not seep out into the kitchen and communal areas.
Discover CliqStudios Storage Solutions now!
Why Work with Us?
What sets CliqStudios apart from our competitors is our personal approach to design. We believe wholeheartedly that every client should be able to have a kitchen that's functional and meets their individual needs. Our design team makes it easy to plan out your dream kitchen, not only in cosmetic choices but also in functionality. From kitchen cabinet door overlays to the layout of the space itself, the CliqStudios design team happily works 1-on-1 with each client to make each decision throughout the entirety of the process, small or large.
Learn More About CliqStudios!
Get Inspired
If you're in need of a design, layout, and color palette for your new kitchen cabinets, then you'll want to check out the CliqStudios Idea Gallery. Here you will find high quality images of real projects that CliqStudios has completed. Scroll through to get ideas for your new kitchen cabinets, from the type of cabinet door overlay to the shade of paint used for finishing. The stunning photos in the gallery are separated by category. The three categories are styles, room, and colors. This allows you to easily find what you're looking for. From modern to rustic, there are many styles to choose from.
The styles represented in the gallery are shaker, slab, and decorative, and you can explore by kitchen, bath, or laundry room. Color ranges include gray, blue, white, black, medium wood tones, and light wood tones. CliqStudios' clients have the ability to choose any option that fits their dream design. This narrows down the selection so that customers can filter through items that fit their requirements instead of searching the entire extensive catalog.
Check Out CliqStudios Gallery for Inspiration Now!
Delivery Details
Please allow a minimum of 3-4 weeks' time for the construction and delivery of your kitchen cabinets. Deliveries are made Monday through Friday, from 8 am to 5 pm, and this does not include holidays. If any special delivery instructions are needed, they must be discussed with your CliqStudios kitchen designer prior to placing your order. CliqStudios happily ships to 48 of 50 United States, excluding Hawaii and Alaska.
Learn More About Delivery Here!
Price Match Guarantee
At CliqStudios, we are proud to offer the best prices possible on kitchen cabinets. That's why our team created our price match guarantee policy. The CliqStudios team will look over a similar cabinet quote and strive to beat that listed price by 5%. In order to qualify, the cabinets in question must be comparable to CliqStudios in construction and quality. We reserve the right to verify the presented quote and the price match offer only applies to the total purchase only, not individual items. Please note that CliqStudios' price match guarantee does not apply to RTA (ready-to-assemble) cabinets. If any questions come up regarding this policy, please reach out to our customer support team.
Learn More About Price Matching Now!
CliqStudios Warranty
All of CliqStudios' kitchen cabinets include a warranty with purchase. However, it does not cover damage caused by improper handling post-delivery or variations in natural wood color. The warranty covers the replacement or repair of defective or damaged kitchen cabinets or cabinet doors and manufacturer defects. Please note that if items such as kitchen cabinet doors are installed outside of the 48 states that CliqStudios ships to, the warranty is invalid. More warranty information can be found on the CliqStudios website or by reaching out to the CliqStudios customer support team.
Explore CliqStudios' Warranty!
CliqStudios Return Policy
Our return policy varies depending on the type of product. If it's cabinetry that's considered a part of the signature line, then a 30-day return window is allotted. Please note that returns must be requested within 30 days of the delivery date. Prior to a return being processed, it will be inspected in the CliqStudios facility. If the return is approved, then a credit for the cost of the product, minus a 25% restocking fee, will be sent to the original payment method used for purchase. To be accepted, a return must be shipped back in its original packaging and the customer must pay for shipping and return freight shipping arrangements.
Join the Pro Program
If you're a pro that's looking for high-quality kitchen cabinets and materials, with fast ship times and discount programs, then the CliqStudios' Pro Program is for you. When you join the Pro Program, you receive benefits that no other customer gets. By joining the Pro Program, you will unlock access to special benefits no other customers receive. On every single purchase you make with CliqStudios, you will receive 10% off and earn points for money back. The reward system is very straightforward. Each time you check out, you will earn 1 point for every $20 spent which can be redeemed at any time. Each point is redeemable for a $1 discount on your purchase. Shipping costs, delivery fees, and taxes are all excluded from the points total. To apply your points, simply select that option during the checkout process. Points received do not transfer to cash value, they must be used on CliqStudios products and purchases.
To join the CliqStudios' Pro Program and become eligible for great discounts and benefits on kitchen cabinets, fill out the quick application form on the CliqStudios website. For the Pro Application itself, you will need to provide a few things: your personal information including first and last name, job title, email address, and phone number. After that, you will need to add your business information such as the business name, business website, street address, along with selecting the type of business you own from a drop-down menu. Once you have submitted this information, CliqStudios will begin your verification process.
Explore the CliqStudios Pro Program today!
How do I know which cabinet doors I should choose?
The type of cabinet doors that you choose will depend on a few things. Style preferences, available budget, cabinet door features, wood stain or paint color, and embellishments in the kitchen cabinet design are all things to consider when deciding between a full overlay, partial overlay, or inset cabinet doors. If you have a strong inclination of which overlay you'd prefer for your kitchen cabinets, a CliqStudios kitchen designer will go over all the options available to you during the design process to ensure that the look you're after is achieved. To start the process today, speak with the Cliqstudios team!
What are the different cabinet door styles available at CliqStudios?
CliqStudios traditionally offers full overlay kitchen cabinet doors such as Shaker style, decorative, or slab, as well as an inset cabinet style. As with any other portion of the kitchen design though, a CliqStudios kitchen designer is more than happy and equipped to assist you in choosing the right style for the space. You can discuss all cabinet door possibilities 1-on-1 with the specific designer you're working with for the entire renovation. All cabinet overlay styles including full, partial, and inset can and will be discussed during this process. To hear about all the cabinet door options, speak with customer support, or request a free kitchen design today!
Which is the trending design of cabinet doors?
Full overlay is particularly trendy at the moment. This type of cabinet door is vastly popular because of the minimalistic, clean lines it creates. A full overlay covers the entire cabinet face frame, which is what makes it so minimal in design. CliqStudios kitchen designers will be happy to help select the perfect cabinet door style for your kitchen if you need assistance. It's easy to connect with a CliqStudios designer, just fill out a simple form and get paired up with a talented kitchen designer and jumpstart the design process.
How much do cabinet doors cost?
Overall, the cost of cabinet doors will depend on a few things. The style, features, color of paint or wood stain, embellishments within the design, and overlay type are all contributing factors to the cost of this project. The CliqStudios design team will be able to give you a more accurate estimate depending on your free kitchen design and 3D walkthrough based on your preferences, but the cost will vary greatly from person to person. If you're only looking to replace the cabinet doors in the kitchen, that usually costs anywhere from $50-$90 per door, depending on the style and other factors.
How do I know which cabinet doors I should choose?
What are the different cabinet door styles available at CliqStudios?
Which is the trending design of cabinet doors?
How much do cabinet doors cost?
For any other questions that arise during the exploration, design, or even installation process, feel free to contact CliqStudios by phone or email. We can't wait to hear from you and help give you the kitchen of your dreams!