Creating Extraordinary Kitchens from the Common Cabinet
Every day, our designers create spaces that are as unique as our customers. As one designer said, "I see every kitchen as a challenge to create something fresh and new, while also personalizing it for my client."
A designer will achieve some effects by combining cabinet units in new ways, stacking shelves on drawers to create hutches, tucking appliances in unconventional corners, as well as, adding decorative elements to upgrade ordinary to specialty. Our factory helps out, modifying cabinets to fit non-standard spaces and supplying components to meet special style requests. However, we don't take all the credit. The customer is an equal partner in creating any design. Below are just a few examples of what we can do.

Creating Elegance
The cabinets above feature glass doors on both sides, creating a transparent, airy feeling and a wonderful display space. The end cabinets depth extended to create visual interest, as well as, symmetry. Finished in Painted cream, the cabinet interiors also perfectly match the exterior. Crown molding created by layering two styles completes the exceptionally elegant effect. And for a final dressy touch, light-rail molding trims the cabinet's bottom edge. (Doors are shipped prepped for insert. Glass was supplied by the customer.)
Factory modifications: Prepped for insert peninsula doors, matching interior, increased depth
Field installation modifications: light-rail molding, stacked crown molding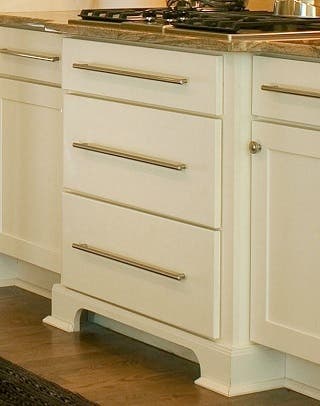 Make it Yours with a Furniture Look
In the cabinets pictured to the left, the drawer base cabinet bumps out from the wall to provide counter depth for a professional cooktop. The designer saw an opportunity to create what we call a "furniture look." The cabinet toe kick is also trimmed in valance-cut ogee pilaster molding. As a result, the visual effect is of a free-standing chest that might be found in a historic home or farm kitchen. The Painted cream finish is perfect for this cozy kitchen.
Field installation modifications: bumped-out base cabinet, valance-cut toe-kick trim.
Read more on CliqStudios ability to create a personal style furniture look with semi custom cabinets.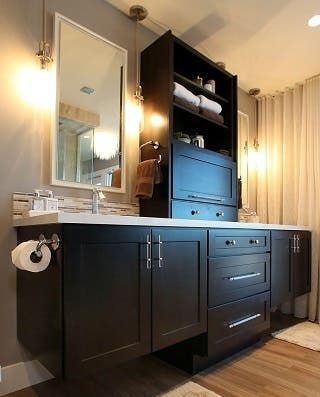 Magical Floating Cabinets
Look closely at the Birch Sable vanity pictured to the right. Rather than standing on a base with toe kick, the end cabinets are floating. The special application creates a magical effect with a contemporary edge. Moreover, by stacking cabinet units, the center hutch creates a furniture effect. Void (doorless) upper cabinet create open shelves perfect for displaying guest towels and decor. The elegant wall of cabinetry provides a great variety of storage space in addition to the well-defined vanity counter for two.
Factory modification: void cabinet
Field installation modifications: floating base cabinets, stacked units to create hutch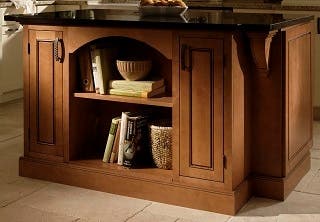 Double-Depth Island
The 12-inch and 24-inch deep cabinets back-to-back create this richly elegant island. The inside corners feature corbel counter supports. The installer applied the decorative door to the island end in addition to ogee pilaster molding to define the toekick. By using a valance between two cabinets and finishing the interior with factory-finished panels, this island displays book, decor, and more! Furthermore, the island provides a wonderful transition from cooking to living areas.
Field installation modifications: back-to-back cabinets, corbels, decorative end panel, ogee pilaster molding on toekick, valance on shelf
Wood Range Hood
This beautiful cherry range hood conceals ventilation while also creating a furniture look with shelf supports under the cabinet above. Framed by the art glass in side cabinets, it thus becomes the focal point in the room.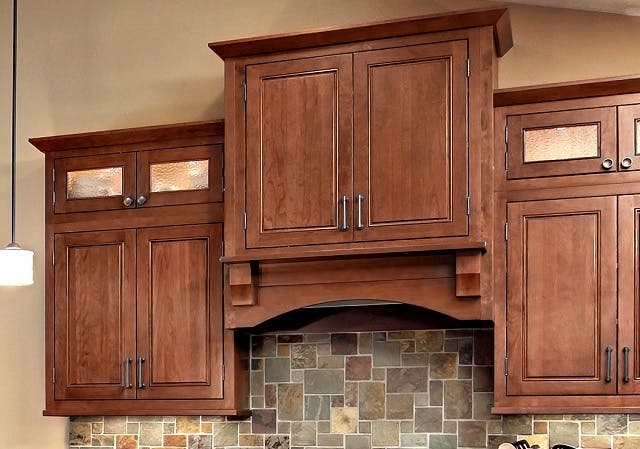 Factory modifications: prepped-for-insert cabinets (ready for glass), wood range hood.
Field installation modifications: install art glass, add corbel supports.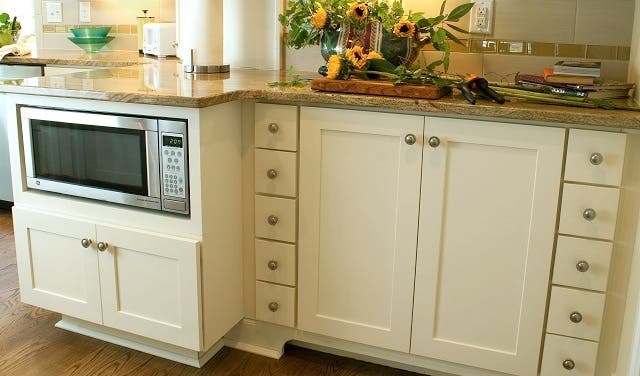 Under-Counter Microwave and Spice Drawers
A pull-out microwave provides a safe alternative to over-the-range installations, and also frees up counter space. For example, the spice drawers and cabinet to the right are built of 12-inch deep units and trimmed with a valance-cut toekick.
Factory modifications: stacked spice drawers, microwave cabinet.
Field installation modification: valance-cut toekick trim
Do you have an idea for designing to your personal style? Ask your designer for suggestions and make your kitchen uniquely yours. Share your thoughts with our readers.