Coats, Boots and Backpacks All Ready to Go
Jacket on the chair back, shoes in the middle of the entry room, and backpacks on the kitchen counter—it's amazing how much house one family member can populate in the first minute home. Automate organization and eliminate clutter by creating a locker zone in your family entry.
What is the primary entrance path for your family members? A mudroom, laundry room, even a hallway to the garage may also have unexploited potential for storage. Talk to your designer about ways to transform it into a natural landing place for incoming gear.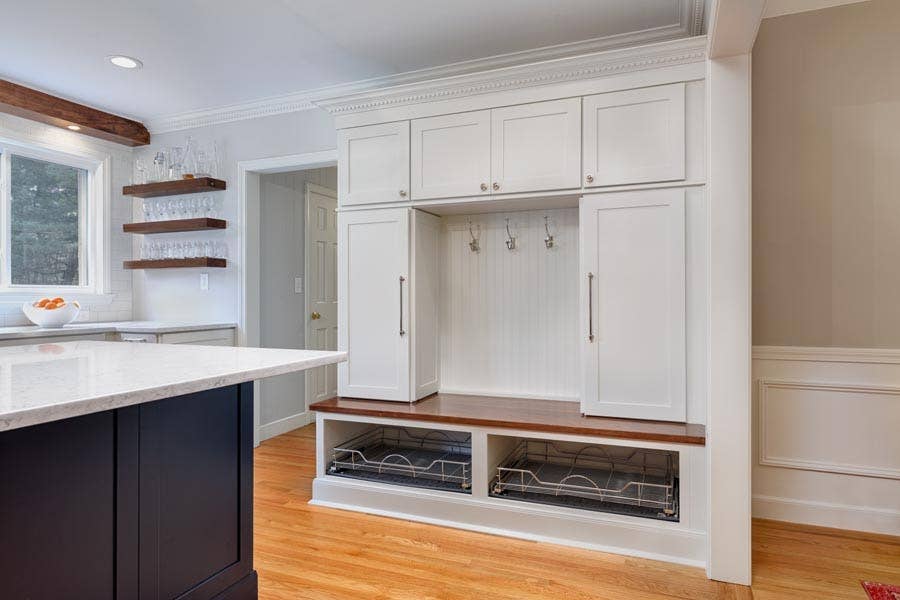 Cubbies, A Shoe Bench, & Extra Storage
In the laundry room-entry pictured, the shoe bend provide ample storage with several drawers. A combination of open cubbies, door cabinets and drawers provides flexibility in organizing just-in-time and long-term items. Coat hooks are out of the way, but accessible on an under-cabinet rail. Beadboard paneling above the bench, on the backsplash, and on the cabinet ends is finished to match the cabinetry. The cabinets are neatly trimmed with angle crown molding. A shoe bench is a natural invitation to stop, shed footwear and stash it. Cubbies, cabinets or shelves will also provide storage for purses and backpacks. A drawer unit will help keep mittens (or sun hats) ready to go. When it comes to coats, hooks are the way to go! Save yourself the extra clean up, avoiding a coat rack and hassle with hangers.
If you are planning a kitchen remodel, it is a great time to evaluate storage in adjacent areas. Furthermore, extend the new kitchen style into an entry (or family room or office) for consistency and a graceful transition between the newly renovated space and the rest of the home.
What are your favorite coat-and-boot, locker zone storage solutions? Share your thoughts below.