Is There a Space in Your Home Just Begging for a Bench?
Use kitchen cabinets to create a cozy snuggle spot in a bay window, a shoe bench for your entryway, toy storage in a kid's room, or a breakfast nook. Build the bench from drawer and door units, or create a storage chest with a piano-hinge top. Add a matching beadboard seat back and a polished area to sit and you have it—storage, seating and a focal point, all in one project. Our designers are masters at combining cabinet units to create custom benches.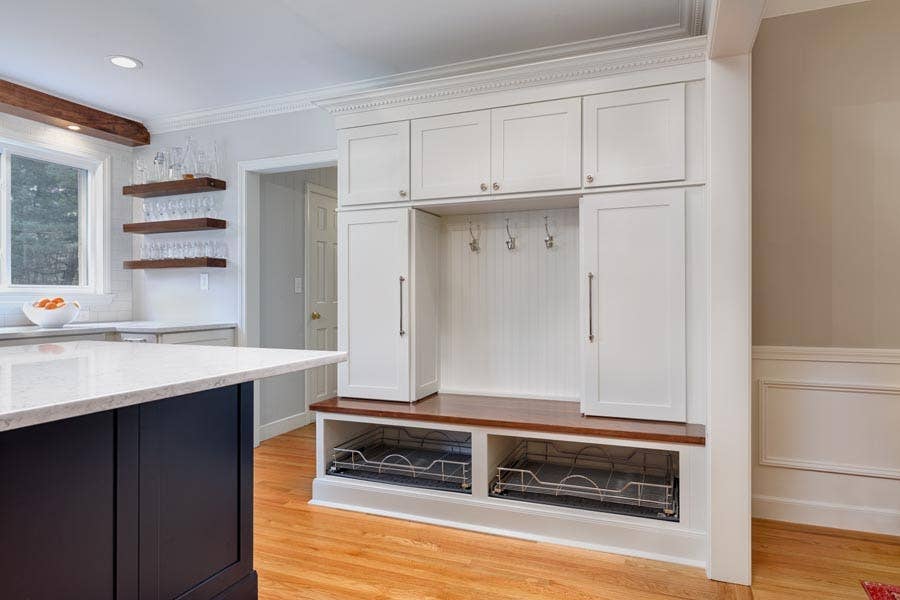 The Irresistible Window Seat Bench
A natural landing place for guests and the after-school crowd, a kitchen window seat simply shouts, "Come in and stay a while." Typically dominated by hard surfaces, a kitchen welcomes the soft touch of decorative pillows and fabric. This homeowner used the bench to add comfort and interest in their home office. This bench creates an inviting warmth among the dark granite work space.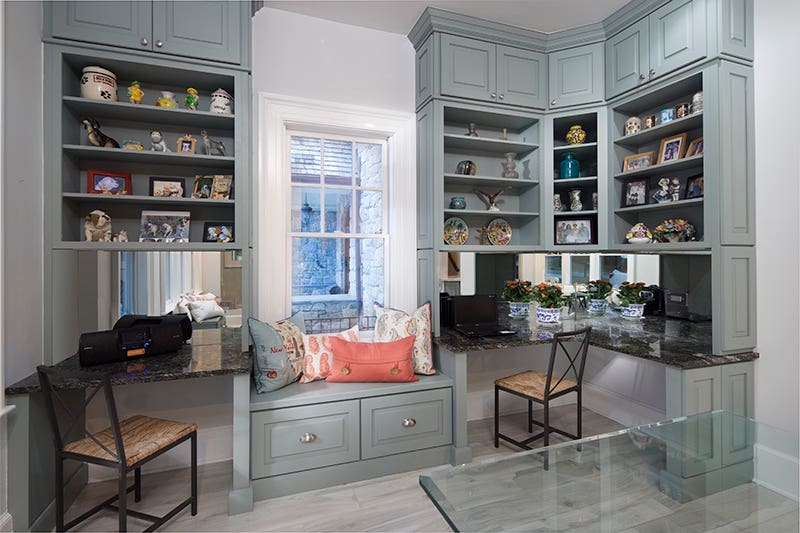 What Kitchen Ever Has Enough Drawer Storage?
This kitchen window bench was built with three drawer units and spacers. It creates a graceful transition between the base cabinets on the left and the pantry cabinets on the right. The bright cushions reflect the beautiful red of the island cabinets.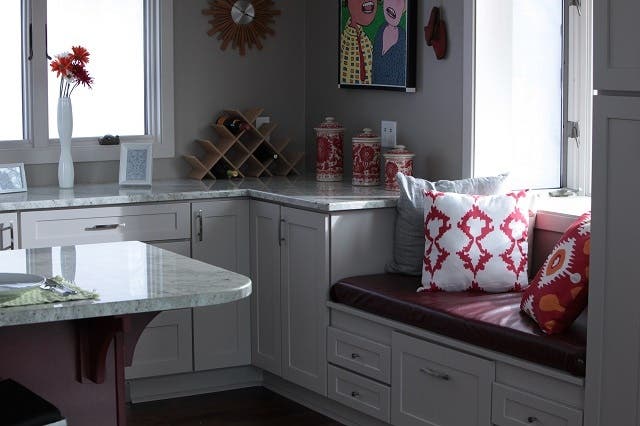 Keep Your Family Entryway Neat With Shoe Bench Storage
On the left is a picture of a shoe bench with drawer storage. Integrated into the laundry room cabinets, the bench invites family members to take them off and tuck them out of sight. The beadboard surround and coat hook rail reinforce the casual country look of the Shaker cabinets and wooden countertop. Open shelves provide easy access to baskets and a visual break in the cabinets.
Make It Yours With a Custom Design
You won't find benches or window seats in our cabinet catalog. A bench, like a kitchen island, will be designed to fit your space and meet your specific needs. How does your family use the space? What are your storage needs—shelves, drawers, or cupboards? Do you want to create a contrasting focal point or a seamless segue between two spaces?
Feel free to call our Design Studio at 800-350-1242 and ask for ideas—we are here to help. You can also start your free kitchen design today!