It's important to design your kitchen carefully, especially if you plan on being in your home for some time. A well designed kitchen will help not only as you age, but when life challenges you with a back injury, broken leg or other limitation. Our designers have a host of strategies to make kitchens safer, more accessible and more efficient for your household. Below are just a few examples.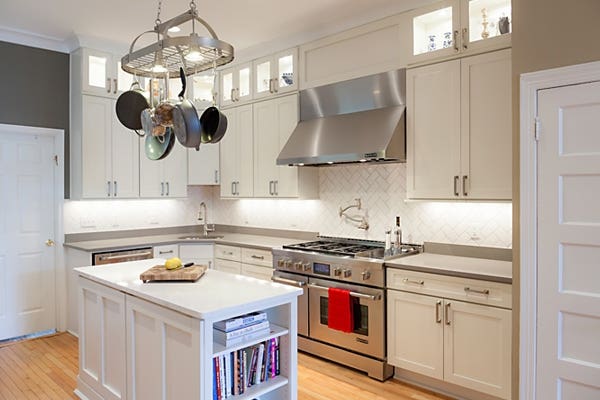 Light up Work Stations
Adults over 40—that's the majority of homeowners—require more light to see as well as we did when younger. Additionally, no one sees well in a shadow. Well-planned task lighting is a must for efficiency and safety. In the kitchen pictured above, the forward positioning of the light fixtures help reduce shadows and get maximum benefit. The installation is also neatly finished with light rail molding.
Vary Counter Heights
Tall or short, you deserve a correctly positioned workspace to prevent back strain and make your work easier. A blank space under one section of counter will let you work comfortably from a kitchen stool. By altering countertop heights, the surface also becomes more accessible to children, whether helping with dinner or working on a project.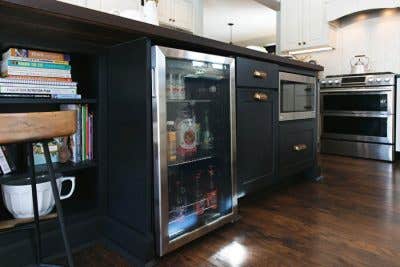 Lower the Microwave
A common placement for the microwave, above shoulder height and over a cooktop, is inherently dangerous. Your designer will help you find a better solution. To the left, this microwave is tucked into an island, neatly contained in the cabinet at counter height. It is fully accessible and adjacent to counter tops where hot food can be safely unloaded. If you are considering an under-counter placement, check out microwave drawers, now offered by major brands and available Best Buy and other retailers.
Raise the Dishwasher
It can be that simple. By including a drawer unit under the dishwasher there is no need to break your back unloading and unloading. Talk to your designer about raising your dishwasher to a more accessible height. Easier for everyone, this is an important feature for those who have trouble bending and lifting or who use walkers or wheelchairs.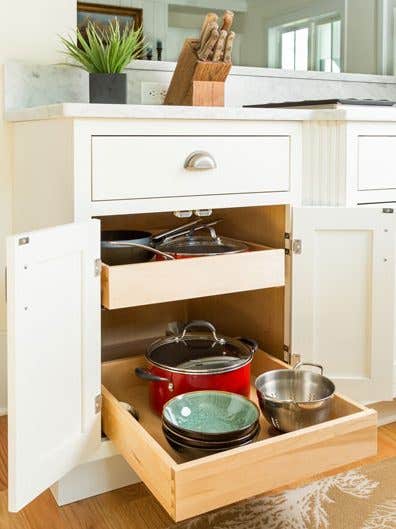 Roll out the Shelves
Roll-out trays, particularly in lower cabinets and pantry cabinets, provide full visibility and access to the contents. A favorite feature in any kitchen, roll-outs are essential for those who have trouble bending and reaching or with limited vision.
Do you have a suggestion on how to make a kitchen more accessible, or are you looking for a solution for a specific problem? Share your thoughts with our readers.