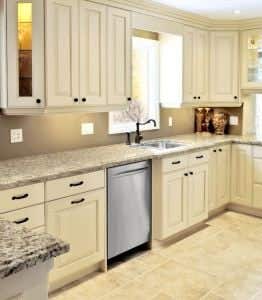 Open floor plans are hugely popular among home remodels today, especially in the kitchen. A less segregated, more free-flowing environment not only helps create the illusion of a larger space but is great for entertaining and conversation.
If you're remodeling your kitchen, there are several ways to create an open kitchen design. Some options may not work for you, but thankfully, other options are available.
Wall Removal
Wall removal is a great place to start to open your kitchen space. Its effects are obvious and immediately apparent. But, make sure to consult with your contractors and designer to see if removing a wall is possible. Walls may be load-bearing or may be concealing important electrical, plumbing, or venting. Wall with these can be very difficult to remove.
Remove Upper Cabinets & Peninsula
Many kitchens from the 80s and 90s were designed with upper kitchen cabinets directly above a peninsula. While good for storage, this design isn't great for an open environment because it acts very similarly to a solid wall.
An easy way to remedy this situation is by removing the upper cabinets. This extends your line of sight and makes the room feel larger. If the peninsula isn't needed for storage or counter space reasons, its elimination can also aid in an open kitchen design.
Eliminate Soffits
Soffits bring the overall ceiling height down, which makes the room feel smaller. If possible, try removing soffits in your kitchen. Next, replace existing cabinetry with cabinets that extend up to the ceiling. This will add height to your room.
Add Natural Light
The more natural light that reaches a room, the more open it will feel. Knocking down a wall can give additional access to natural light. But if structural limitations exist, there are other options. Research adding a window, widening an existing window, or installing a skylight. Consulting with your contractor is the next step in this situation.
Visit CliqStudios' How to Resources page for more information about designing an open kitchen. If you're interested in starting a remodel, contact CliqStudios' professional designers for free kitchen design today.