Welcome to 2020! As is often the case, with a new year comes a flood of intentions and goals. One common goal is to finally get your home organization under control. With the kitchen being the heart of the home, it is a wise place to start the organizing process. But how can you translate your need to organize into actionable tasks? What tools can help you in this endeavor? Here is a look at the ways you can make smart choices with your kitchen design and in turn, get organized [Where do I get the best design ideas?].
Problem: Cramped Pantry
A common culprit in a messy kitchen is the pantry. This can be for a variety of reasons. A lack of space can make storage cramped and disorganized. Equally painful is having limited access to kitchen items.
Our Solution: Roll-out Trays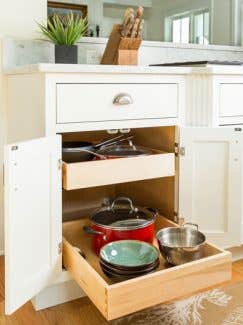 Say "goodbye" to the days of digging in your pantry for the assortment of items needed to make dinner. Instead, consider the ease of roll-out trays in your kitchen. Beautiful dovetailed roll-out trays bring the entire shelf contents out for easy access and full visibility
Problem: Unruly Small Items
Have you ever reached into your cabinet for the salt only to have to shuffle through 30 other spices? Small items can easily eat away room in your cabinets and lead to clutter in the kitchen.
Our Solution: Pull-out Storage Cabinet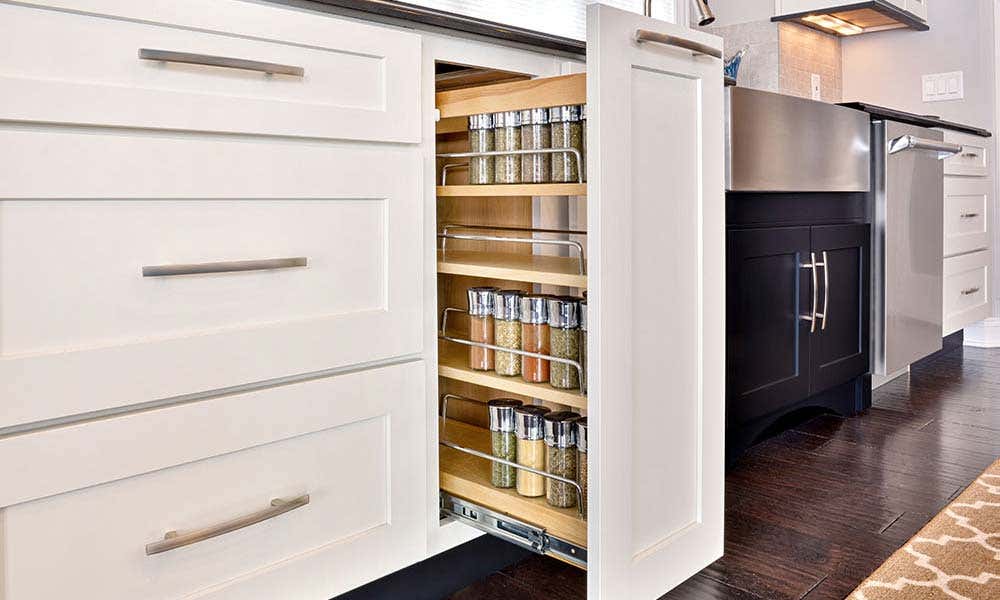 Have ease and visibility to see and access your smaller kitchen items like spices, herbs, and jars with the help of the pull-out storage cabinet. The adjustable shelves help keep these small items at bay.
Problem: The Sink of No Return
Another common offender in a messy kitchen is the dreaded sink base. From hard to reach trash cans to crowded cleaning items, a sink can easily turn into the place of no return.
Our Solution: Super Sink Base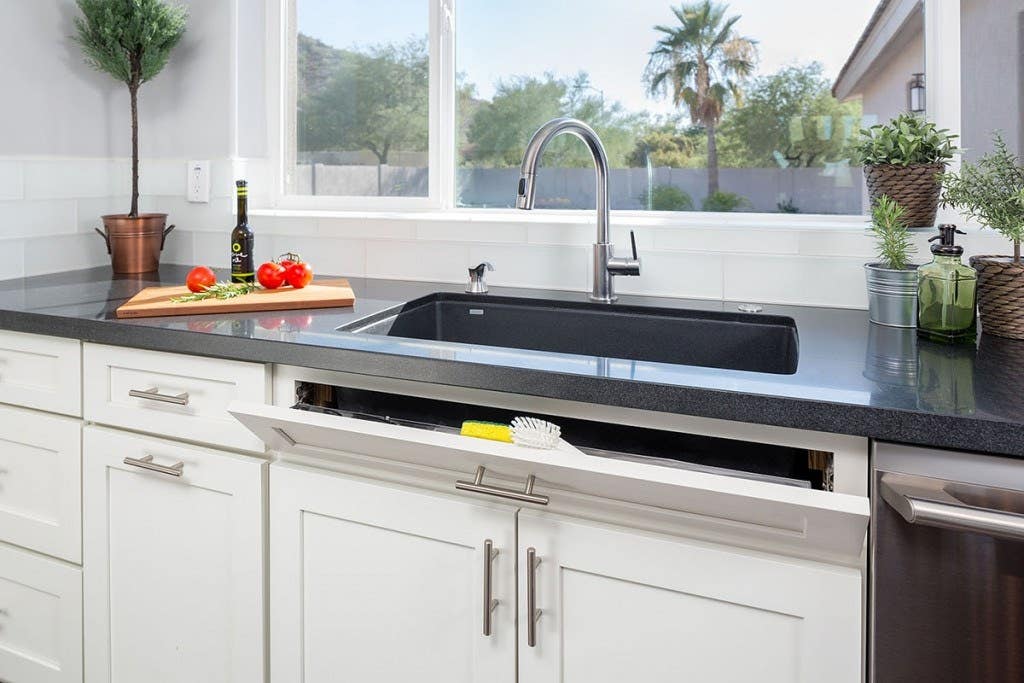 Organizing your cleaning items will offer a simple solution to fighting the dead zone in your kitchen. Declutter your sink with the help of a super sink base. Components of this storage solution include a tilt-out tray to storage sponges, scrubbing brushes, and scouring pads, a basket pull-out for cleaning supplies, a sink base liner to protect your sink base from leaks, and a towel bar.
Problem: Disorganized Trays and Baking Sheets
Still wondering whatever happened to the lid from your spaghetti pot? Or the cookie trays you got last Christmas? What about that collection of container lids that vanished without a trace? Prevent items getting lost in your kitchen by taking advantage of cabinetry to help organize cooking and baking items.
Our Solution: Tray Divider and Multi-Storage Drawer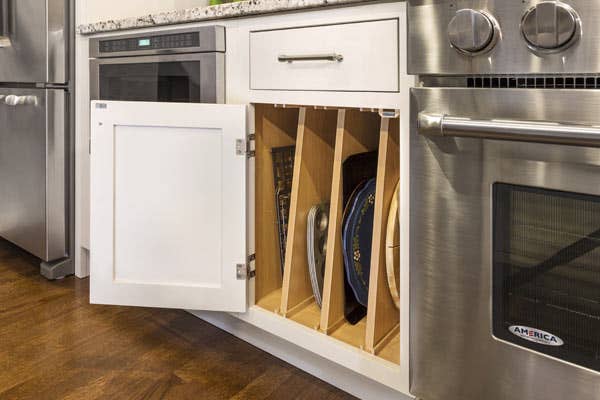 Never worry about keeping long or flat kitchen items organized again with the help of a tray divider cabinet. Available on base cabinets, refrigerator walls cabinets and over drawer cabinets, this divider keeps baking pans, cutting boards, and serving trays neat and organized.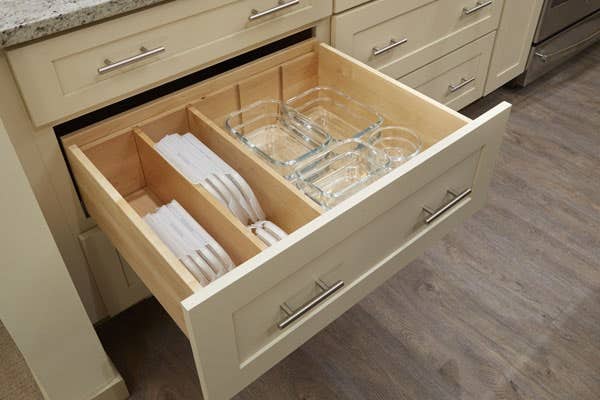 Whether you're taming an avalanche of lunch containers, pantry items, or pots and pans, the multi-storage drawer offers versatile organization for your kitchen design.