Are you wondering how to stretch the space in your small kitchen? Below are ten ideas on how to create new storage space, improve workflow, and create a more spacious feeling. Some will be no-cost or low-cost updates to your current kitchen, others deserve space in your remodel idea file.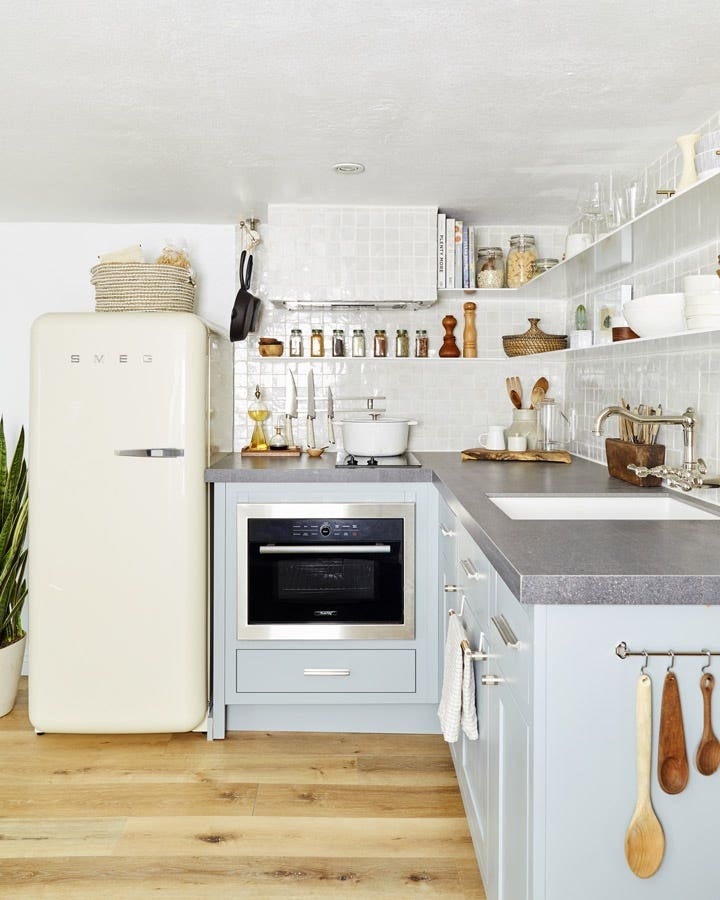 Declutter.
Time: 10 minutes. Cost: $0.
Clear the decks! An empty counter is like a breath of fresh air. Remove all but a very few decorative items, relegate occasionally used appliances to a nearby closet shelf, and ban mail and book bags from the counters.
Lighten up on Color..
Time: Half day to a week. Cost: $30.
Painting those dark walls light will make your space seem brighter and more open. Painting cabinets is much more difficult, and may offer very temporary relief.
Get Smart With Storage.
These might add space or make the space more useful: pull-out spice cabinet, corner cabinet lazy Susan, or sink front tip-out bins. Replace half-shelves in lower cabinets with full shelves. Install a full-depth cabinet above the fridge. Retrofitting existing cabinets may be difficult, but these are definitely on the list when you replace your cabinets.
Tuck a Pantry or Spice Cabinet Between Studs.
Time: A day. Cost: $50.
This one requires some handyman skills or a hired handyman. If you have an open wall in or near your kitchen, you can cut out sheetrock to expose the space between studs. Paint the interior or line it with 1/8 inch hardboard. Add shelves. Either leave the space open, or find a cabinet door at a building materials outlet or a home store. Attach the door hinges to one of the bordering studs.
Open up With Shelves.
Time: 2 hours. Cost: $20+.
Consider replacing a bank of wall cabinets with open shelves. It will create a spacious, light-filled focal point, and provide easy access to dishes, important when working in a small space.
Replace Cabinet Door Panels With Glass.
Cost: $20+.
Glass door cabinets let light flow through, creating a spacious feeling. Retrofitting a cabinet with a glass door will require some woodworking skill, but the cost will be limited to the glass insert. This is one to keep in mind when replacing cabinets.
Open a Wall.
Time: 1 week Cost: $$$.
It is a major change, probably a job for a contractor, but this is the most popular modification today. Remove a wall and replace it with a peninsula or island. It opens up the entire living area, and allows you to visit with guests but keeps them out of your work space.
Use Smaller Appliances.
Cost: $$$.
When remodeling in a small space, consider seeking out a range, refrigerator and dishwasher that are smaller than standard. These models are common in Europe, but also popular in small New York kitchens, condos and other not-too-big homes.
Extend Cabinets to the Ceiling.
Cost: $$$.
If you have open space above your cabinets, it is probably already stacked with items you only use occasionally. Consider replacing those with cabinets that extend to the ceiling for more storage and a clean, uncluttered look.
Extend Your Kitchen Design Into an Adjacent Area.
Do you have a hall, office, mudroom or other space in an area adjacent to the kitchen? Treat it as an extension of your kitchen, using similar cabinetry to create a furniture look buffet, bench or locker zone. It will trap incoming clutter, offer storage for infrequently used appliances (that's your fondue pot talking!) and by extending the visual kitchen, will make the entire space seem larger.
What are the most creative solutions you have seen for expanding a small space? What are your plans for your kitchen? Share your thoughts with our readers.