For many of us, April is a time to clean up the yard, dust off the golf clubs, get the kids in swimming lessons and get those soccer games on the calendar. Then there's vacation time. One more thing – it's also the perfect time to plan a summer kitchen remodel. Here are nine reasons you want to remodel in the summer, which means planning NOW: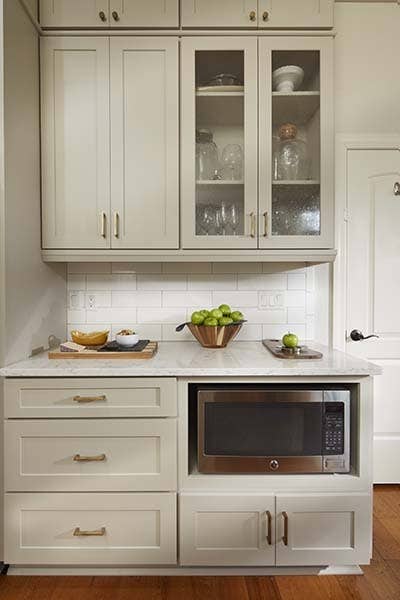 1. Hire the best contractor. Popular contractors have their summers booked by early May. See some tips on hiring the right contractor for your project.
2. Your grill has never looked that good. During construction, you may be out of your kitchen for several weeks – fast food and pizza will soon lose their luster. Plan the major work for summer, and your outdoor cooking zone will provide relief. Move your refrigerator close to the patio or deck, set up a folding table for food prep and stock a large bin with paper supplies.
3. Great time to buy appliances. You need to make final decisions on appliances before finalizing your kitchen design, so start shopping. Moneycrashers picks May as the best time to buy a refrigerator and notes that Memorial Day sales have good appliance deals.
4. No school bags and lunches.When you can't remember what room the refrigerator is in, finding lunch boxes and backpacks can be a nightmare. Life goes on in summer, but the schedule is less intense.
5. Avoid holidays and celebrations. Schedule tear-out after the graduation party and shoot for an August finish. That leaves a buffer for unexpected hiccups and time to add décor and get back in your cooking groove before you unveil your new kitchen at Thanksgiving dinner.
6. Minimize mud. During summer, a few mats will take care of dirt control. In snowy weather or the rainy season, work-boot traffic will take its toll on the house, and deliveries of materials will be messy.
7. Save on utilities.Start construction in June and any exterior wall openings will be sealed up, rubble carried out and materials delivered before the heat of July and August.
8. Park your car in your garage when it snows.During remodeling, your garage will likely serve as a warehouse for materials, and may be needed for a saw station. Imagine where that leaves your car?
9. It's time for a vacation.Did you hire a contractor with excellent references? Show your trust. Get out from underfoot for a couple of weeks and be delighted with the progress when you return.
Why nine reasons and not ten? Well, this article started out with five reasons, but then took on a life of its own and nine is where it stopped. If you have any suggestions for our readers on when to remodel, please leave a comment below.