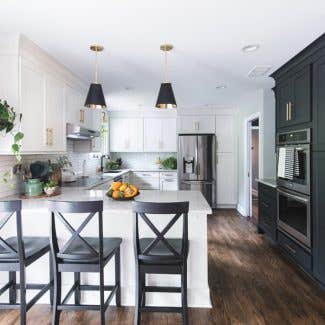 Thinking about listing your home for sale? Making sure that you photograph your home in a professional manner is becoming the most important aspect of marketing a property these days. Most buyers scan websites before they even step out the door on a house hunt, so first impressions are everything.
We photograph properties constantly for marketing purposes. Here are some of our tips if you'd like to do it yourself.
Out of the Shadows
Make sure to open all your window coverings and turn on lights where you can. People want bright, cheery spaces. If the space is too dark, grab a few inexpensive clip-on work lights at the hardware store to use to shine into the room for your photo.
Dark spaces do not sell and neither do dark photos. This could be the most important part of your photography quest. If you are still having problems lighting a space, it's time to call in a professional.
Here are a few great photographers to reference: Eric Piasecki, Jim Bastardo; Tim Nehotte. In each case, these professional photographers are adding light to spaces that feels natural and helps illuminate the visual story of the space.
There's a reason why regional and national magazines hire these photographers to shoot spaces; they know how to make spaces look really inviting. When they shoot, they add light from one direction — just as the sun would — to illuminate a room. They use bounce cards (white foam core or card stock or screens) to selectively add or take away light.
After shooting a space, they may retouch images to pull the entire lighting situation into a balanced presentation. This is an art and can make or break a property's ability to sell.
Cropping with a Focal Point
Even if your home is huge, resist the temptation to step back into a corner and photograph the entire "back 40 acres." This results in an unappealing photograph: one where the viewer feels small and insignificant. Be careful about putting too much information into a photo because the viewer won't know what to focus on. It's all about creating a moment in the photo the viewers could imagine themselves enjoying.
If the buyer of a property cannot picture their self in the spaces you are presenting, they will not be interested in the property. They must see themselves living and loving each space as it applies to their lifestyle.
I'm an art director, and when I enter a space, I look for the focal point first. Ask yourself what's the function of the room and what grabs my attention, and then zero in on that for the photograph.
For example, in a living room, either a fireplace or large window may be the focal point of the seating arrangement. Frame your photograph with the focal point at its heart and showcase a good representation of the space.
Simplify Even More
Simple, clean arrangements and spaces make the best photographs. The viewer wants to make sense of a room and then insert themselves there. Leave space for them by simplifying the space.
A general rule of thumb is to make sure you can tell what every item is in the photograph. Remove the odd handle sticking out or that vase growing out of the back of the chair. Don't expect your viewer to understand items that don't make sense visually.
Collections are fine if they are simplified and not crowded. Anything that is overstuffed into a space subliminally tells the reader that the space is small.
Most photographers and art directors know how to simplify spaces so that they are readable and clearly communicate their function.