Colors trend all the time, some lasting briefly while others stick around. Color Marketing Group is the world's leading brain trust of color design professionals. They predict that Blue will be a major color staple for the next few years.
CMG analyzes color usage around the world, tracking growths and drops in color popularity. In their recent forecasts, a number of blues —ranging from light to dark — were present in every region. For CMG, this cerulean commonality is what pointed to blue's importance. Blue topped the latest CMG World Palette, occupying 13 spots, which is more than any other single hue. For interior design, this means blue will be making a big splash.
But Why Blue?
According to CMG, blue has stability, evoking feelings of security and confidence. Along similar lines, blue is also comfortable, making it a well-liked color. People of all ages and demographics love blue. Blue is commonly present in color palettes for brand design, fashion and the selection of paints for new cars.
Part of blue's worldliness is because it is the color of water. Blue is closely linked to something that is essential to life. It is associated with global organizations focused on environmental concerns, like water quality and global warming. The prominence of the presidential election and politics here in the United States may also be driving blue's popularity.
CMG says, "warmer, tropical, watery blues with a touch of green dominate the movement." Use these blues to create a space that is calm and relaxing but still full of color. Be careful, however, not to get too dark with the tone. Deep blues can add drama and sophistication but can also quickly darken the mood and become melancholy.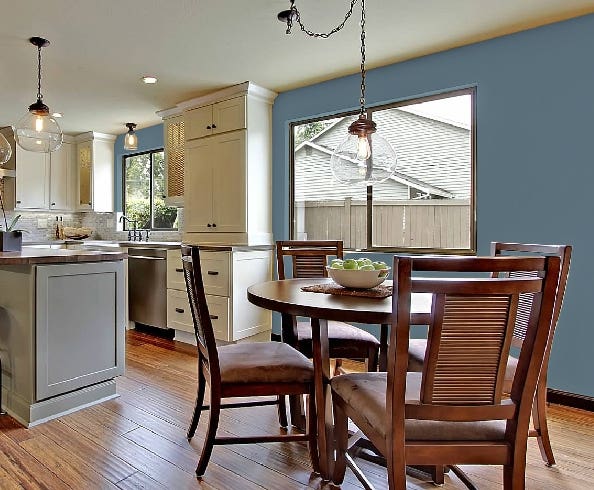 Color of the Year: Re-Blued
In accordance with the blue trend, CMG has awarded the color of the year to the color they're calling Re-Blued. CMG describes the "RE" as playing on "REcycling, REnew, REmember, REwind, REcalibrate, REward, [and] REliable." It's a mid-range blue that is reminiscent of sky and ocean blues. The color is versatile. It's both traditional and contemporary and works with both warm and cool color palettes.
Using Blue in Your Kitchen
Whether using the new Re-Blued, a lighter tone or a darker tone, blue is a great color for the kitchen. For contemporary spaces, consider pairing blue with complementary vibrant tones and accents. You can also couple blues with rustic pieces for a more traditional look.
With CliqStudios.com kitchen cabinets, blues will work best with the lighter painted finishes from the Designer Paint Collection. The Painted White, Painted Cream, and Light Gray finishes in particular are more suited to work with blues.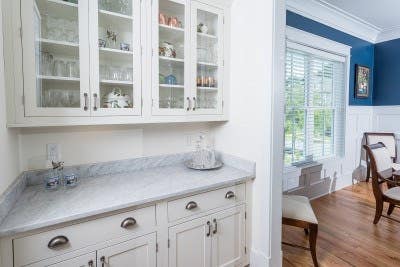 How do you feel about blue? Have you or are you planning on using blue in your home? Share in the comments below!