Today's kitchens are open, bright, and full of windows and beautiful views. What if you want an updated space but can't add windows for added natural light?
There are tricks to adding light to any room. With surfaces and task lighting you can add brightness without adding windows. Here are some ideas for bringing that cheer back to a dark space.
Vertical Surfaces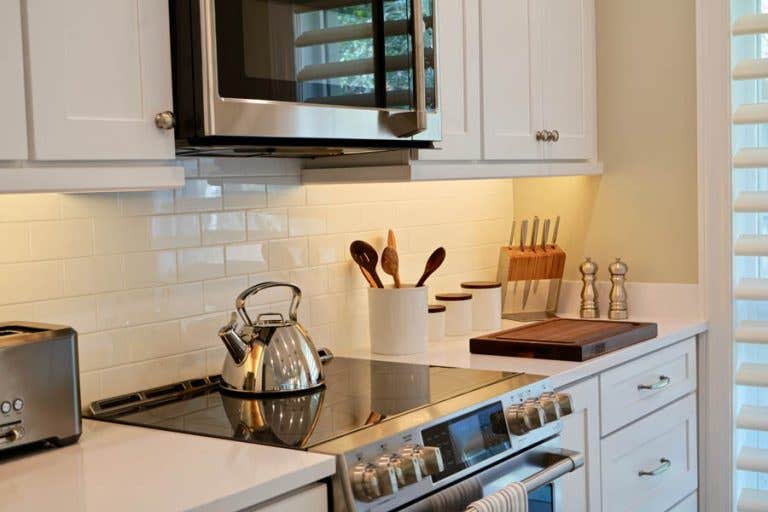 Are your walls covered with dark paint or dark tile? Brighten them with a light color or an off white. Even if your kitchen is small, these vertical surfaces at eye level matter for bouncing light around the room.
Right now, backsplash trends are white ceramic subway tile or a light stone tile. If you choose something with a polished finish to it, the light will bounce off that surface to reflect even more light in your space.
Lighten up your kitchen cabinets to create that open feel especially in a small space. White isn't the only light cabinet finish out there. Consider paint colors such as the off-white Cream or Blue-Gray (gray) from CliqStudios. These colors are neutral and light so they brighten the dark corners of any room.
Don't want to change all the cabinets in a space? Consider changing just the island to add more light into the room. Bringing lighter vertical surfaces anywhere in the space will open up the room and bounce light into the shadows.
Lighting Planned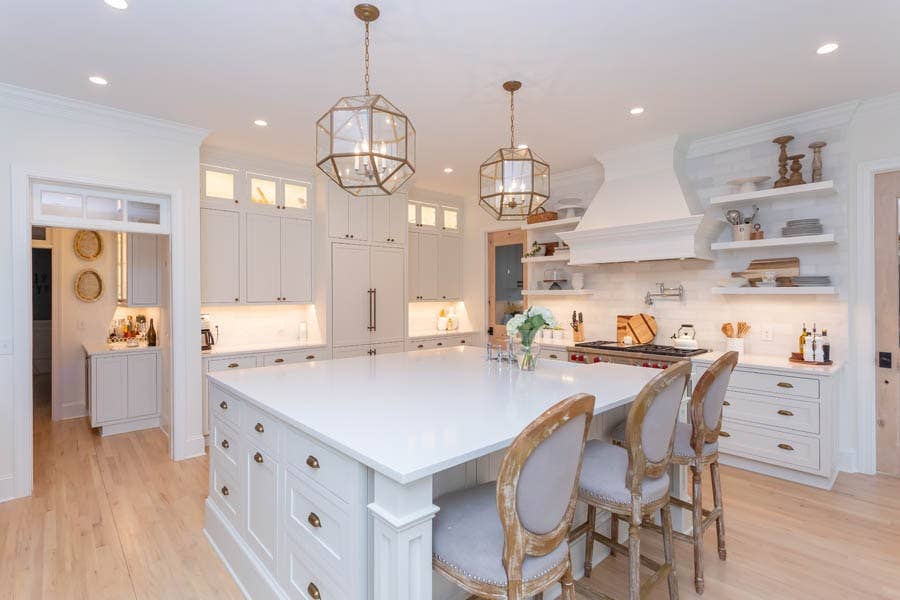 Every room in your home deserves a lighting plan. Think about the tasks and the desired functionality in each area of the room and designate the correct lighting fixture for that space.
Kitchens often need under-cabinet lighting, overhead can-lighting, in-cabinet lighting, and possibly up lighting above cabinets. Sometimes islands have pendant lighting and eating areas have chandeliers.
Light fixtures are an important focal point because they anchor the visual space by illuminating the task area. For instance, under-cabinet lighting illuminates counter areas, and chandeliers brighten eating or prep areas.
Making sure there is enough light is critical to helping the space feel inviting and open. If you are unsure about a lighting plan, ask an electrician or designer to help the lighting for your space.
Shiny and Bright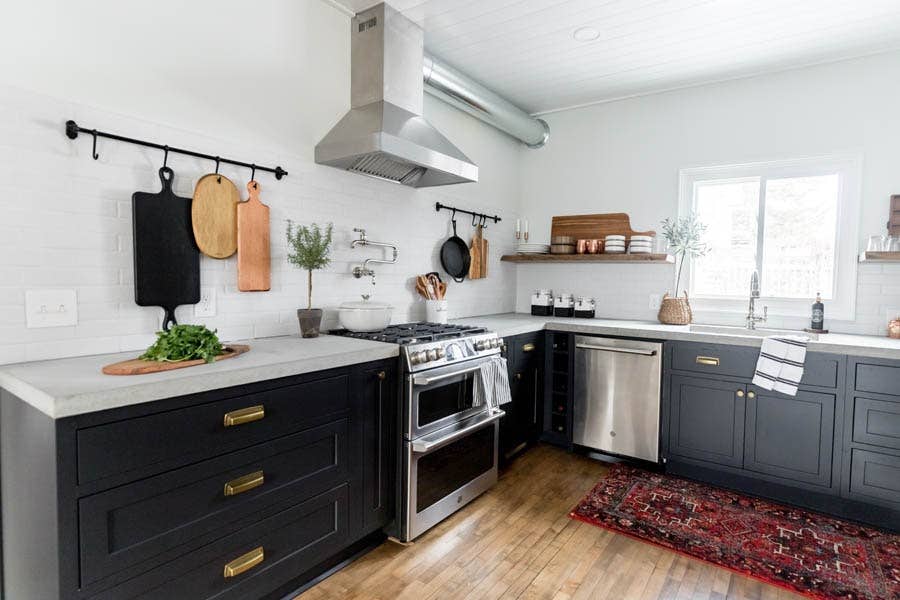 The top selling appliance finish is stainless. There's a reason why — it looks industrial (strong and powerful) and it reflects light (brightens spaces). That pretty stainless finish says new, updated, and it reflects back all the brightness in the space.
There is a similar visual appeal with polished stone countertops — they reflect light as well. Honed surfaces tend to absorb light unless they are in the white or lighter color family. The best reflector is a white polished stone, resin, laminate or quartz countertop.
Singular Colorways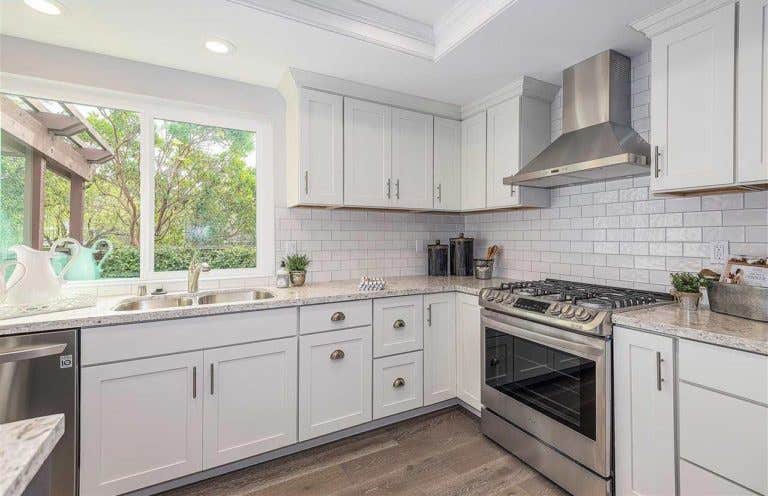 Keeping color more monochromatic — single colors within minimal tonal variation — helps your space appear larger. So whites, greys, pastels, khakis, et cetera will blend together a similar color tone and help layer light into the space.
Conversely, when the surfaces are highly contrasting, with darks and lights, the space will often times appear smaller. Dark colors feel cozy, absorb light and stop the illumination from bouncing from the surface. Caves are dark for a reason: no light can reflect far enough into the space to reach the interior. To keep your kitchen from feeling like a cave, add more light surfaces to bounce light around the room.
Wide Open Windows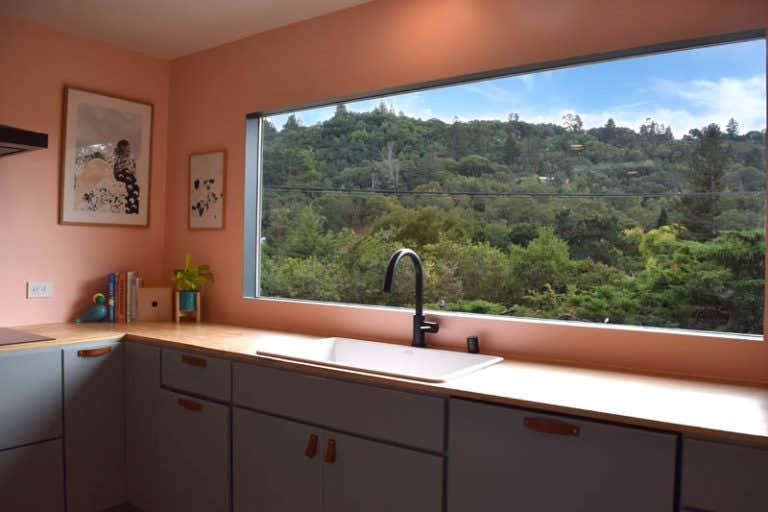 Basement apartments don't rent for as much as those on upper floors. The reason is the lack of light. If at all possible, add windows or a skylight to your kitchen. Natural light is the most desirable source of light for resale and today's kitchen design. Just one window can dramatically change the look and feel of any room.
Windows are actually even more desirable than cabinet space if there is a choice. See if there is a way to open up the kitchen by taking down a wall, a closet, or adding in a skylight if possible. Open kitchen design will always sell better down the road than the tiny closed-in variety.