Should You Refresh, Replace, or Completely Remodel?
It may have been when the cabinet drawer came apart in your hand. Or when a visitor said, "My grandmother had that wallpaper". At some point, you realized it's time to do something with the kitchen. The question is, "How much to invest?"
Will a Refresh Do the Job?
If your kitchen functions well or you plan a move soon, you may be able to get by with a decorative refresh. However, if your kitchen is close to twenty years old or built with budget materials, it's likely problems are more than skin deep. Before investing time and money in paint and cabinet hardware, perform a close inspection of cabinets, flooring, countertops, appliances and fixtures to determine if they are worth updating. If major elements of your kitchen are sound, you may get the results you need with a few weekends of work and minimum expense.
The Highest ROI in Home Improvement: A Mid-Range Kitchen Remodel
If you determine that you will need to replace cabinets, flooring, appliances or more, there is good news. Research shows a mid-range kitchen remodel is one of the best home-improvement investments.*
How do you keep your remodel in this high-ROI range? Here are some tips:
Avoid moving walls, plumbing or gas lines.
Take advantage of a free kitchen design service. Early in your planning, discuss your budget and needs with a kitchen expert to get the most out of your space.
Shop carefully to get the best value in materials. Purchase semi-custom cabinets online. Buy tile, countertops and appliances at outlet centers.
Choose looks-like-granite laminate countertops, laminate flooring, and mid-range appliances. (Consumer Reports is a great place to determine value for price.)
For the backsplash, try an inexpensive material like painted bead-board or white subway tile, or use a more expensive product but only cover part of the wall above the counter.
Determine what work to do yourself and when to hire a contractor.
Have a flexible timeline to reduce unplanned expenses.
The Dream Kitchen: A Major Remodel
Do you love your home but want an open kitchen design or larger footprint? You may need to literally think outside the box to get the kitchen you want.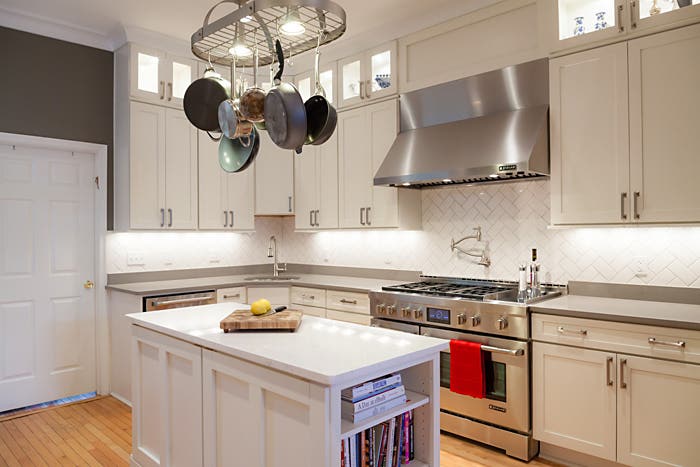 Once you consider moving walls or adding space to your home, the possibilities are almost endless. Yet, every project has a budget. The more carefully you plan and shop, the more value you will get for your money. When buying granite countertops and artisan glass backsplashes, check out local discount outlets. Rather than paying custom prices on cabinets for the entire kitchen, work with a semi-custom cabinet manufacturer that provides options and modifications, and specialty features such as wine racks and pull-out shelves. Interview several contractors and ask for their suggestions.
We Want You to Love Your Kitchen
CliqStudios.com offers free, no-obligation kitchen design services. If you are considering a remodel, we invite you to start at our Design Studio, where you will receive expert advice and personal service.
http://www.remodeling.hw.net/cost-vs-value/2014/