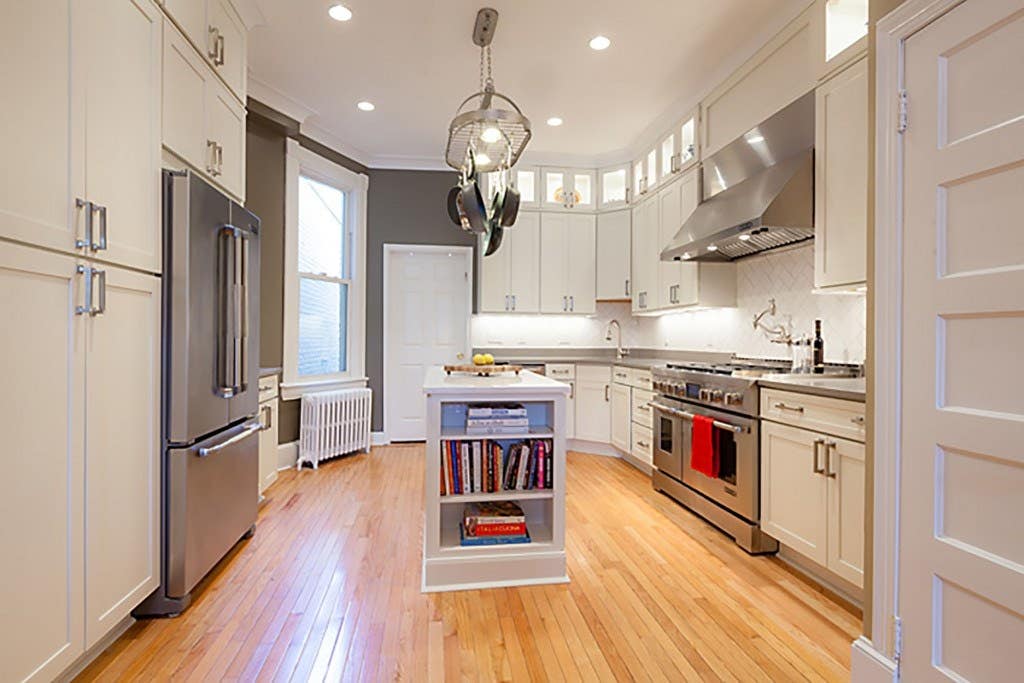 "I want to have big family meals," said the homeowner.
That topped the wish list of the new owner of this Washington DC townhouse. That was the guiding principle for interior designer Amy Herbert of Aesthetic Answers, a Washington DC art and design studio.
Working With an Awkward Space
"There was no flow at all," Herbert said of the kitchen as she found it, awkwardly cut off from the living room by a wall and ill-advised peninsula. In pursuit of a dream kitchen for a family that loves to host, entertain, and cook, she and the architects reconfigured the room and opened up the space. Then, in conjunction with CliqStudios designer Angela Nguyen, she went to work creating the kitchen.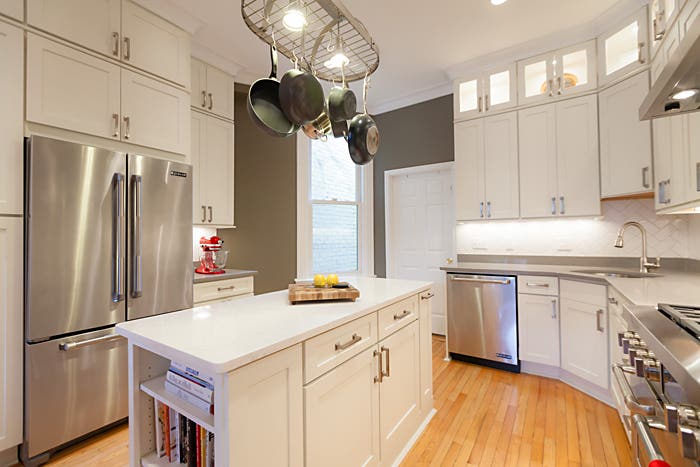 Fit for a Cook
The owner's passion for cooking and feeding large gatherings found expression in an over-sized stove, extra pantry space, and a new island in the middle of the kitchen.
"Angela was great with the particulars," Herbert said of her collaboration with the CliqStudios designer. Nguyen helped Herbert customize the look of the hood over the 48" range. She concealed it within the cabinet space so that the outer surface of the hood was flush with the outer surface of the cabinets. Above the hood, they fashioned a decorative panel that meets high glass cabinets on each side.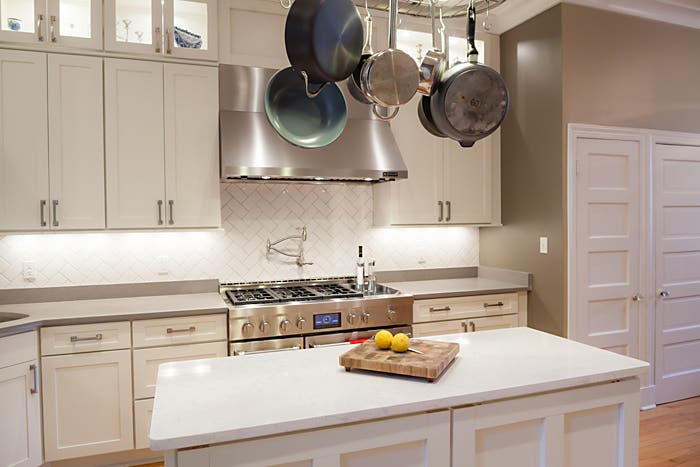 A Custom Design
On the center island, Nguyen and Herbert maximized function. They incorporated a bookshelf for cookbooks on one side, and a narrow cabinet with spice drawers on the other.
On the refrigerator wall, they had to choose either: creating one flush surface or bumping one side back. At Nguyen's suggestion, they pushed the area to the right of the refrigerator back to a standard depth of 12 inches. Overall, this gave the kitchen more countertop space.
According to Herbert, Angela's input helped control costs, balancing custom changes with less expensive design decisions. "The townhouse kitchen looks like everything they envisioned, and functions better than they expected."
Read more featured CliqStudios remodels here.