It is architectural elements that make a kitchen design unique. Skillfully selected decorative millwork can enhance a style, create a unique focal point, or form a graceful transition between new and existing spaces.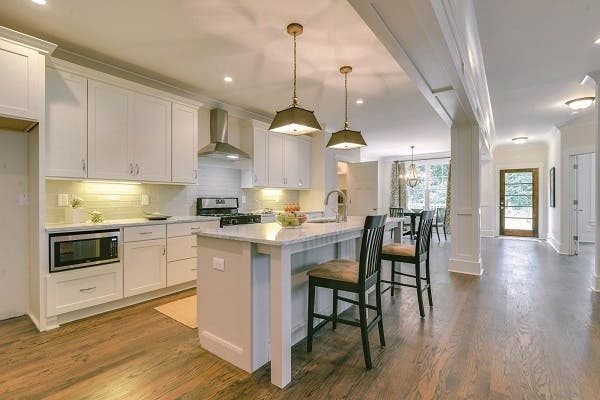 Crown Molding & Milled Feet
In the kitchen pictured above, panels and filler wrap the beam and support post. This creates a board-and-batten effect similar to the Shaker style cabinets. The cabinet crown molding has a simple straight bevel that complements the cabinetry rather than imitating the home's ceiling crown molding. Also, milled feet define the ends of the wall of cabinets for a furniture effect and nod to tradition. Finally, ogee base and simple square legs neatly trim the island..
Varying Kitchen Cabinet Height
A designer's goal is to make a clear statement while respecting the home's original style. In this two-tone kitchen, a distinctive wall of dark kitchen cabinets takes advantage of the line of the vaulted ceiling. Wall cabinets vary in height as they rise to a focal point, the custom wood range hood. Shallow crown molding has a straight bevel similar to that of the door panels. Therefore, it defines the upper cabinet line, but not competing with the cabinets themselves.
The island is built from cabinets in the same style with a contrasting white finish. This forms a visual bridge between the dark cherry wall and the rest of the home. Finished with ogee base at the toekick, decorative end panels, and lightly decorated pilaster (half-column) supports, the island becomes a unique architectural feature rather than simply a bank of cabinets.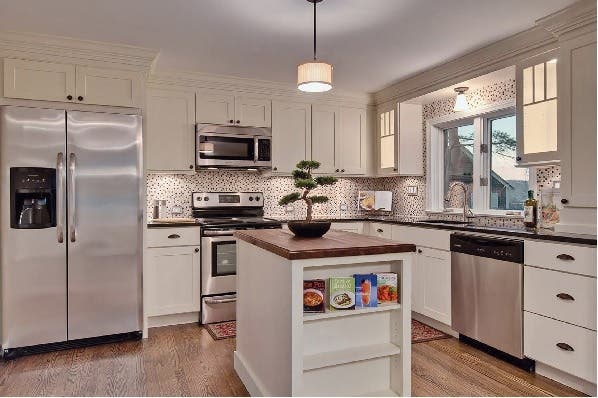 Bump-Outs and Ogee Molding
In the kitchen above, crown molding stacked to the ceiling adds visual height to the room. The refrigerator gracefully blends into the cabinetry due to the bump-out feature and return panel in the refrigerator cabinet. On the right, the wall cabinet and ogee molding stack above the drawer unit forming a built-in buffet. The island comes together with ogee molding at the toekick area and bookshelves on the end. In addition to this, it serves as a graceful segue between kitchen and dining area.
Decorative tools at our designers' disposal include various styles of crown molding, light rail, furniture feet, island legs, corbels, valances, decorative door panels and ogee trim. All of these kitchen cabinet accessories are available in stained and painted finishes to match any CliqStudios cabinets.
Have you seen a kitchen where architectural details carried the day? Tell us how it worked.