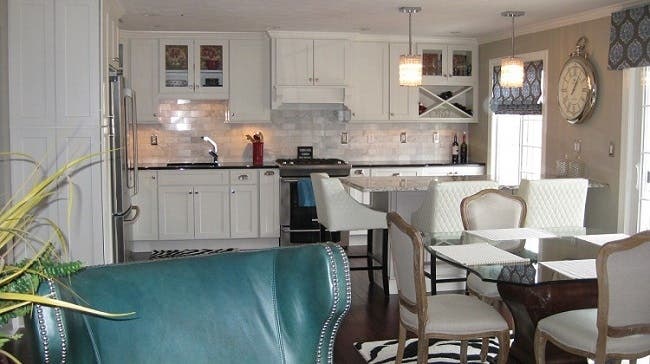 Sometimes it is the little touches in a kitchen that pull everything together. Although small, they can personalize the space and create the right sense of balance and polish. The two-toned kitchen above, with timeless Shaker cabinets in white and gray, is an excellent example. The client, Lynn, sent the dimensions and appliances. The final kitchen, with relatively few changes, reflects the initial design.
The Design
The gourmet cook stove deserved a dedicated range hood with the appropriate capacity, so the microwave tucked under the peninsula. The cooking station became the primary focal point in the room. Glass-door cabinets frame the cook station and bookend the room.
From the inside corner of the cooking station, are three glass-door cabinets in varying heights. (seen more easily on the rendering below) Balance is also achieved without the formality of strict symmetry. The bookend cabinets, one stacked over the open wine rack, maintain a horizontal line. The glass creates a light, airy space without loss of storage.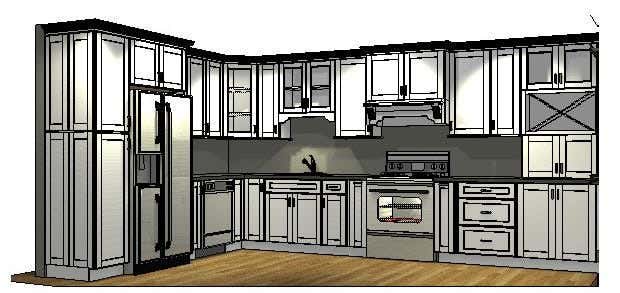 Pullouts and a deep drawer unit by the range keep the chef's tools and materials close at hand. Additionally, the open wine rack reinforces the home's hospitable theme. Framing the cabinetry, crown molding to the ceiling and trim molding to conceal under-cabinet lighting provide a trim, finished look.
The cabinetry, white and soft gray in a timeless Shaker style, provides a perfect canvass for accents and personal decor. Lynn's eye for style and detail took this kitchen from "very nice" to "outstanding."
Added Personal Touches
Notice the pops of color in the red ceramic tool stand, and bright dishes displayed in the glass doors. Also note the use of blue, tying the shades into the living room furniture. The use of black and light gray granite countertops distinguishes the food preparation area from the gathering spot. Soft tones in the oriental marble backsplash warm the space, while pendant lights above the peninsula add sparkle. It all works together to create a bright and inviting environment.
What special touches have you added to personalize your space? Did they provide the effect you hoped for? Leave a comment below.