Recognizing the differences between cabinet construction types, materials and quality will help you understand the wide price variance in the kitchen cabinet market.
There are two main types of cabinet construction offered to US consumers today: framed and frameless (Euro style). Each has structural and stylistic advantages and disadvantages. Other construction options include ready-to-assemble (RTA) cabinets and refacing cabinets with new fronts only.
The type of cabinet construction you choose will be based on your design preferences, the length of time you intend to be in the home, and the expertise of the cabinet installer. Since this is a long term investment in the most expensive and probably most used room in your home, you will want to consider each factor carefully.
When comparing framed vs frameless construction, the most important considerations are box construction, materials used, quality of the finish and drawer box construction and assembly. These are the areas where cabinets first show wear and tear, including damage during installation.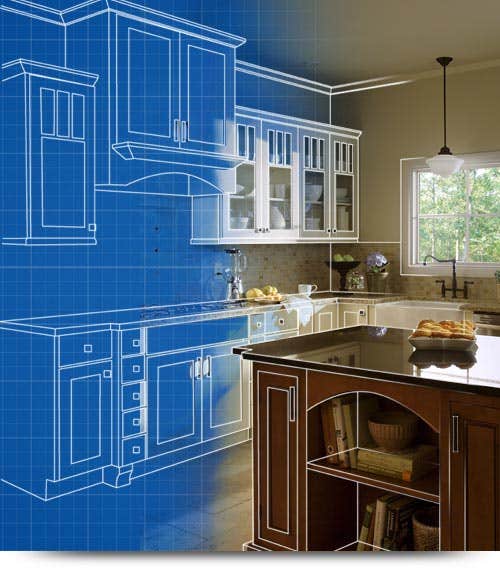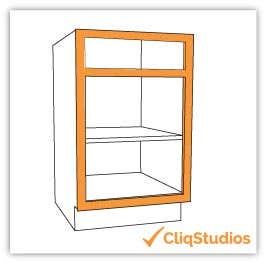 Framed Cabinet Construction
A framed cabinet is really a box with six sides: front, back, left side, right side, top and bottom. The cabinet front includes a wood face frame and doors and drawer fronts. The face frame is attached to the cabinet box (highlighted in orange). Hinged to the face frame, cabinet doors are either inset flush with the frame or overlay the frame. US consumers traditionally prefer framed cabinetry.
There are three variations of framed cabinetry: partial overlay, full overlay and inset. Inset styles reveal the entire face frame. Full overlay styles cover nearly the entire frame, while partial overlay styles reveal the frame with large gaps between doors and drawer fronts. CliqStudios cabinets are all framed construction in either full-overlay or inset door styles.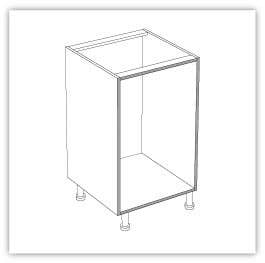 Frameless (Euro)
A frameless cabinet, also known as a European-style cabinet, has no face frame. Therefore, the cabinet is a five-sided box. The door, hinged directly to the cabinet box, forms the entire cabinet front. Frameless construction requires thicker side panels to provide stability and a base for hinges. This adds weight to the cabinet without adding strength.
Frameless cabinetry can be more difficult to install. Since the door is the front of the cabinet the installer has less flexibility when aligning cabinets with out-of-square walls and floors.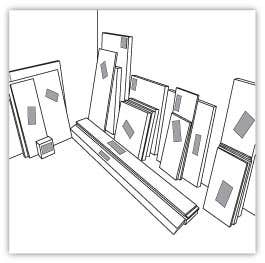 Ready-to-Assemble (RTA) Cabinets
Ready-to-assemble (RTA) cabinets can be framed or frameless. The unassembled cabinet typically comes in several boxes, broken down into multiple parts (cabinet, face frame, drawers, inserts, doors and hardware). RTA cabinets are designed to be assembled on site by a DIY homeowner or hired help. Cabinet parts are joined with a cam lock system or screw and plate fasteners. RTA assembly requires some skill to ensure the cabinets are safely assembled and square and plumb when installed.
Once RTA cabinetry has been assembled, cabinets should be moved as little as possible before installing to prevent structural damage. For that reason, paying to have the cabinets assembled before delivery is not recommended.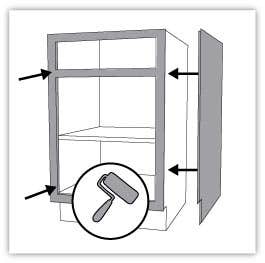 Refreshing or Refacing Cabinets
Cabinet refacing is not really a cabinet construction method, but a process. Refacing involves removing doors, drawer fronts and hardware. The existing cabinet boxes are then, still installed, covered with veneer panels, paint, or stain. New doors and drawer fronts are then installed on the cabinets. Your kitchen layout (footprint) and cabinet interiors, including drawer boxes of your original cabinets, will remain the same unless you have new components installed at an additional cost. Keeping the same layout can simplify appliance installation.
The major advantage of refacing, repainting or refinishing your cabinets is reduced disruption from demolition and construction. Cost savings may be short term, since the cabinet boxes and drawers are already aged.
---