Setting the Foundation
Black kitchen cabinets are a bold choice for a bold homeowner. Deciding on painted black cabinetry in a modern slab style was a simple decision for homeowner Blake. He wanted a sleek and modern space that would fit his style and exceed storage needs. The slab door style and jet-black paint color was the perfect combination to help him achieve his vision, he just needed some assistance.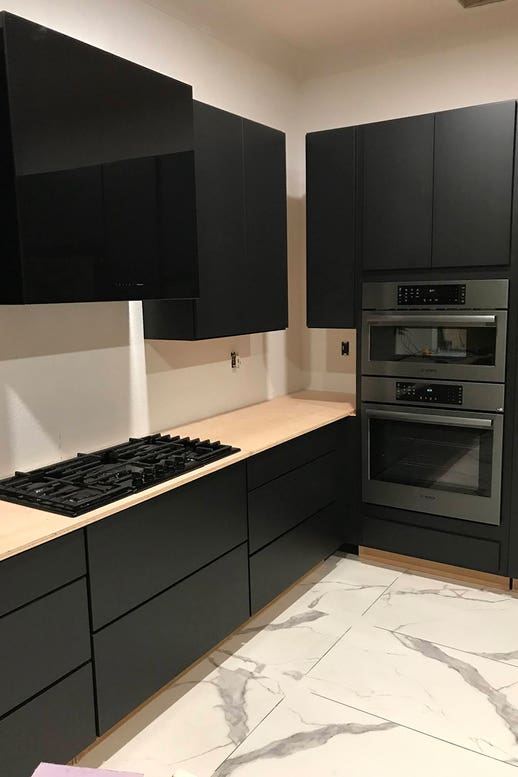 Making Changes
Designer Sean Burdick said the homeowner wanted to keep the existing kitchen layout apart from shifting some appliances. Making these adjustments meant the cooktop and hood were now focal points. Additionally, the hood created a strong contrast being stainless steel in an all Black painted kitchen. Minor sticking points included designing the corner wall cabinets to suit Blake's preferences and making sure the client had everything needed for the complex island.
Adding Storage Solutions
Storage solutions were of utmost importance, but they needed to be added without sacrificing aesthetics. Every base cabinet was designed as a drawer base. Most were versatile for use, however, the 2-drawer base under the cooktop includes a multi-storage organizer. The island received a pull-out trash, and roll-out tray pantries surround the built-in refrigerator.
Final Results
Overall, minimalist kitchens appear very clean and put together. If cabinet organization is done right, everything has its' place, and it can be a relaxing atmosphere to cook and entertain in. Blake came with a general floorplan he wanted to pursue, and together, he and Sean created a truly defined and sharp kitchen that anyone can enjoy.