Two Piece unit (Apron/Back & Chimney)
Chimney trimmable 6" max from top (30" high not trimmable)
¾" cabinet grade veneer plywood
Standard interior width:


- Subtract 1½" from overall exterior width (dimension A)

Standard interior depth is 18"
All dimensions are nominal
Wood Hoods are shipped separately from cabinet order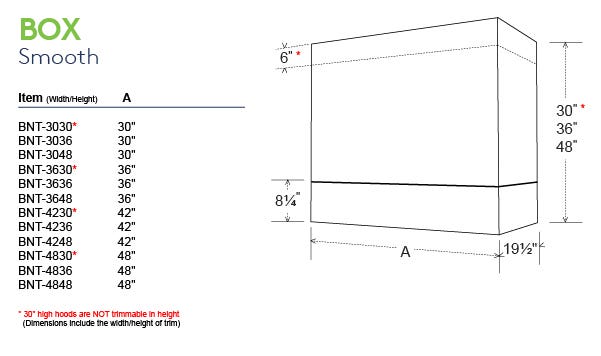 CliqStudios offers several options for wood hood internal fan/blower ventilation. Fan/blower options vary based on the hood width size, CFM (Cubic Foot per Minute), overall options, visual appearance, the option to not purchase an internal fan/blower unit and solely offers Trade-Wind brands.
The wood hoods have been specifically designed for the fan/blower units that are offered by CliqStudios. If you choose to purchase a fan/blower from another retailer or manufacturer the only information that CliqStudios provides is listed on the individual hood specification tab. It is up to the customer to verify if non CliqStudios fan/blower units will be compatible with our wood hoods.
Instructions are a guideline for a basic wood range hood installing to wood stud and sheetrock construction. Other construction types require additional steps not outlined in this guide. Wall material type, such as ceramic tile or stone material, will require unique specifications and methods to install wood range hood.
Overview
Please allow up to 3-4 weeks for production and delivery of order(s)
Wood range hood orders ship separately from other products that CliqStudios sells
The wood range hood order will arrive on separate days from other CliqStudios product requiring an additional delivery day and time.
Due to the large size of wood hoods, your shipment will come via LTL (Less Than Truckload) shipping. LTL different from a UPS or FedEx shipping company with the fact that an appointment must be scheduled and a large truck must have access to the location of the delivery.
The LTL delivery agent will call the day before to schedule your delivery. Appointment must be scheduled your item will not be shipped.
Delivery is curbside to the front of the delivery address. Delivery area must accommodate up to a 53′ semi-truck and is on the same level as the truck tires.
The order will not be delivered into a home or business
Wood Range Hood Warranty
5 Year Limited Warranty
CliqStudios® warrants to the original consumer purchaser that wood range hood will be free from defects in material and workmanship under normal use and service for a period of Five (5) years from purchase date (Proof of Purchase is required). This warranty only covers the wood range hood and does not include any fan, blower, mechanical, ventilation, or electrical components that are installed with the wood range hood. Warranty is null and void if product is installed outside of the lower 48 United States and does not include Alaska, Hawaii and any United States territories.
CliqStudios is not responsible for the installation requirements for wood hoods or that of any fan units, power supply, and duct work where the manufacturers provide their own, individual product warranty. Basic instructions are available but a professional should be consulted and/or contracted to perform work if installer does not possess the required tools, knowledge or skills needed for installation and proper operation of wood hood and exhaust fan. Information provided only as a guideline. Please consult with local municipality for code and ordinance laws.
Yotpo Reviews